Dynatrace AppMon 2018 April Release Notes
Accelerate your digital transformation
You focus on building new applications in the cloud, shift your existing workload, and you have to keep an eye on slow-moving applications at the same time. What if you had a single-pane of glass into the performance of all of your applications? This release gives you the convenience of pushing your existing AppMon metrics into Dynatrace.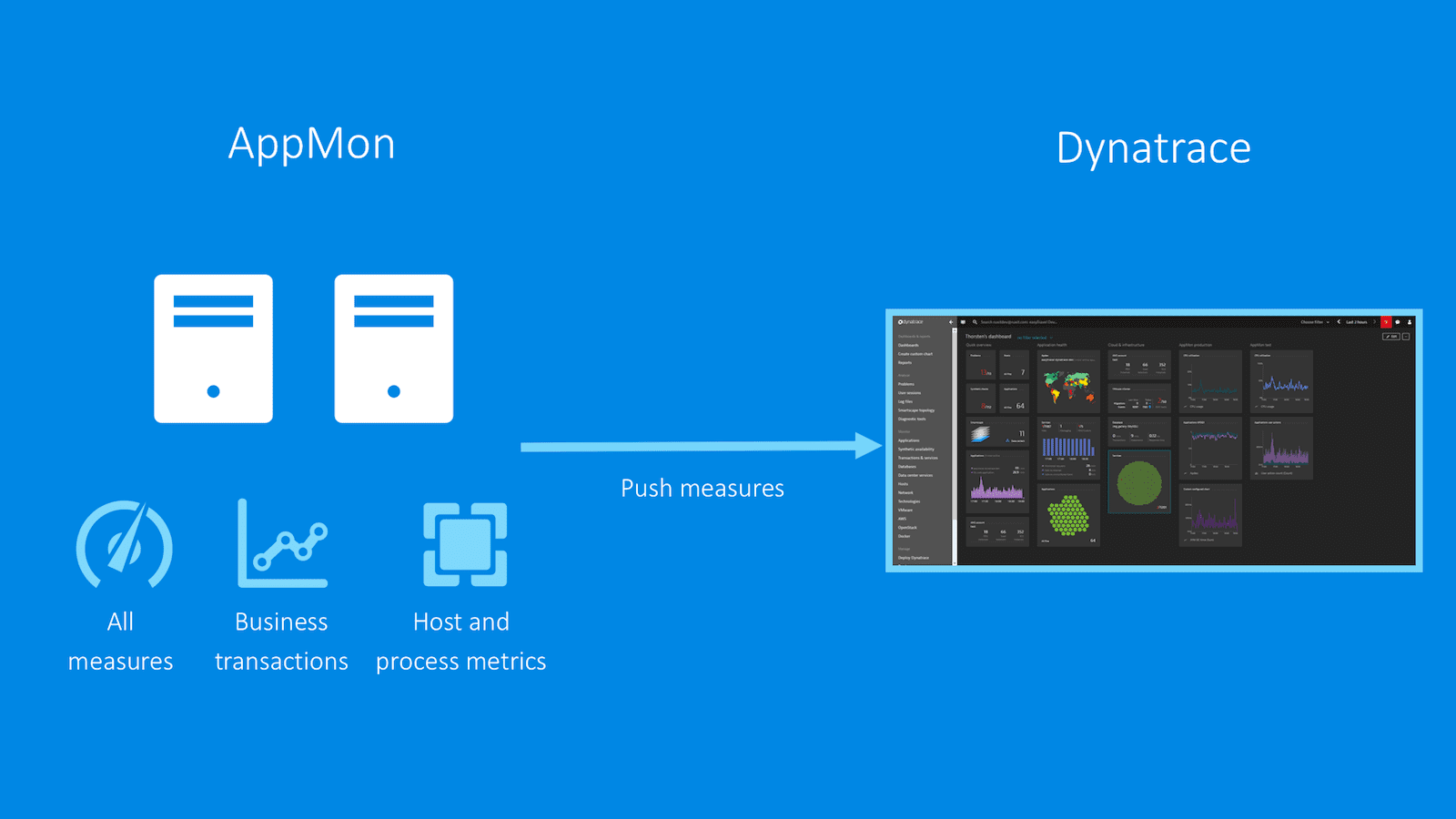 Monitoring in an interconnected world
Follow your transactions across multiple AppMon servers, system profiles and into Dynatrace SaaS or Managed. Our agent technology will cover the complete configuration automatically. In other words, you can use it without any manual effort to follow all key transactions.
The agents automatically detect all involved environments.
Drilldowns and drillups across AppMon servers and Dynatrace environments.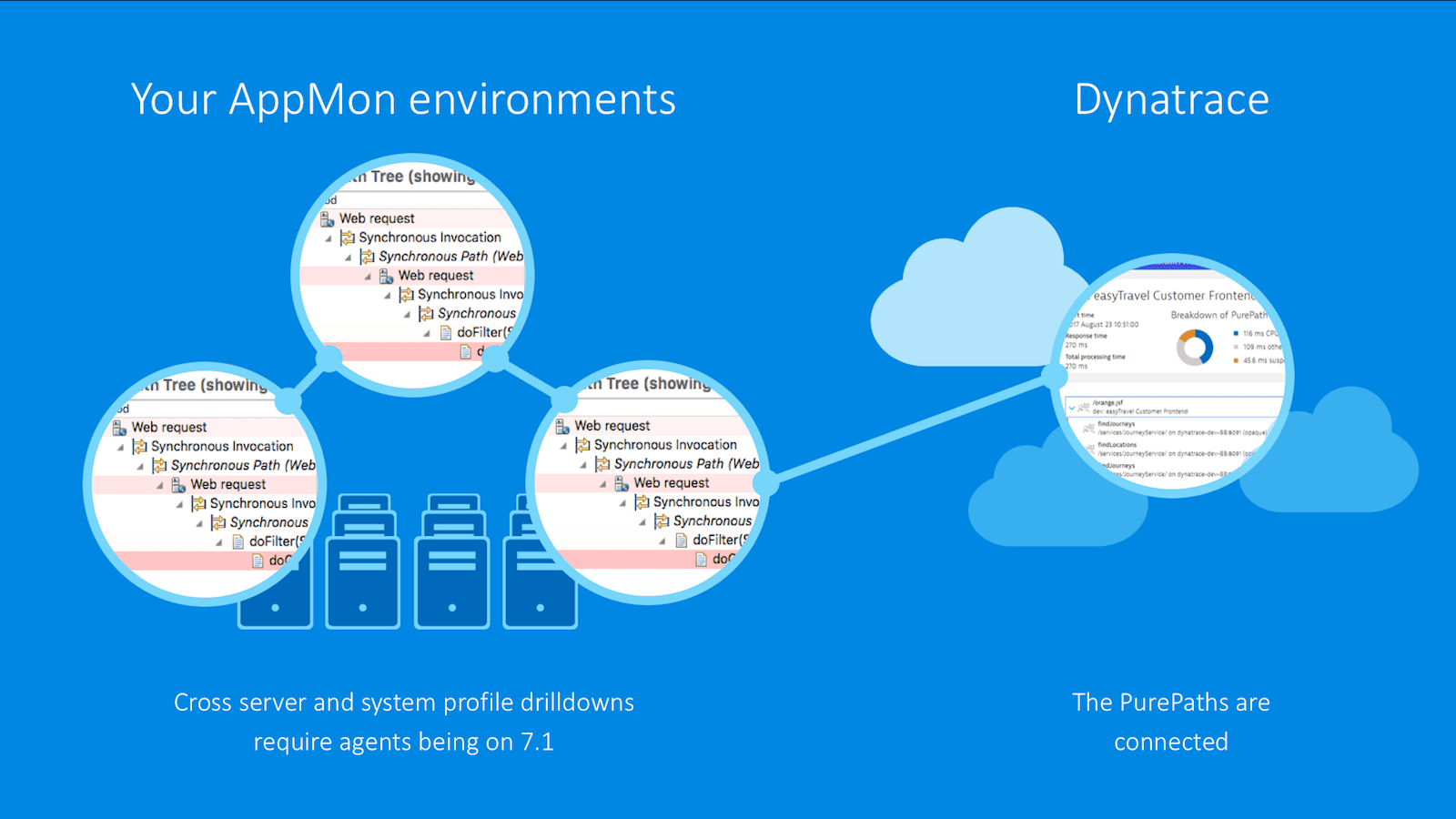 Empower all of your development teams
This release marks an important step along the road of making the power of AppMon available to everyone across your organization. Any new development team can self-sufficiently optimize their apps and quickly collaborate with experts only in case of tough problems.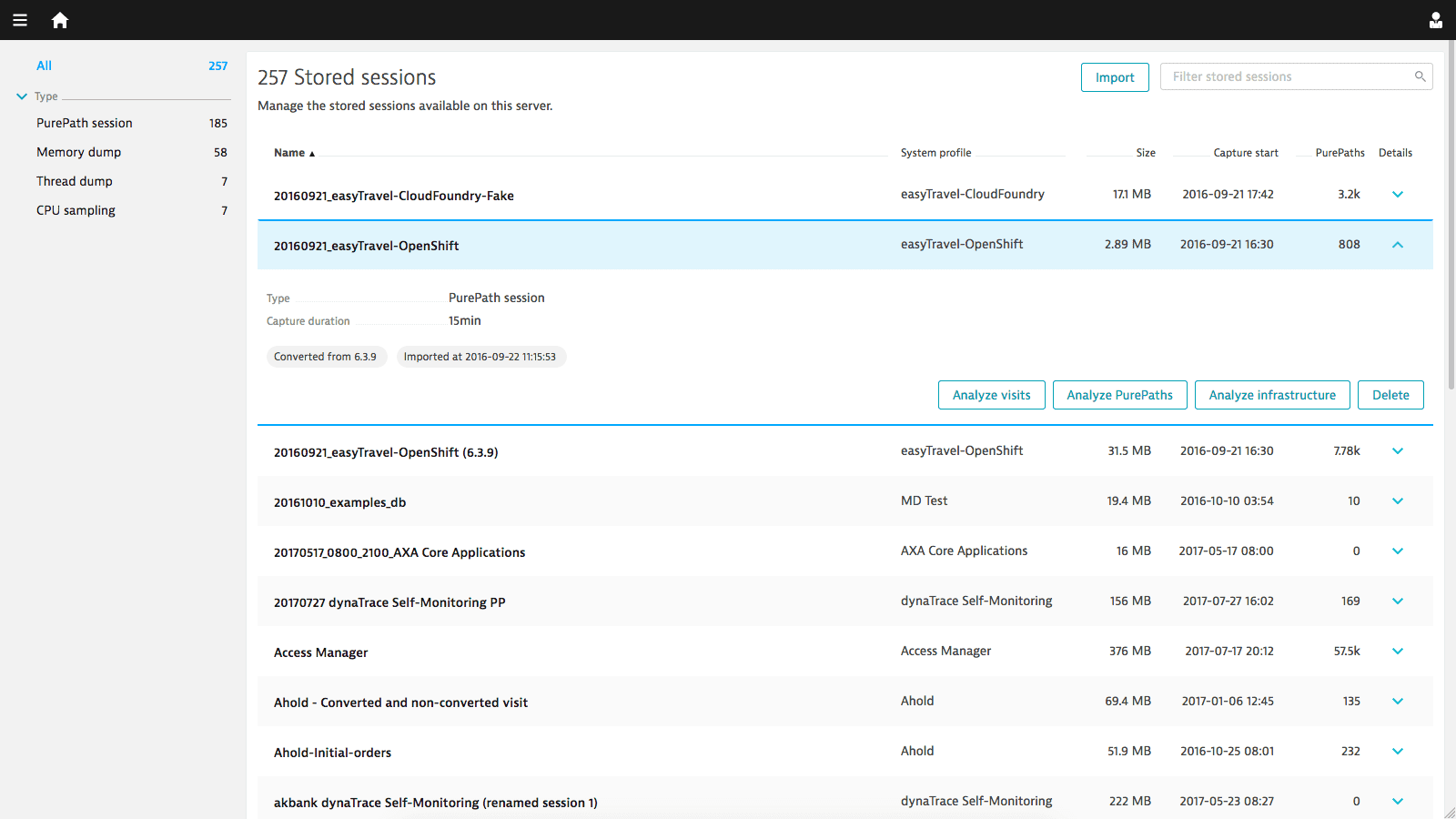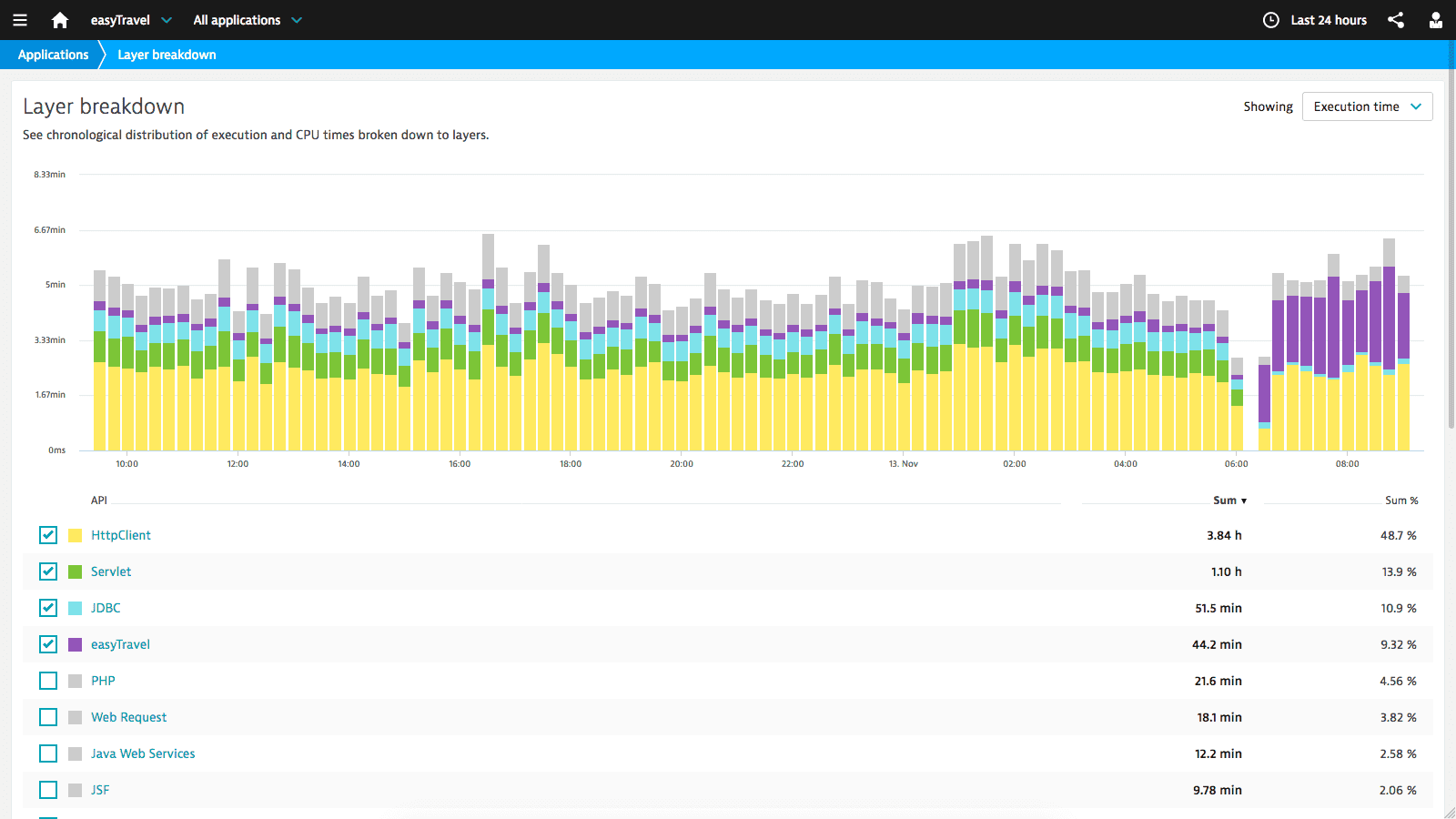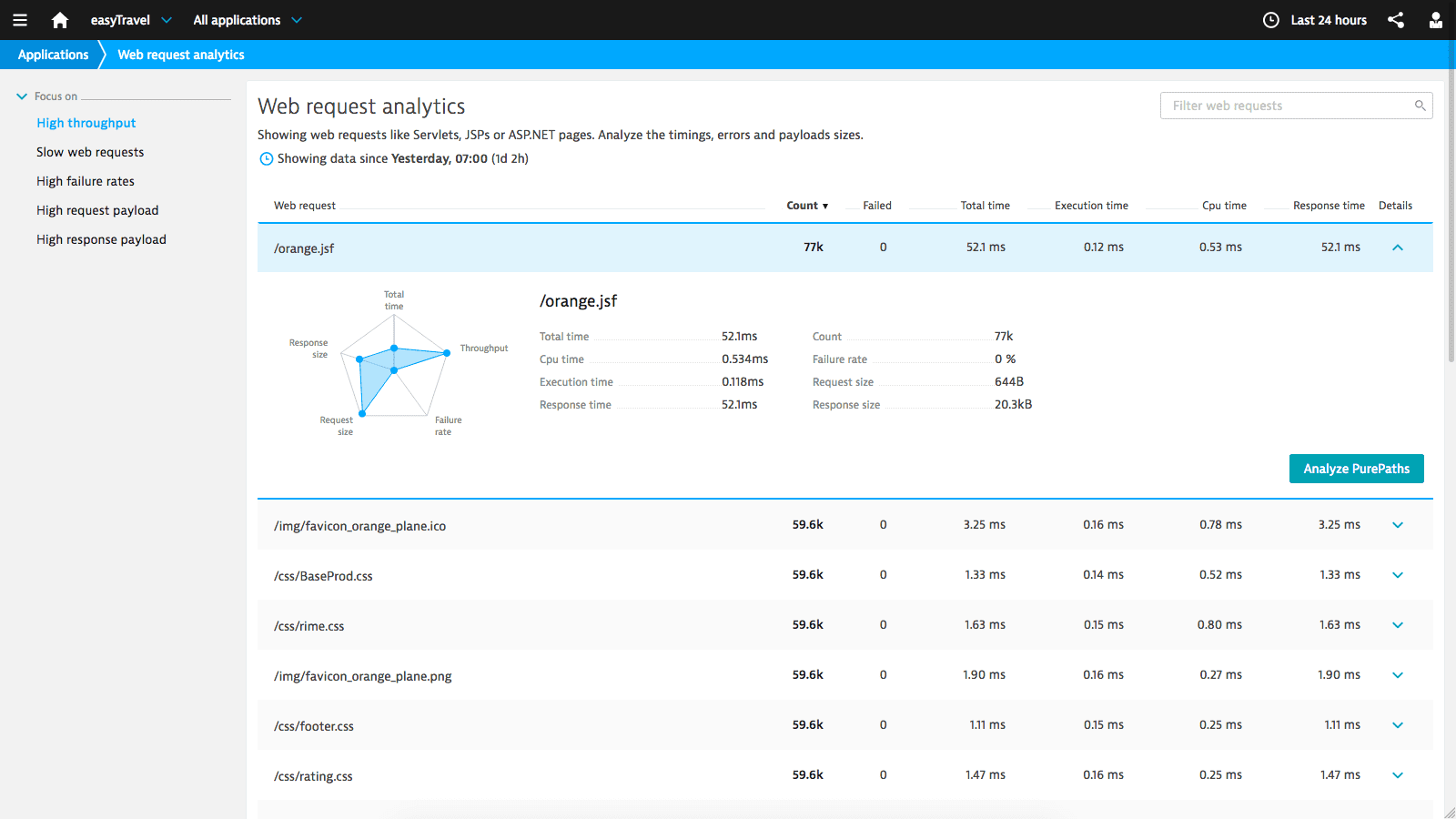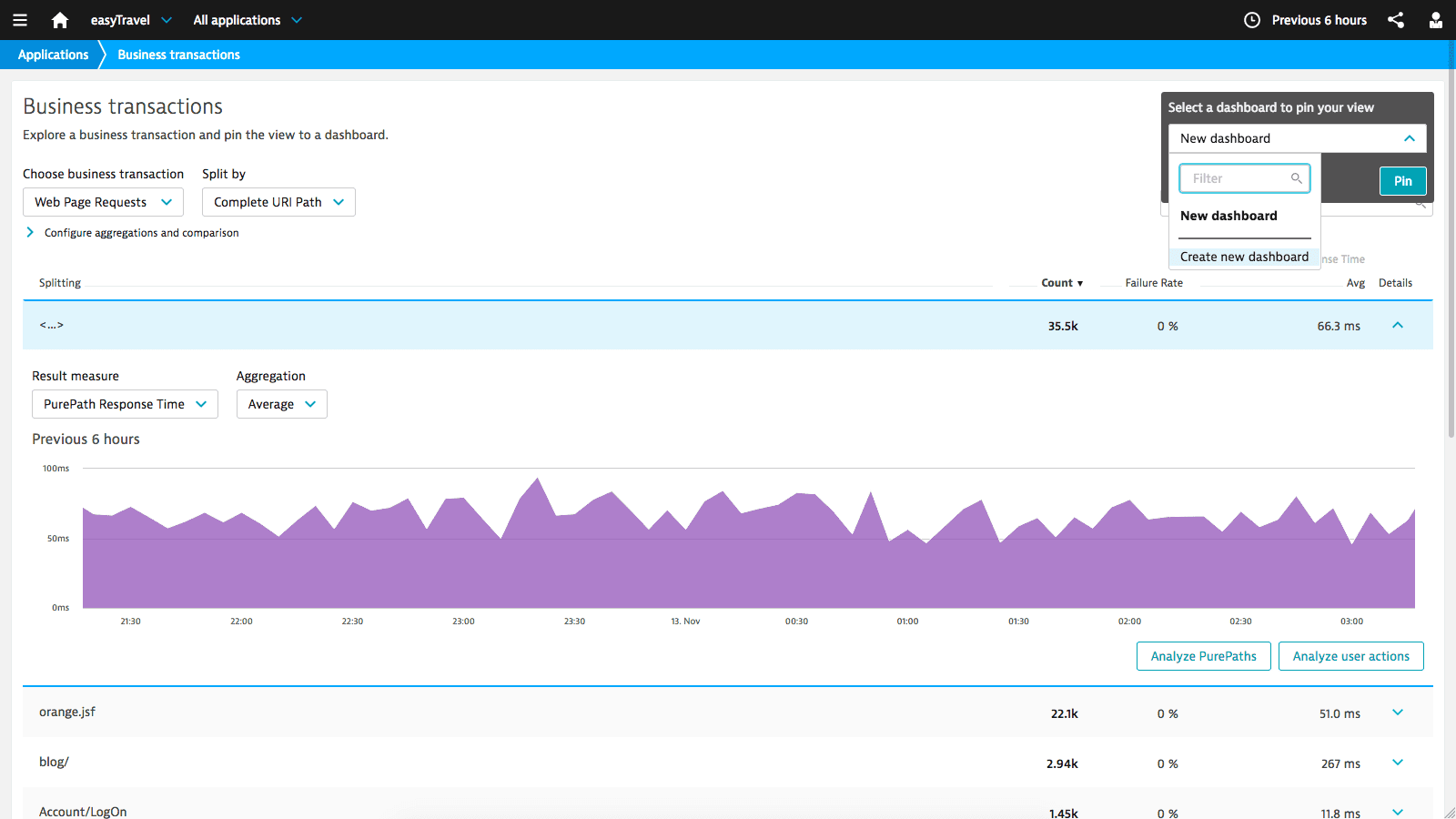 Working with stored sessions is now fully supported.
Quickly see the most consuming APIs with the Layer breakdown.
Expensive web request are highlighted with a single click.
Monitor important business transactions and pin the data you need to your dashboard.
Database insights goes web
Now every developer can identify and solve the database issues that impact application performance! It is easy to find out if it's their code that's causing problems and self-sufficiently fix database problems without depending on DBAs for support.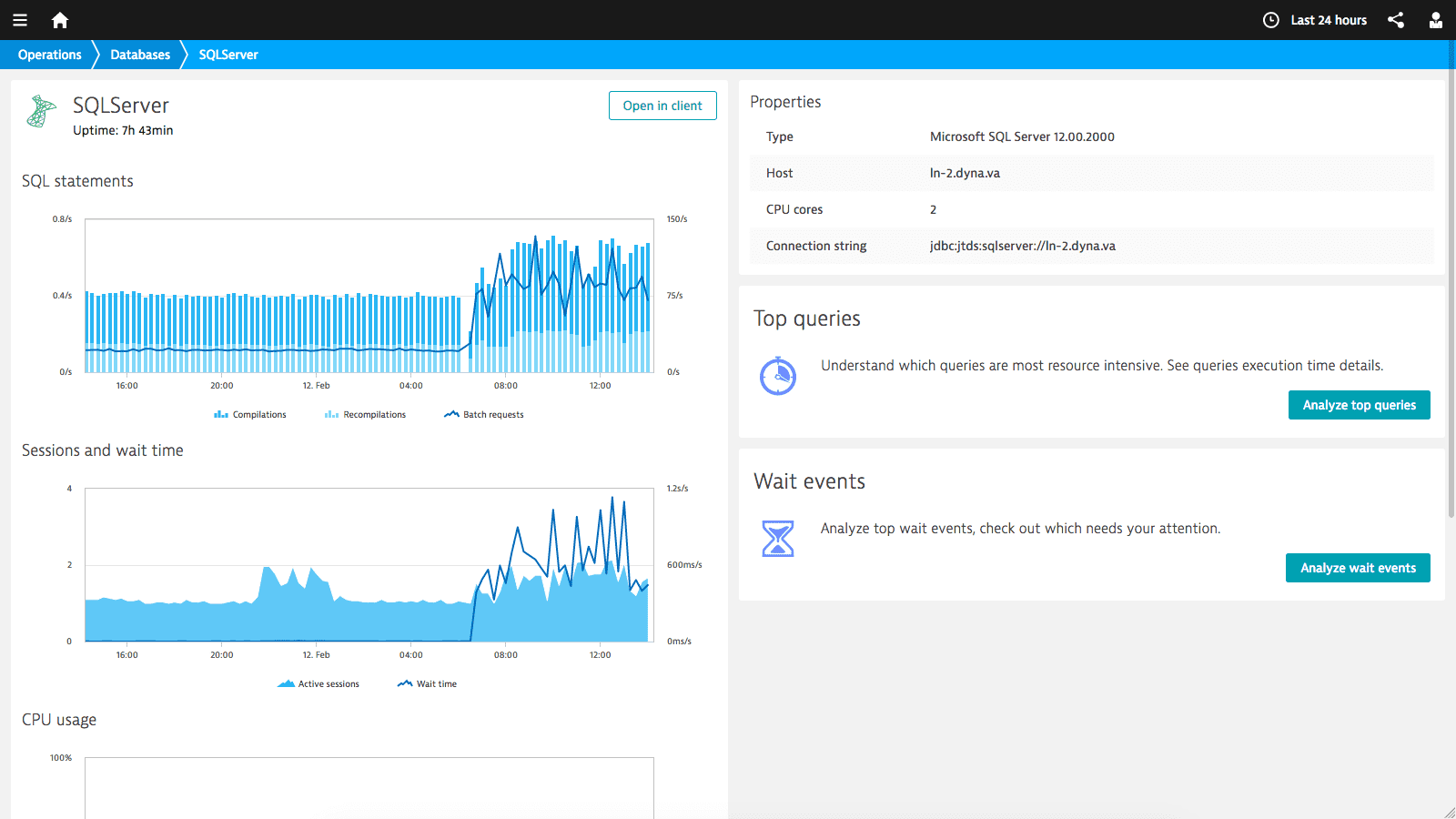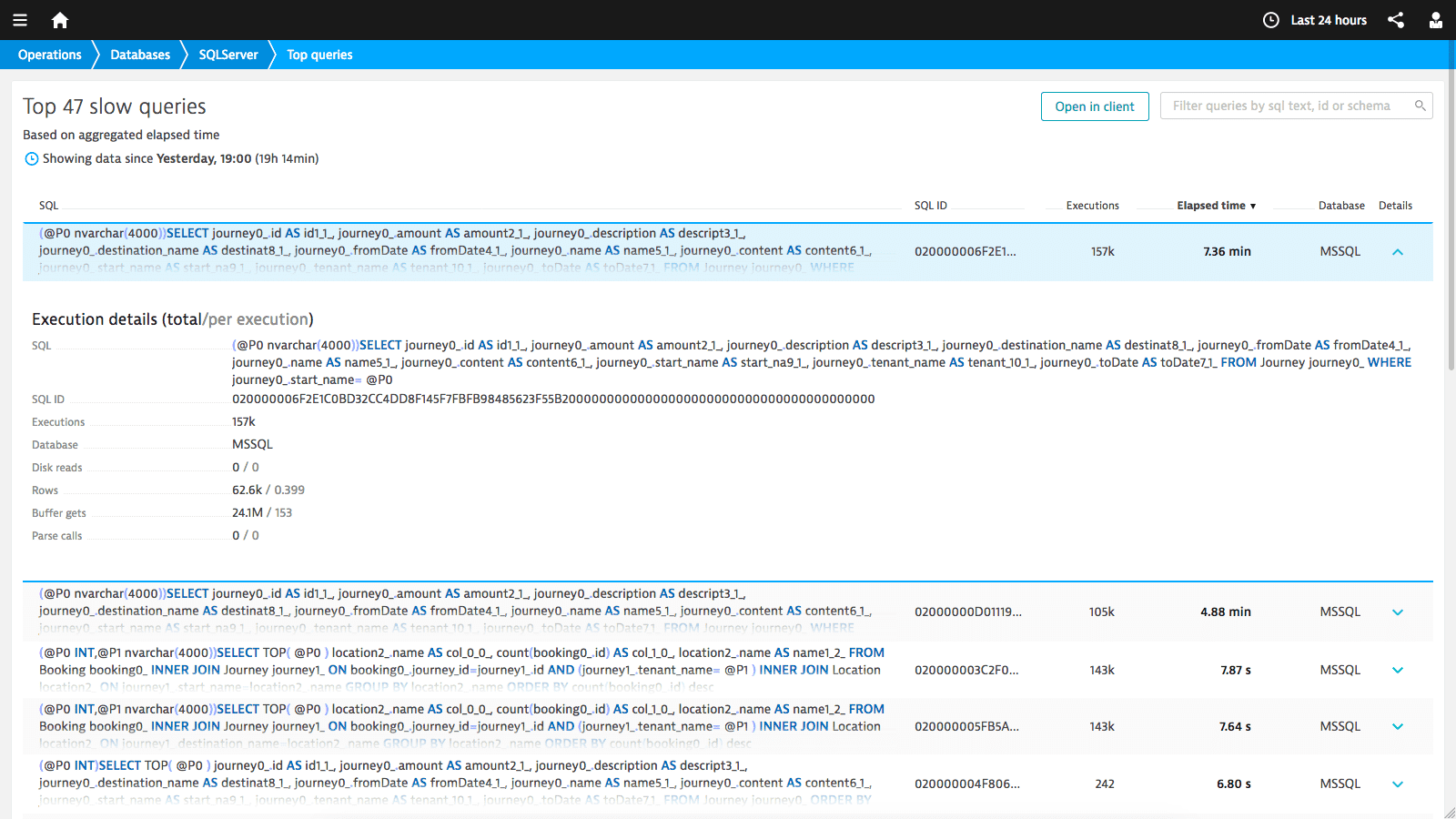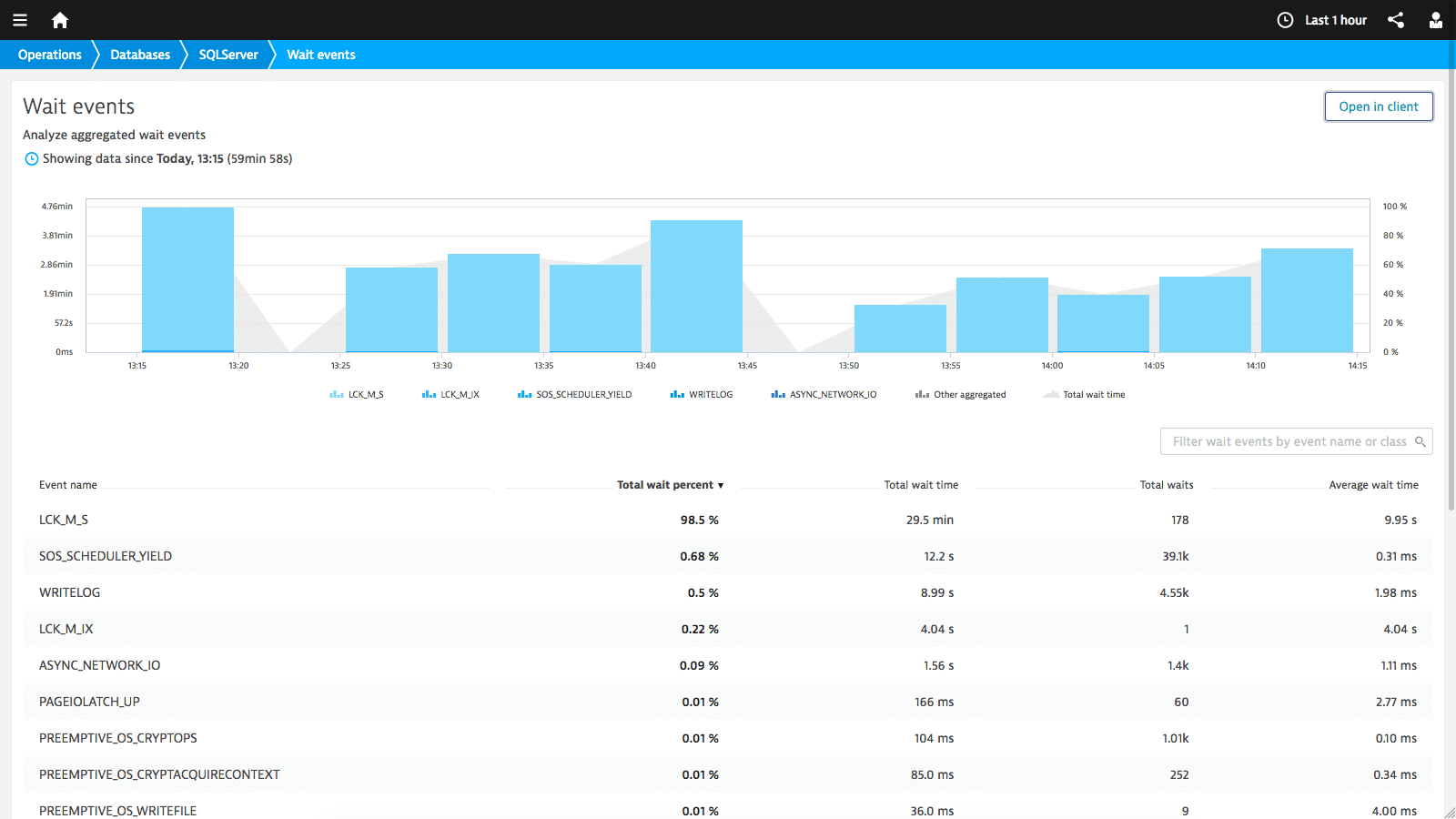 The next level of dashboarding power
From easy-to-consume dashboards focusing on your most important business KPIs to heavily customized dashboards for IT-operations. Web dashboards now combine great usability with all the power necessary to no longer depend on the AppMon Client.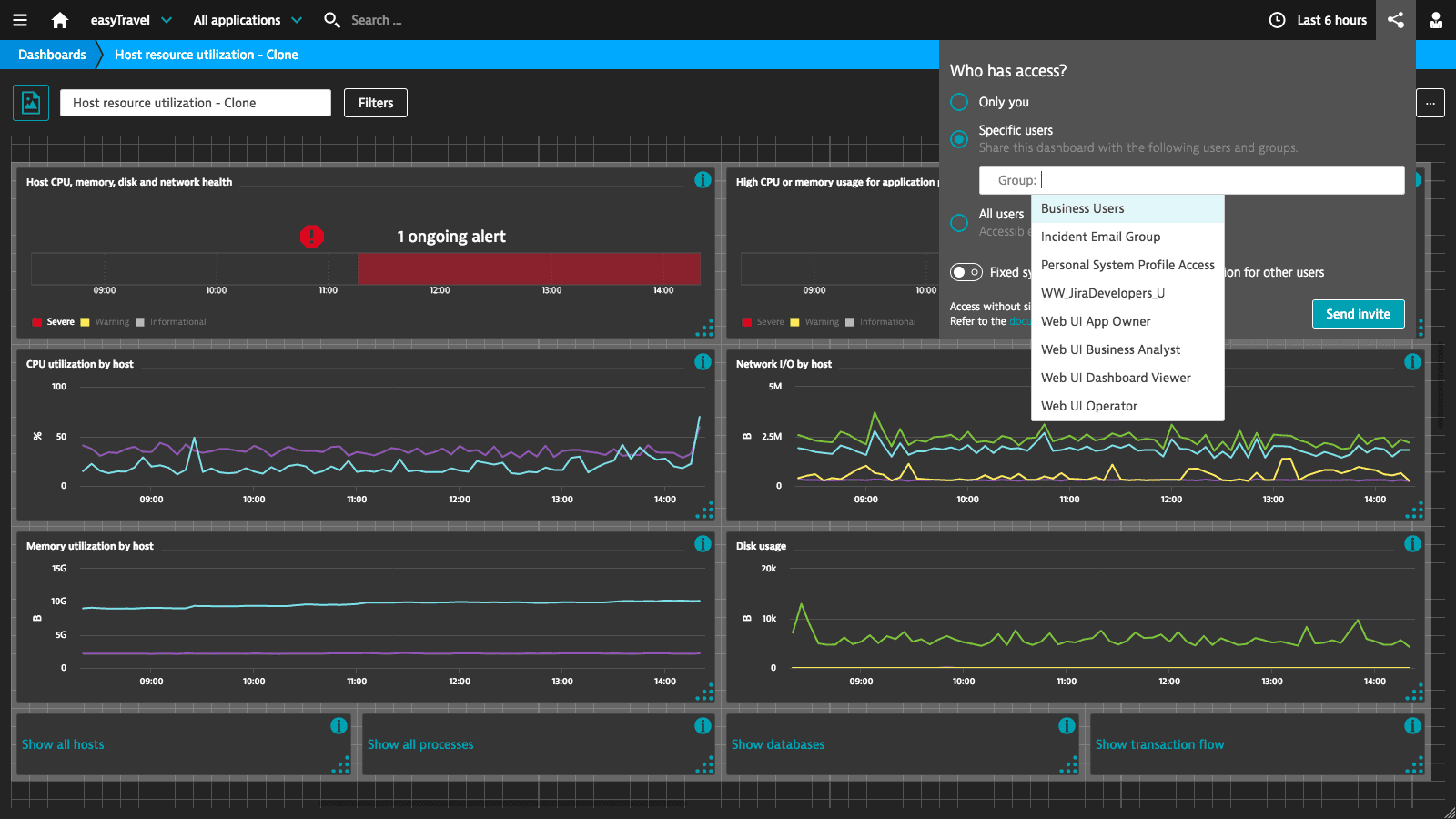 Collaborate and share dashboards with dedicated users and groups.
Connect dashboard tiles to any workflow, dashboard or external URL. And the best: Filters such as timeframes, apps or system Profiles are be passed on for further analysis.
Management of web dashboards provides admins with a global dashboard overview and the ability to modify any existing dashboard.
Use Tags to better organize web dashboards.
Visualize configured thresholds in charts.
Agent group, agent and host filters for web dashboards.
Convert your rich client dashboards
You love your dashboards but your time is limited to manually recreate them in the web? This release provides a simple conversion step for basic rich client dashboards. See which dashlets can be converted. Save time and adopt your teams much faster.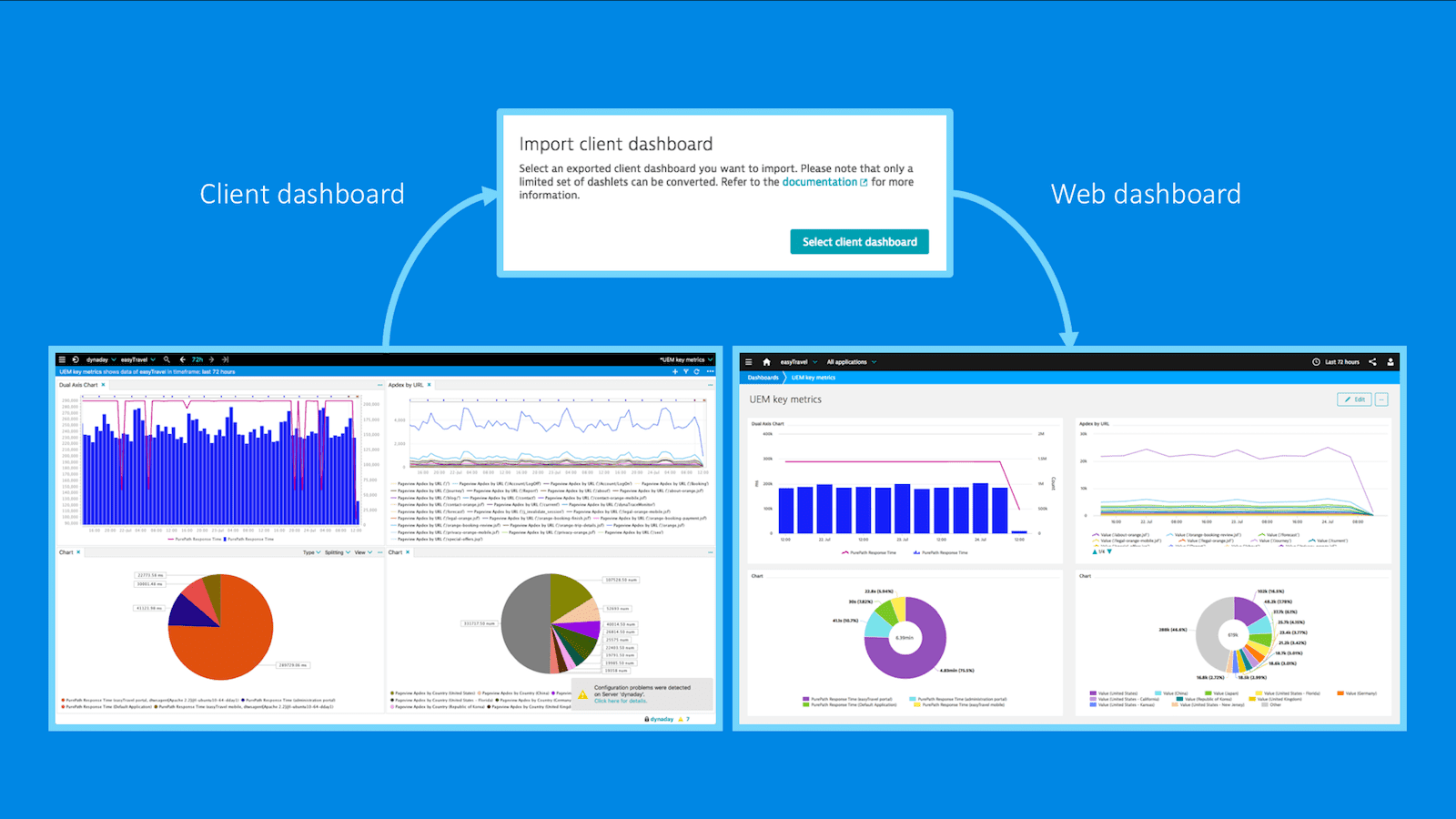 Be more productive
The new AppMon Client will improve your productivity as an AppMon champion. Learn more.
Improved performance while working on multiple AppMon servers.
Customization with favorite dashlets and dashboards for quick access to what you need most.
Fast navigation with new keyboard shortcuts.
Improved management of System Profiles & Dashboards.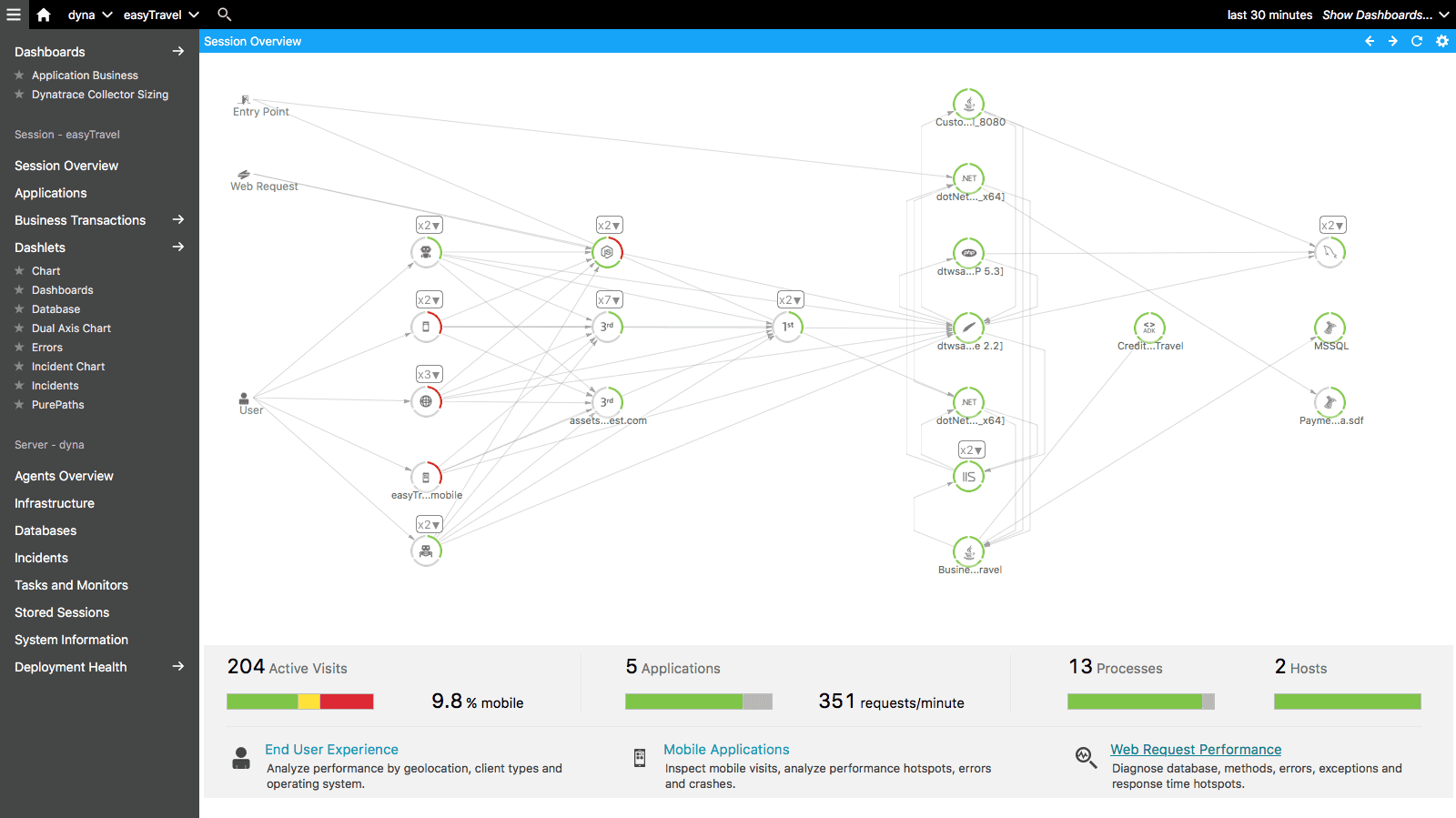 We scale with your business
You have the hardware and we have the proper size for you. The two new sizes (2XLarge and 3XLarge) enables you to maximize the resources in your environment without risking overload and data loss during peak usage times. A single server can now utilize up to 44 cores and 256 GB of memory. With that, your server instance can again digest more load compared to a usual XLarge server.
Agents
Support for .NET Core, Java9, PHP 7.1, Node.js 8.
Mobile agent updates
Android platform support changed to Android 4.0.3+ We changed the support from previously minSDKVersion 8 (Android 2.3) to minSDKVersion 15 (Android 4.0.3). Android Studio indicates API level 15 as being supported by nearly 100% of all current devices. If you require to support older devices you can continue to use the 7.0 agent.
Android agent available as aar instead of jar. This allows us to include proguard rules and permission requirements in the archive which makes the process of manual instrumentation easier.
Manual Android agent startup Use auto instrumentation but start the agent manually to control where it connects to
Deprecating JavaScriptNativeBridge The JavaScriptNativeBridge was a way to add mobile instrumentation from inside a WebView. With the latest security and performance improvements in Android and iOS, the communication from JavaScript to native code has been restricted in several ways. Therefore this approach is no longer reliable possible. You can continue to use the JavaScriptNativeBridge in your existing environments, but it might stop functioning as soon as you upgrade to the latest versions (e.g. using WKWebView instead of UIWebView). As an alternative we suggest that all our customers use the JavaScript agent instead.
AFNetworking now fully supported
Why your feedback matters
Based on forum suggestions and discussions, and feedback gathered at user group events and customer meetups, you steadily contribute to our common success. This release contains countless improvements, like: