September 4th, 2017. Become more effective with this update to Dynatrace AppMon & UEM.
Custom homescreen
Get the insight you need that much faster. All the data you need is available with a single click. This update allows every user to set any custom dashboard as the personal default login screen. In addition, all tiles that connect a dashboard to workflows, such as user analytics, or host and process lists, and much more, can now be used on custom web dashboards.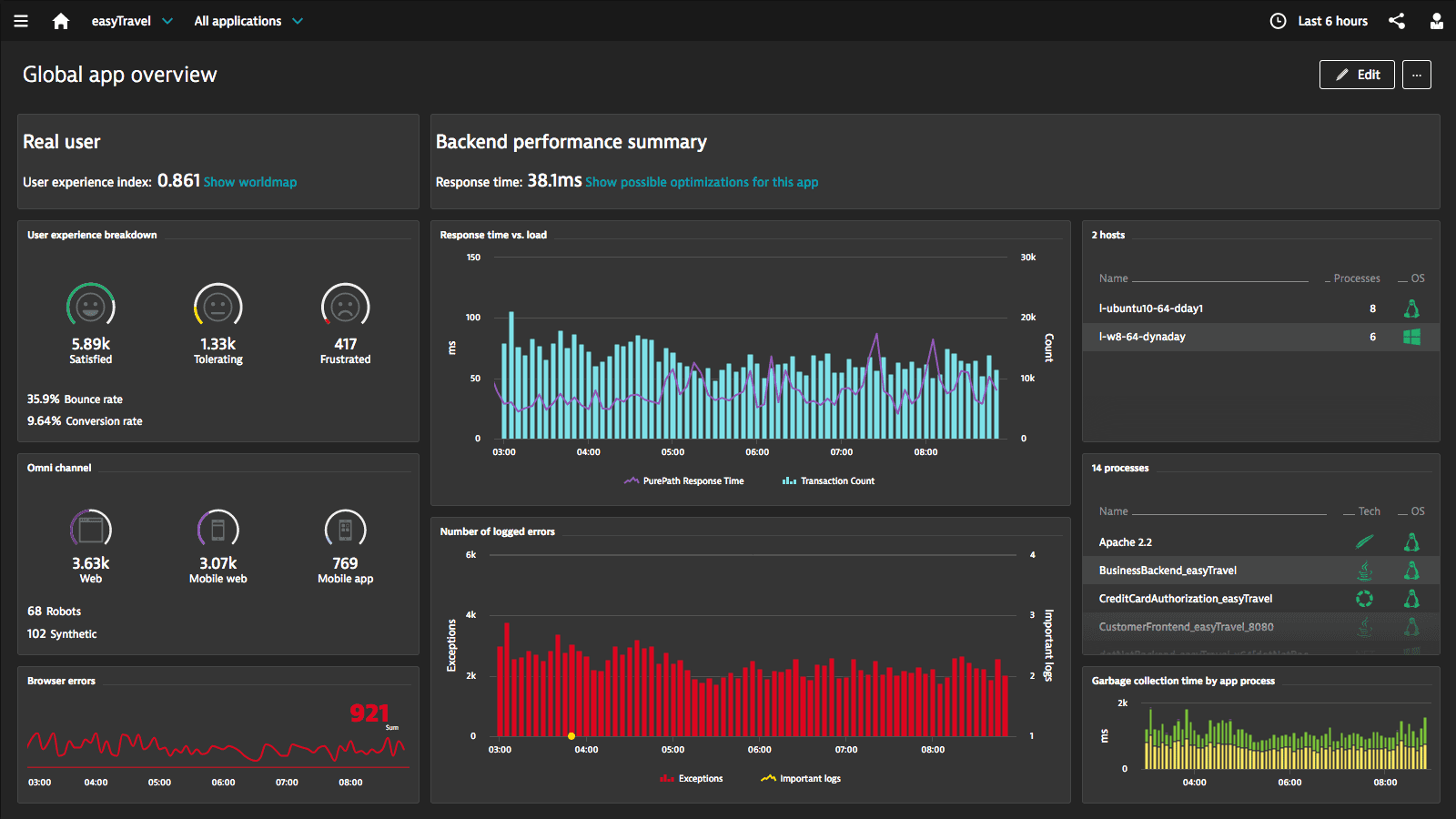 Watch all of your environments
Devops teams can now watch all environments, from dev, staging to prod on a single web dashboard. Any tile is now able to retrieve data for a specific System Profile.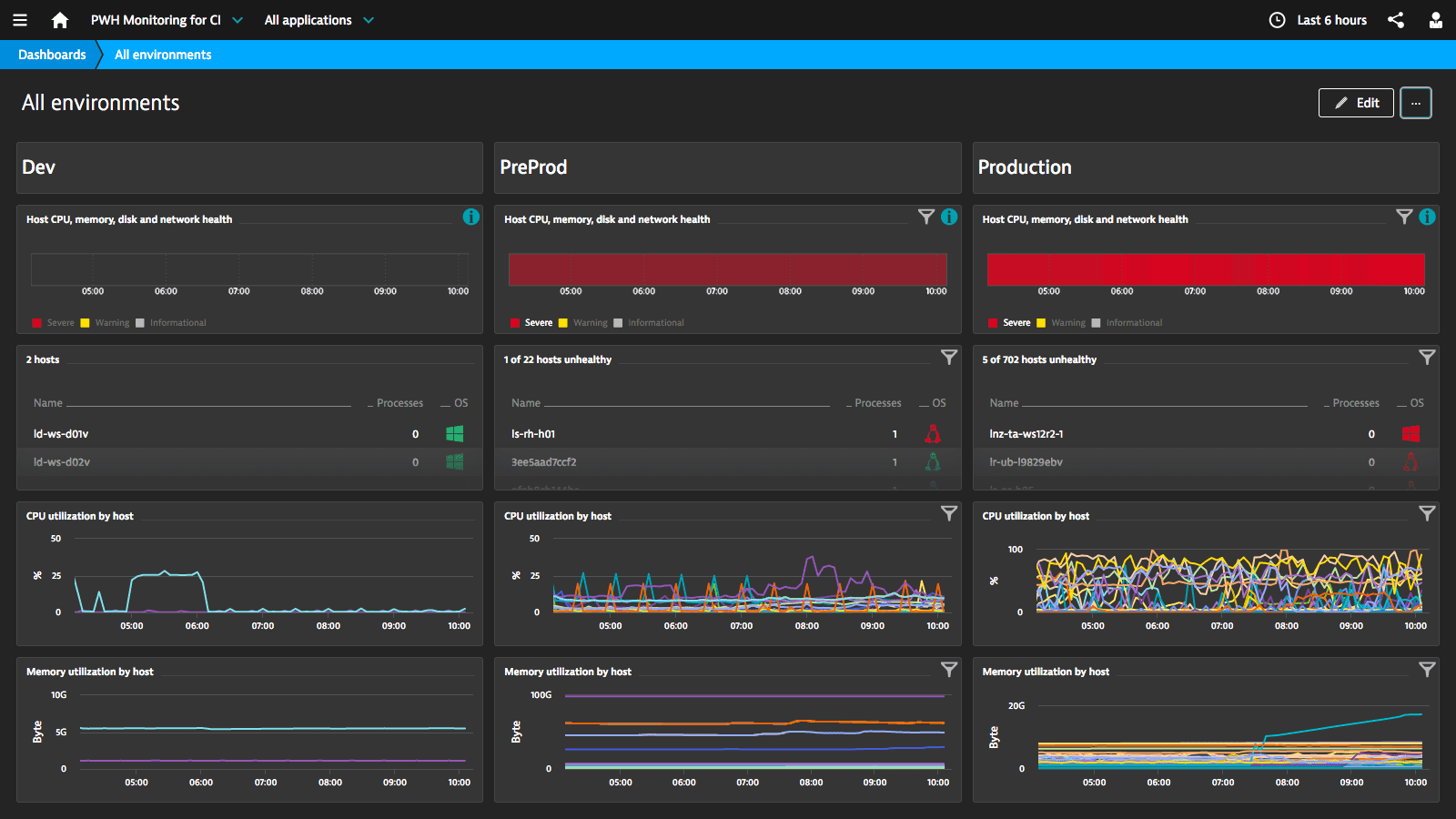 Become a reporting champion
Put all the facts that matter to your business on a single web dashboard. The "Text and measures " tile for web dashboards now allows calculation with measure values. Further-on comparing business facts across multiple timeframes is now possible with comfortable comparison timeframes for web dashboard tiles. Learn more.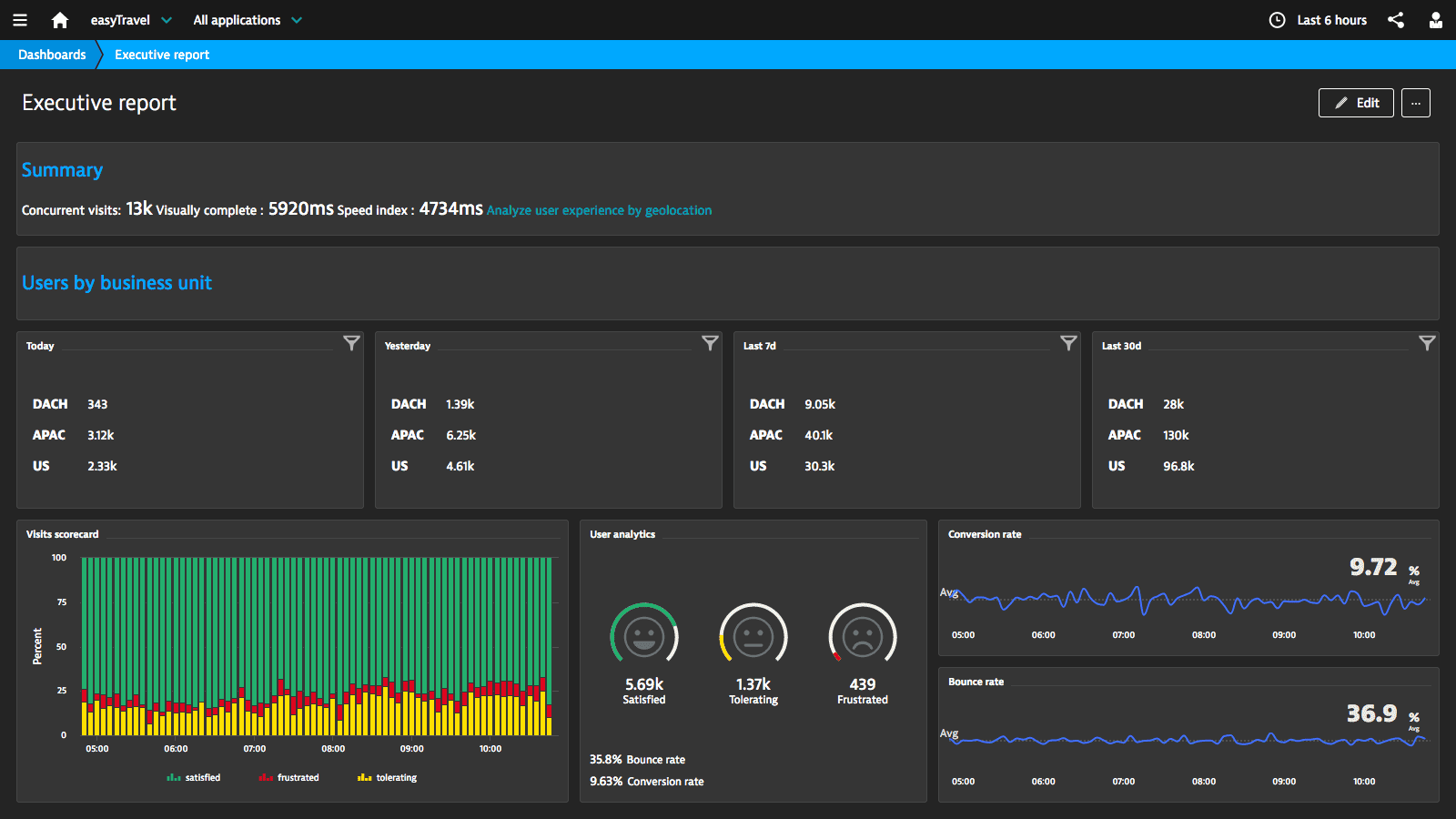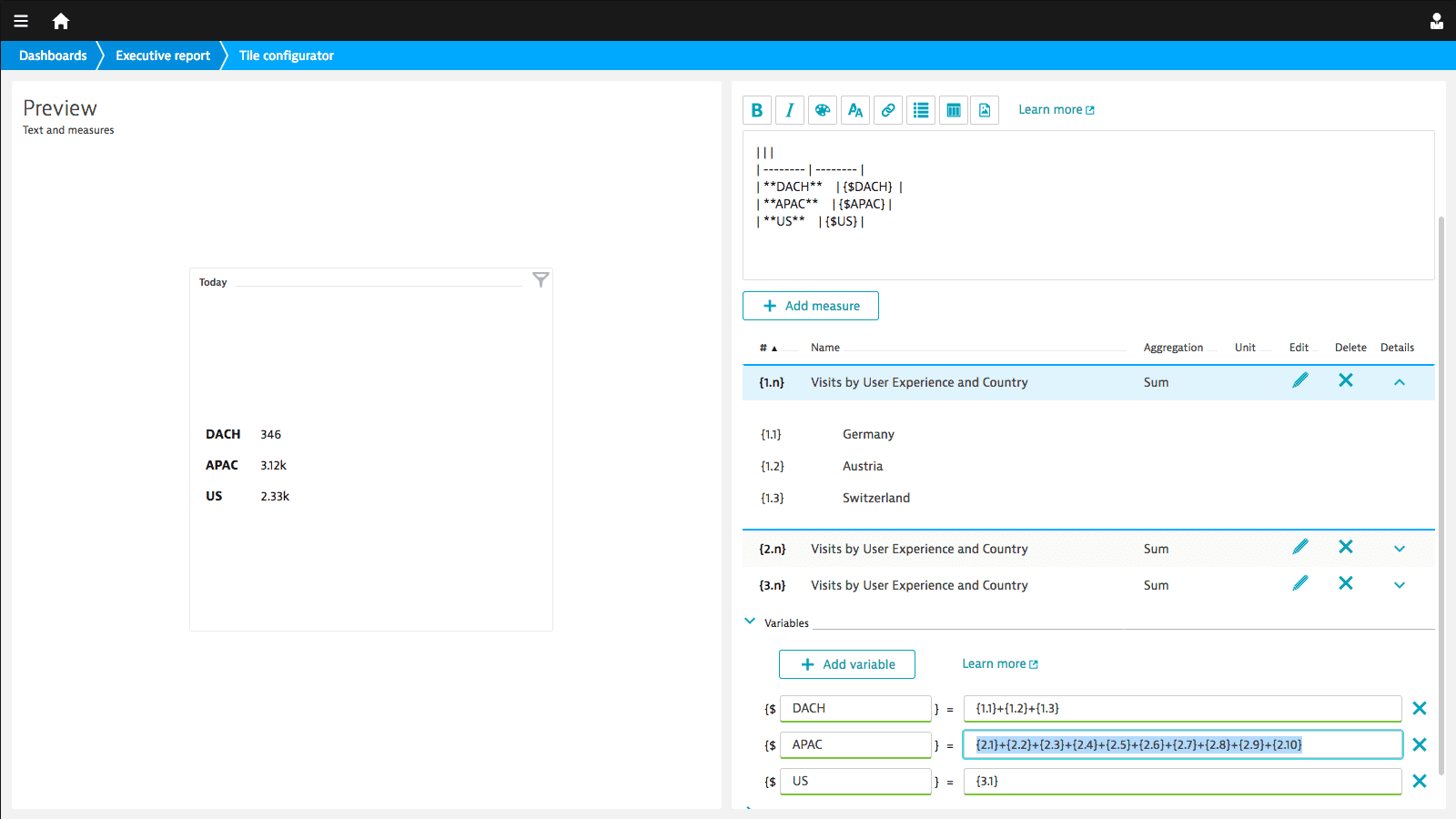 Support for Node.js 8.x and async/await
This release introduces support for Node.js 8.x, which will be the next LTS release of the platform.
After callbacks and promises, async/await is a new way to implement asynchronous calls in JavaScript. Dynatrace OneAgent supports this new language construct starting with Node.js version 8.
7.0.6.1013 Resolved Issues
20 (+ 0) critical issues,306 (+ 50) total resolved issues
| Component | Total | New |
| --- | --- | --- |
| .NET | 1 | 0 |
| .NET Agent | 2 | 0 |
| Agent | 3 | 0 |
| Charting | 1 | 0 |
| Client | 26 | 6 |
| Collector | 12 | 0 |
| Communication | 2 | 1 |
| Core | 1 | 0 |
| Correlation and Analysis | 37 | 6 |
| DB Agent | 9 | 1 |
| Dashboard | 1 | 0 |
| Host Agent | 1 | 0 |
| Instrumentation | 4 | 0 |
| Integration and Services | 2 | 0 |
| Java Agent | 4 | 0 |
| JavaScript | 4 | 1 |
| JavaScript Agent | 11 | 2 |
| Mainframe | 6 | 0 |
| MessageBroker Agent | 1 | 0 |
| Mobile | 23 | 3 |
| Nginx | 1 | 0 |
| PWH | 21 | 4 |
| Plugins | 4 | 1 |
| Server | 70 | 7 |
| Server Platform | 7 | 2 |
| Session Storage | 6 | 0 |
| UEM | 22 | 4 |
| WebUI | 22 | 11 |
| Webserver Agent | 2 | 1 |
Most critical issues since the last public updates
All resolved issues
WebUI
JLT-184102 - [WebUI] [CustomHome] As a user I want to define a custom dashboard as home
JLT-184375 - [WebUI] [CustomHome] As a user I want to use OOTB tiles in custom dashboards
JLT-185720 - Allow the user to calculate in the Text and measures tile and separate CSS from the markup.
JLT-186246 - Allow users to configure tiles with different system profiles on a single dashboard.
JLT-187611 - Allow users to set a comparison-timeframe on tile-level.
JLT-189542 - The system profile was persisted in every tile's config, even if no tile specific system profile was configured
JLT-192473 - The CSS editor in the Text and measures tile had several small glitches in different browsers especially with tabs and line breaks.
JLT-192635 - In the Configuration for the Text and measures tile the input fields for variables jump on focus.
JLT-192711 - Glitches in the Text and measures tile with markup, custom html and custom css.
JLT-192789 - Variable expression in the tile configurator is not evaluated after a full refresh
JLT-197078 - Tile specific session override is only persisted after the first change.
PWH
JLT-184308 - Enhance logging for performance warehouse connection issue.
JLT-194849 - Logging throttled on writing and reading key ids of dynamic measures
JLT-195075 - Enable switching case sensitivity of table columns at runtime.
JLT-196351 - Non-bijective map warning when '~' at the end of splitting tag
Server
JLT-185483 - Added debug flag to exclude one agents from GAT calculation
JLT-193653 - Tests Automation processing can cause server restarts when database heavy loaded.
JLT-194052 - .ini file may be corrupted by encoding read/write mismatch
JLT-194788 - System profile data importer fails for Oracle source pwh with ORA-00904 (Invalid Identifier)
JLT-195388 - realtimemapping.xml file cannot be restored if BT splitting contains non-ASCII character
JLT-195867 - Log spam: "[SerializationCache] Maximum cache size exceeded for..."
JLT-195920 - Incident does not auto-close when no more measure violates a threshold
Client
JLT-188200 - Rich client: Dashboard charts show "no measurements" when opening a second time
JLT-188378 - Fix occasional NPE in measure picker
JLT-195397 - Null check added to avoid NullPointerException on removing result measures used in a BT.
JLT-195663 - Fixed potential memory leak in the dashlets' context toolbars.
JLT-196249 - "Import stored session" permission has wrong type
JLT-196699 - Empty host addresses no longer cause the Host Details to report an error.
DB Agent
JLT-192154 - DB2 — agent's own queries not filtered out
UEM
JLT-193444 - Prevent user actions with much too high durations. Fix time calculation for user actions with invalid timestamps, i.e. use NaN instead of -1 in AgentToServerTimeConverter.
JLT-194003 - Provided the debug setting com.dynatrace.uem.correlation.maxActionDepth to allow modification of the number of levels deep that AppMon will drill into when performing nested actions
JLT-196142 - Visit Tagging not working reliably via orphan web request
JLT-196184 - dynalive: NPE at server.datacenter.enduser.EUECorrelationEngine.addEndUserAction - NPE introduced as a result of JLT-193548
Server Platform
JLT-194496 - Agents are load-balanced between collectors with incompatible versions in the same collector group, which leads to rejected agents
JLT-196695 - NullPointerException when no password could be read during session initialization
Correlation and Analysis
JLT-195542 - Analyzer logging information is now written into a separate file.
JLT-196091 - Ensure that the transaction ID is set on message sub-path.
JLT-196287 - fix memory leak in overload scenario
JLT-196307 - Improve Logging for OnDemand Analyzer runs.
JLT-196321 - Only show Lost+Found Transactions (corrupted with reason "The PurePath was created from a sub-path which could not be linked to any parent path") when client is in debug-mode.
JLT-196616 - fix possible NPE happening in server overload with paths from OneAgents
JavaScript Agent
JLT-195915 - ICEFaces module causes exceptions when used with icefaces prior version 2.
JLT-197026 - Speed Index is higher than visually complete
Plugins
JLT-196194 - Unix monitor reports wrong values for measure Used Memory on monitored Linux hosts with new version of free command (separate download)
Webserver Agent
JLT-196814 - Add beta version of the Linux PPC LE IHS (Apache) Agent
Communication
JLT-197092 - Fix a Client-Server communication problem between 7.0.6 clients and several 7.0.5rc servers that prevented opening the PurePath dashlet
Mobile
ONE-8603 - Android Auto-Instrumentation: Updated Asmdex library
ONE-9233 - iOS Agent: Improved javascript bridge
ONE-9359 - Android Auto-Instrumentation: Improved instrumentation script for Unix based systems
JavaScript
ONE-9475 - [JsAgent] Investigate why visually complete sometimes has unrealistic high values