UEM-PurePath integration for Synthetic Monitoring
The UEM-PurePath Integration for Synthetic Monitoring lets you drill down directly from the Dynatrace Portal into Application Monitoring, showing the PurePath and UEM data related to your synthetic tests in the AppMon Client.
To use the UEM-Purepath integration for Synthetic Monitoring, you need to change a few settings on both sides of the integration:
Configure the AppMon Server integration with the Dynatrace Portal. See Enabling UEM-PurePath Integration for Synthetic Monitoring to learn how. In addition, you may need to verify the security rules related to synthetic monitoring traffic.
In the Dynatrace Portal, configure the Dynatyrace AppMon settings in the Account Details page to define the AppMon Server for integration. See Account Settings in the Synthetic Monitoring help for details.
Viewing Data in AppMon
To enable the integration with Synthetic Monitoring, go to the Start Center > Monitor Applications > Monitor Synthetic Transactions and select the end user perspective or server-side links that open monitoring dashboards. When using real-browser replay in Dynatrace Synthetic Monitoring, open the end user perspective view. Otherwise, open the server-side view.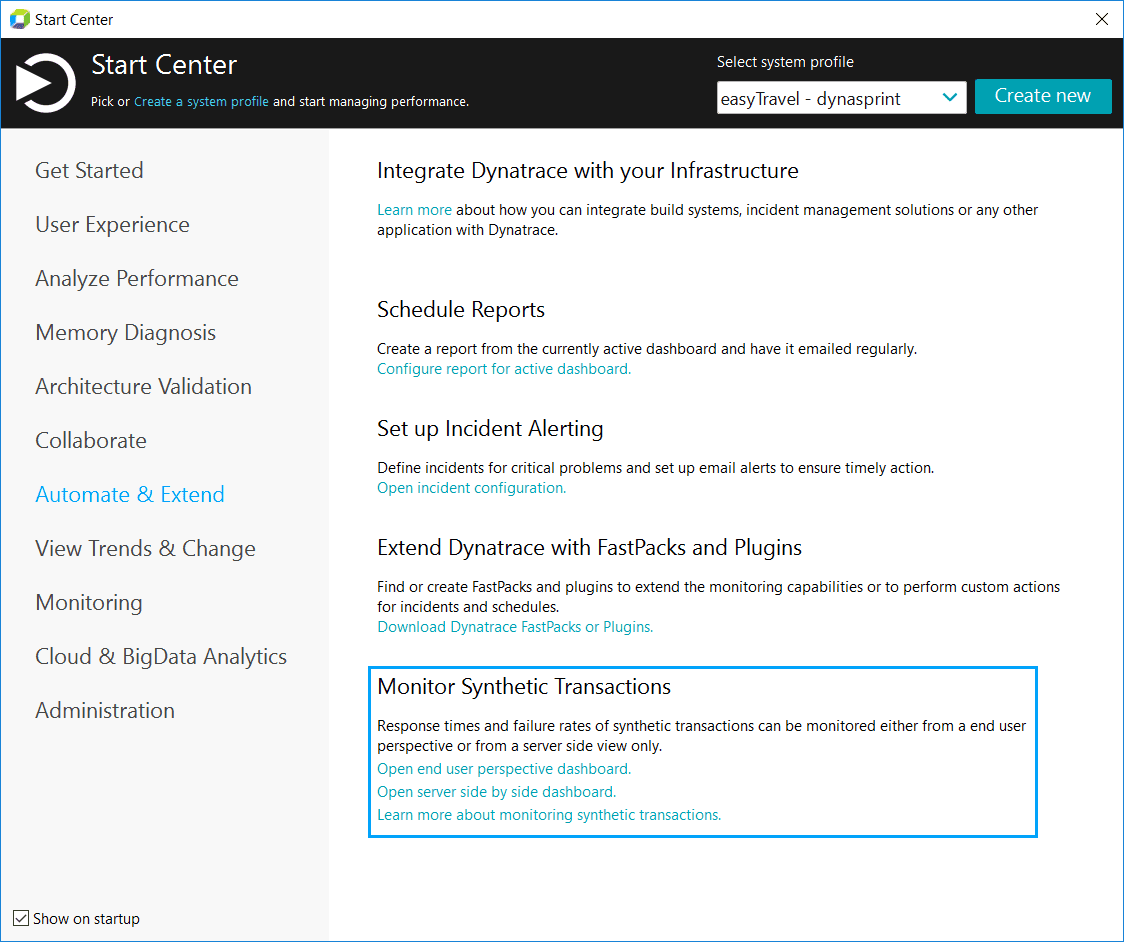 The first time you select this feature, additional measures and business transactions are created that are needed for that integration. AppMon captures Synthetic Monitoring requests and shows details on response times for every monitored transaction in the dashboard.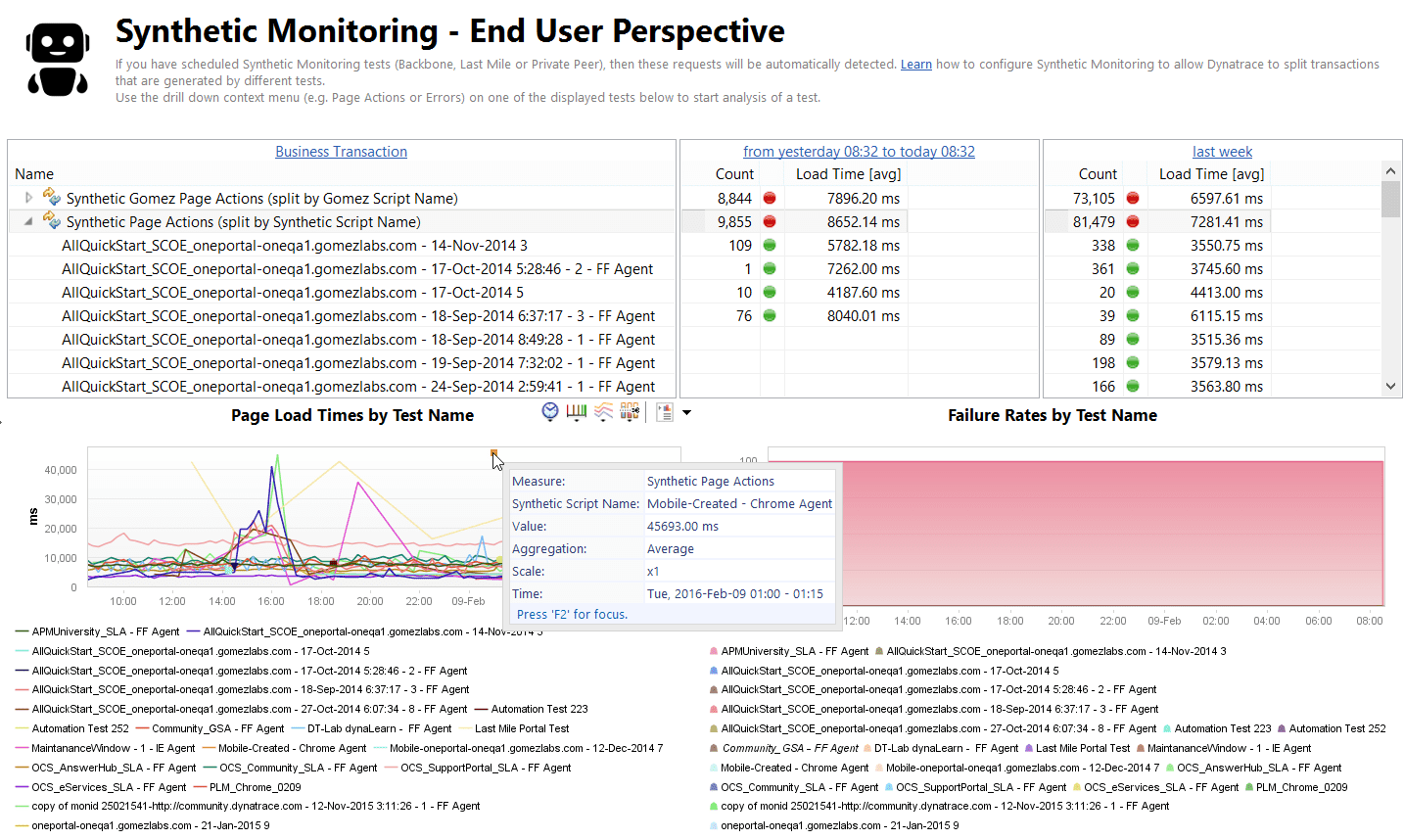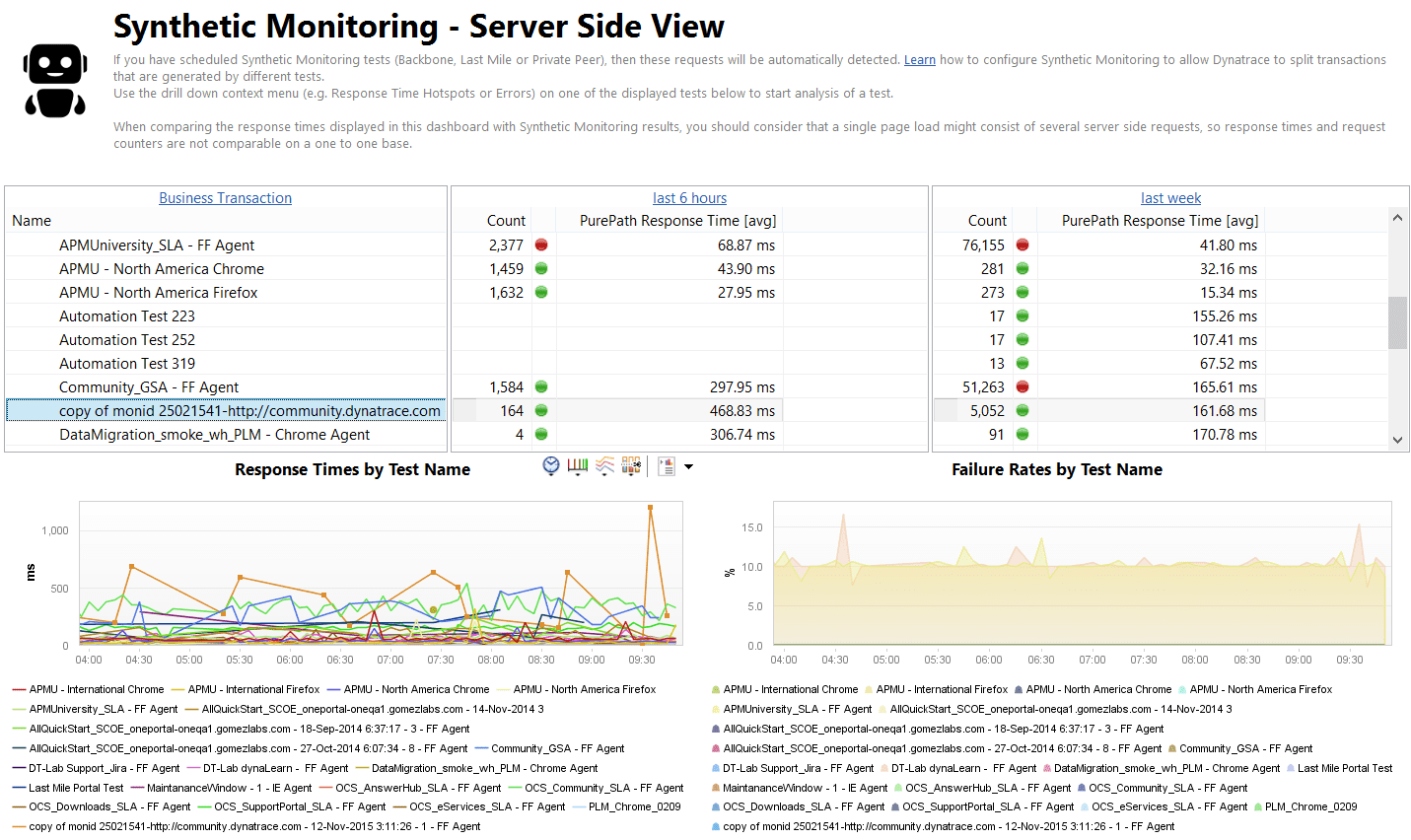 AppMon drilldowns - landing dashboards
The UEM-PurePath Integration for Synthetic Monitoring provides a variety of built-in dashboards to visualize the data of both your synthetic tests and your application's UEM key metrics. The following dashboards are accessible from direct drill-downs from the Dynatrace Portal.
Synthetic test details
This dashboard shows the main steps of your synthetic test, the network breakdown of the page actions, any errors caused by the synthetic test, and a direct comparison between the total load time caused by the synthetic test and the overall load time of the application.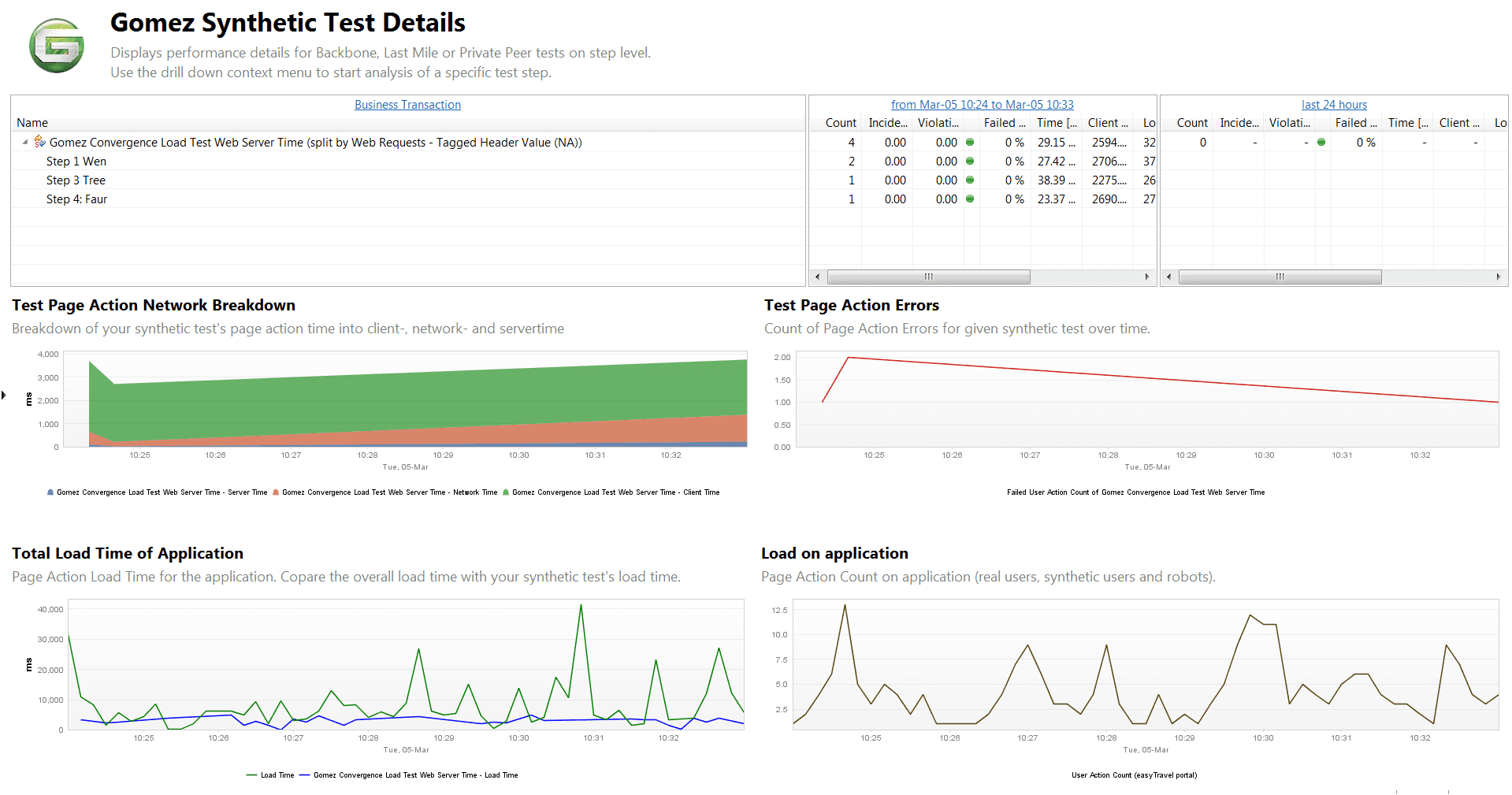 Page performance
This dashboard provides a common overview of your application's page action and its performance layer breakdown. See Page Performance dashboard for more information.
Synthetic UEM overview
This dashboard provides an overview of the UEM data collected by the Dynatrace Portal integration, as well as the browser timing metrics of the four major browser families: Internet Explorer, Firefox, Chrome, and Safari.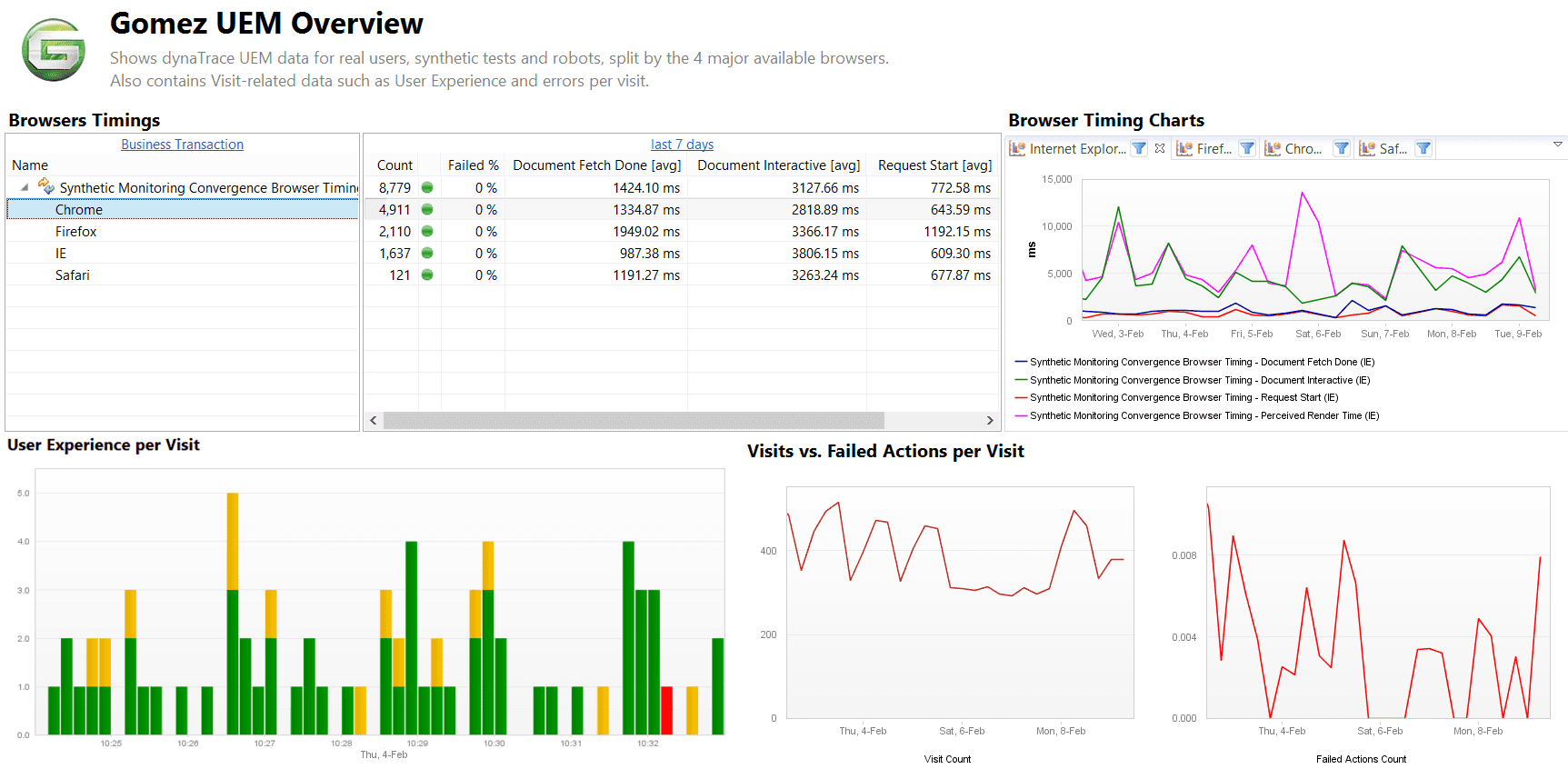 User Actions world map
This map visualizes and compares the performance of the user actions of your application across geographic regions.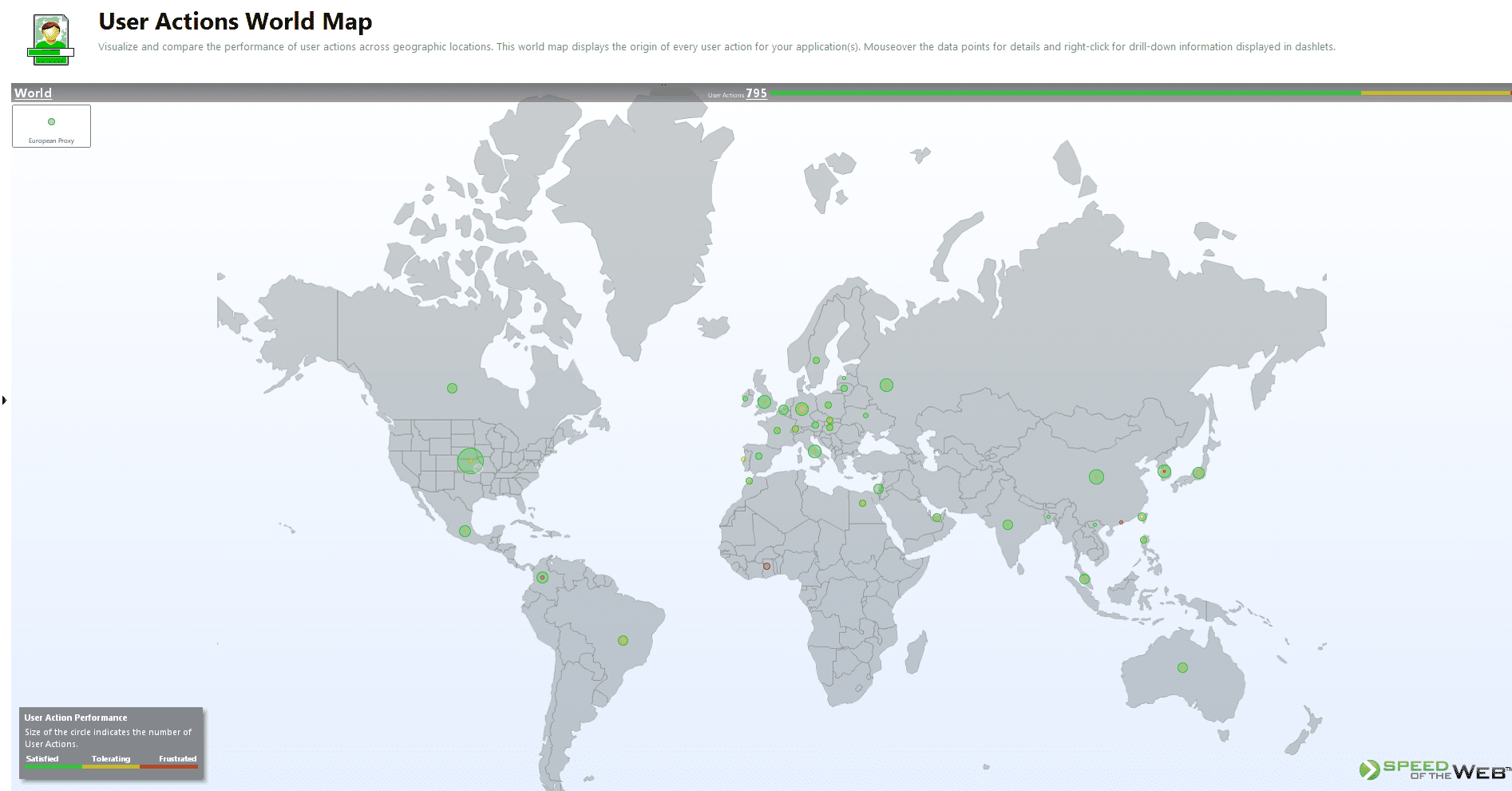 Conversions and bounces
This dashboard provides a brief overview of all converted and bounced visits.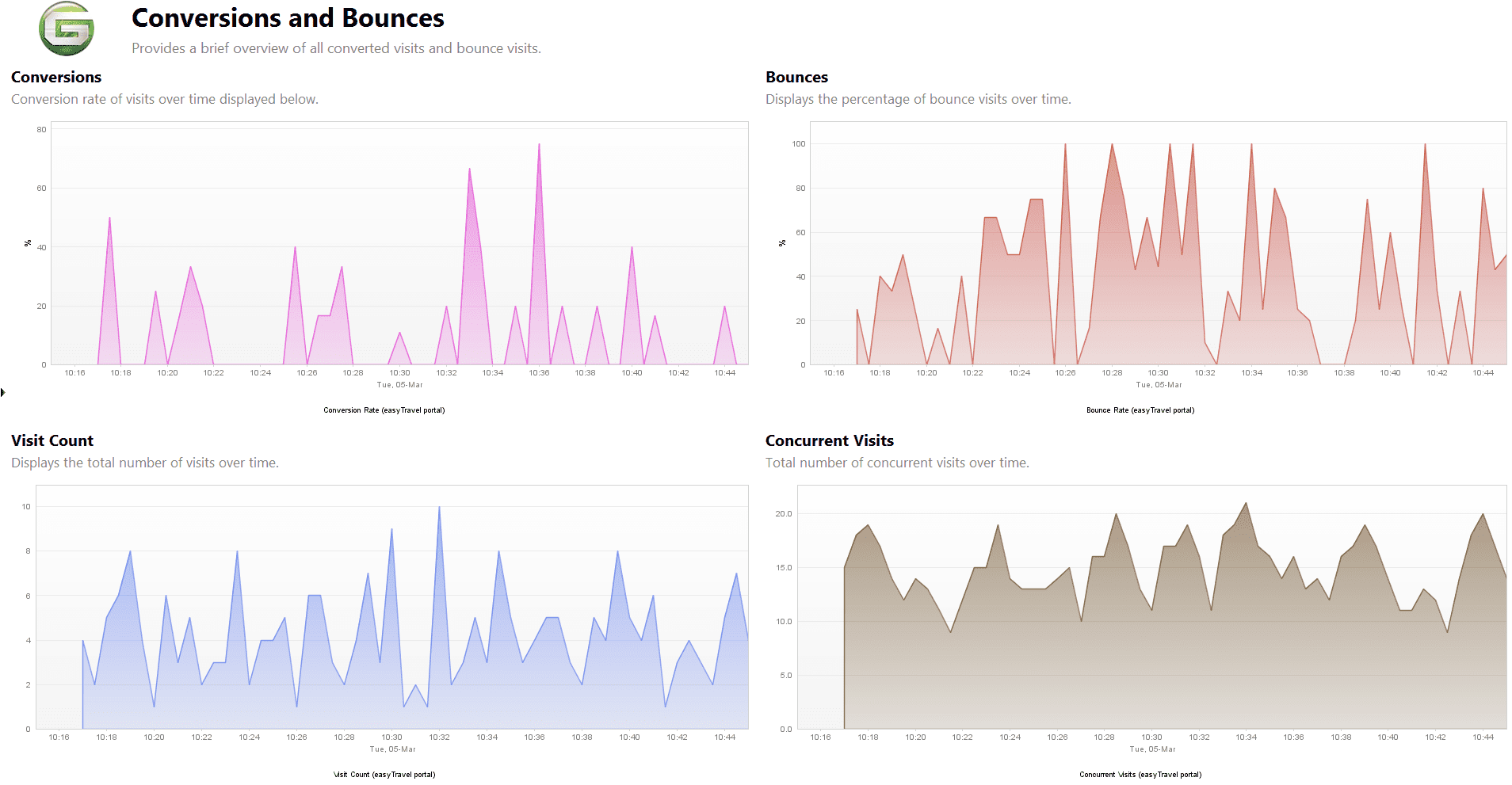 Synthetic UEM application performance
This dashboard visualizes the key performance metrics of your application.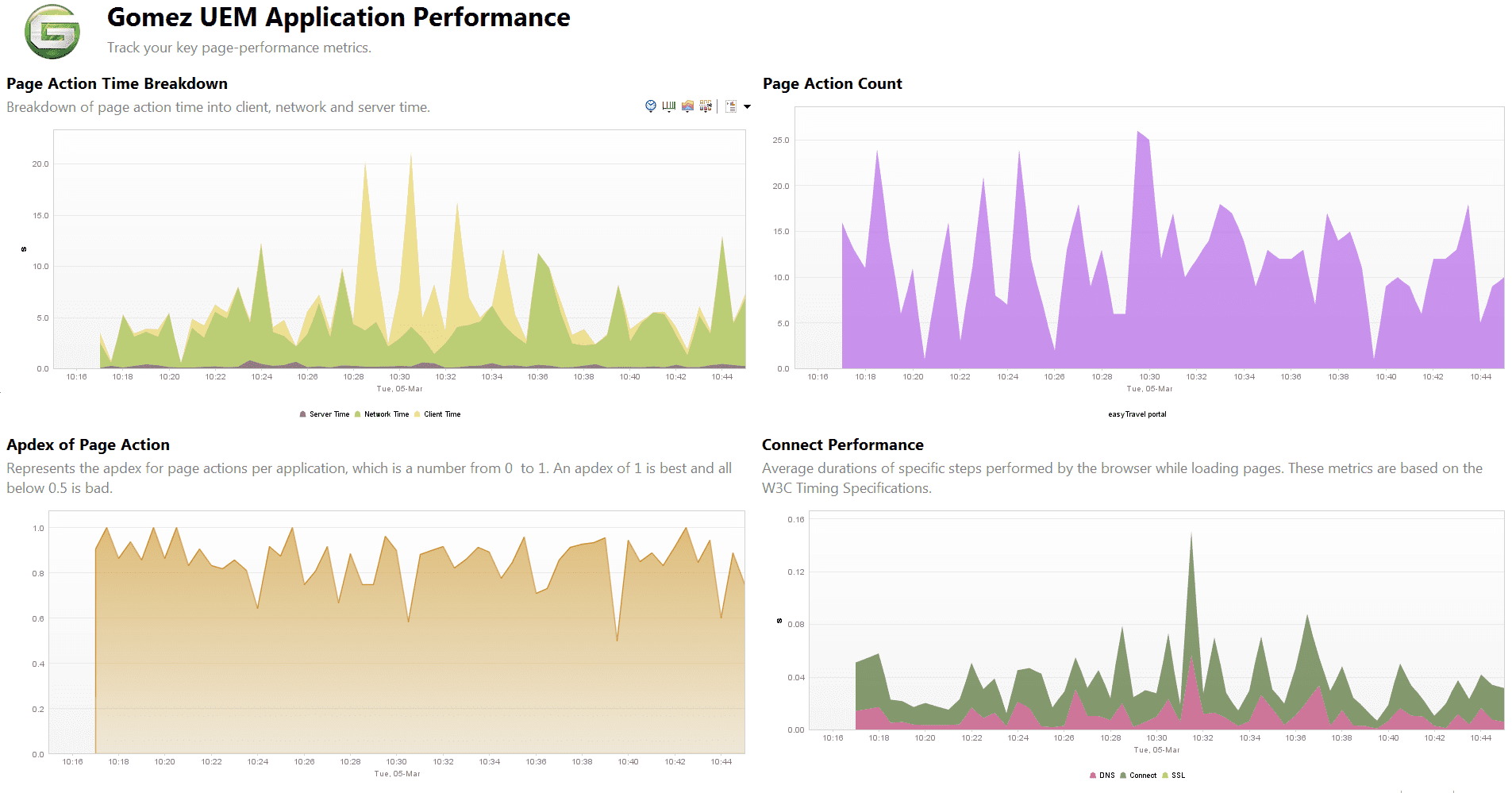 Troubleshooting
Apdex distribution unavailable / incomplete in JSON file
The built-in Business Transaction Visits by User Experience and Country is used to calculate the Apdex distribution of the available visits. If your visit-related data seem to be inconsistent or incomplete, verify the following structure of the business transaction:
Name: Visits by User Experience and Country
Calculate Results

Visit: count, aggregation: sum

Split Results

Country of Visits - metric: Visits - Geo Information
User Experience of Visits - metric: Visits - User Experience
Application