Java Run Time Environment update
AppMon 2018 October
This feature is available in the AppMon 2018 October only.
AppMon is shipped with private JRE. As the JRE is not included to AppMon updates you have to update the private JREs separately. Apart from the possibility to install latest update it also benefits you with the newest security patches and improvements to the JRE.
JRE updates are only available for Windows and Linux. If your AppMon components (Server, Collector, Client) run on different systems, you need to install both updates.
Updates may require a certain JRE version.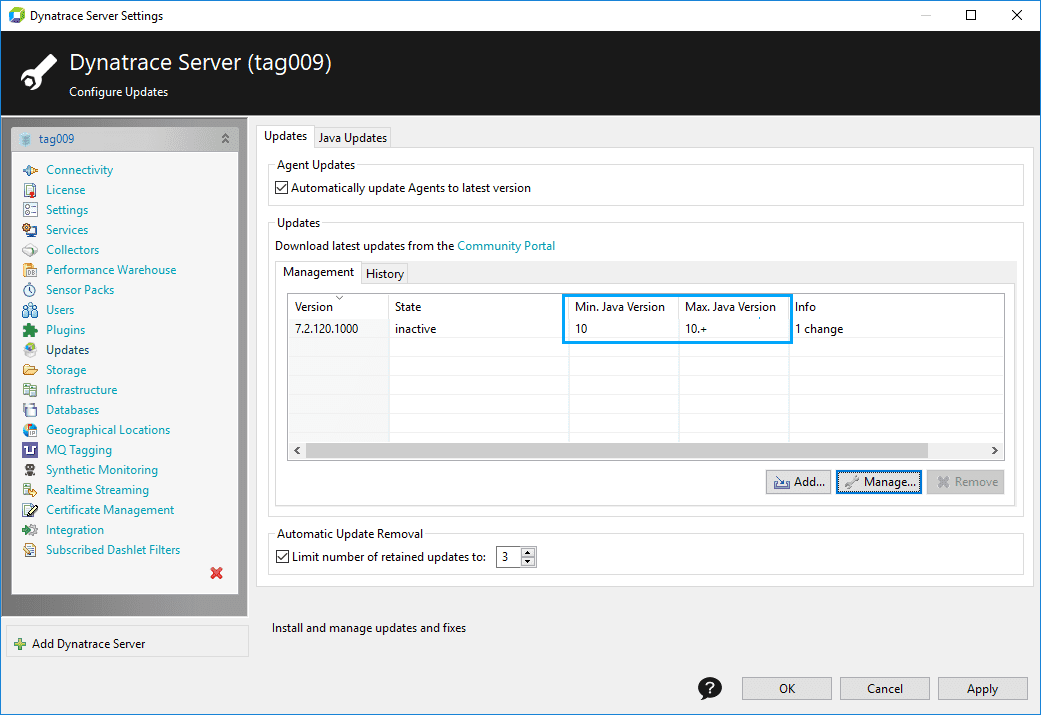 An attempt to install update without sufficient JRE version will result in an error:

When a new update is available you'll get a notification about it. You can install JRE automatically via the Start Center or manually via the Updates item of the Dynatrace Server Settings dialog box.
Important
You need admin rights for AppMon Server to see the notification and install the update.
Auto installation
Click the notification about update or navigate to the Administration section of the Start Center. Then click Download and add to server.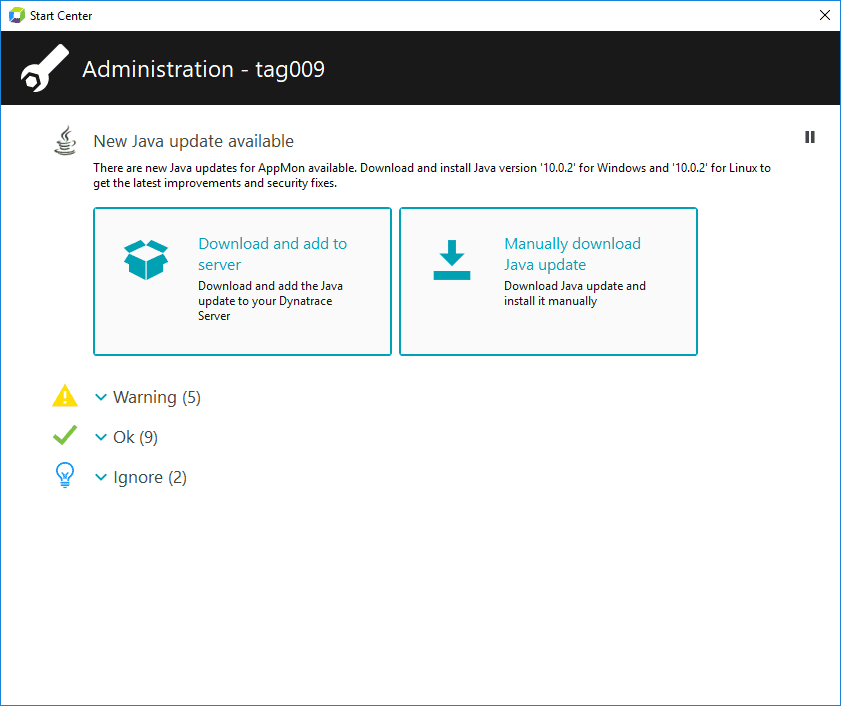 The JRE update will be automatically uploaded to AppMon components. You will need to restart them for changes to take an effect. You can opt to do it later. See How to start and stop AppMon services or daemons to learn how.
Manual installation
To install a JRE update manually:
Download the JRE update file. You can also use the Manually download Java update link from the Start Center.
Remember, you have to download versions for both Windows and Linux, if your components are running on different systems.
The update is shipped in the dtjre file. It contains the JRE itself along with its metadata.
Click Settings > Updates > Java Updates.

Click Add and then select the downloaded dtjre file.
Wait until the Client uploads the file to the Server.
When proposed, restart the components for changes to take effect. You can opt to do it later. See How to start and stop AppMon services or daemons to learn how.
If needed, upload the dtjre file for other OS in the same manner.
If prompted, install the update to activate the JRE update.