Use the license assignment feature to precisely manage the availability of Agent licenses per System Profile and/or Agent Group.
There are two types of license assignments:
Reservation: a certain number of Agents is reserved for a System Profile/Agent Group. It guarantees Agent license availability. At the same time, the System Profile/Agent Group can have more Agents connected, utilizing more license units than reserved.
Maximum Allowed: a certain number of Agents, that limits license availability for a System Profile/Agent Group. A System Profile/Agent Group cannot utilize more Agents, and this amount is not guaranteed.
You can use either of the assignment types, and also their combination. In that case, the Maximum Allowed number should be equal or more than the Reservation number.
In addition to the license assignments, you can define whether technology types may consume Agent Hours to fulfill its reservations or limits. If no reservation or limit exists for a System Profile/Agent Group, its Agents are allowed to use Agent Hours.
Assignment example
Assume that you have purchased 100 Java Agent licenses, and need to distribute them between three System Profiles:
Test
Production A
Production B
To secure Agents availability for Production A and Production B System Profiles, you can create reservations of 30 Agents for each of them.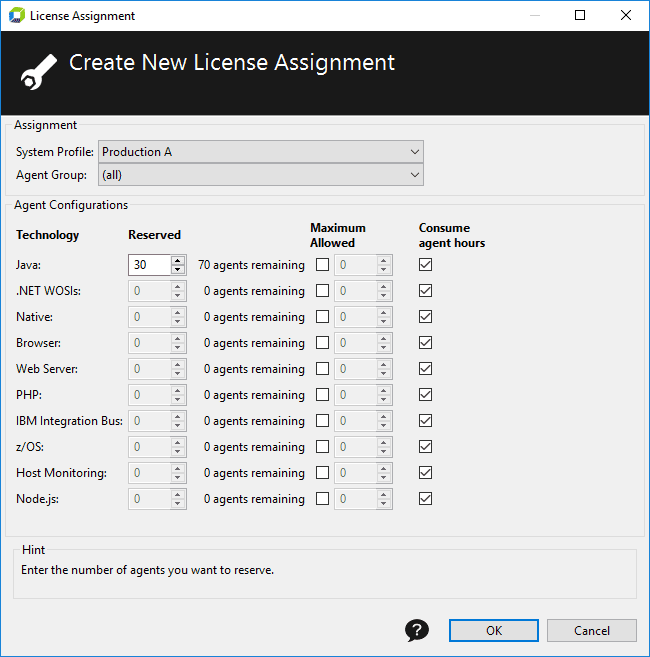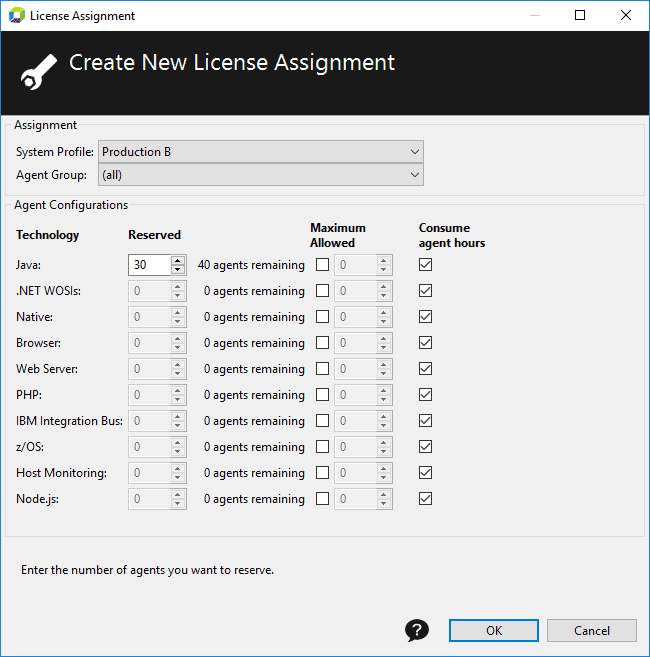 Similarly, to ensure that the Test System Profile have available licenses, you can create reservation of 20 Agents for it.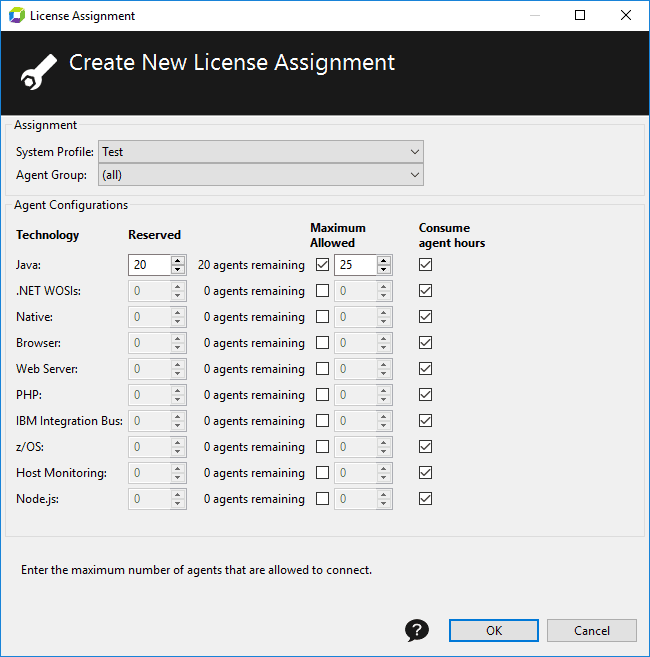 Now, 80 Agents are reserved. 20 remaining Agents may connect to any System Profile when needed. To make sure that the Test System Profile doesn't consume them all, you can set the maximum allowed assignment of 25 Agents for it. Now the Test System Profile can consume no more than 5 of free Agents. Note, that those 5 additional Agents are not guaranteed for the Test System Profile, as they can be consumed by any of the production System Profiles.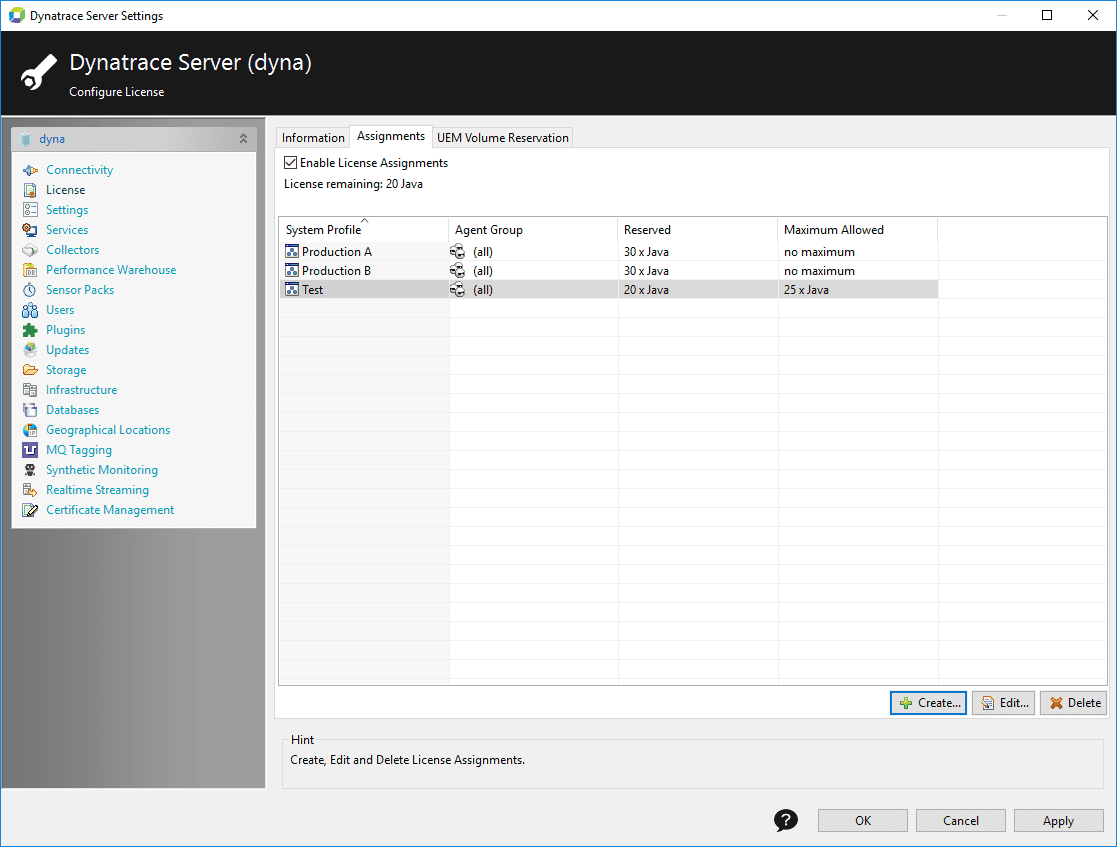 Inheritance
Assignments without Agent Group specified, apply to all Agent Groups from the System Profile, which don't have its own assignment. The most particular assignment rule always applies. Agent Groups, which have its own assignments use them and don't inherit assignment for System Profile. Agent Groups without specific assignments, consume assignment for System Profile.
Example
Sample System Profile has a reservation for 10 Java Agents and 10 .NET Agents. A maximum of 15 Agents of each type is allowed.
Sample_Java Agent Group, belonging to the Sample System Profile, has a reservation for 5 Java Agents.
The 5 Java Agents for the Sample_Java Agent Group are not deducted from the Sample System Profile reservation. So, a total of 15 Java Agents is reserved for the Sample System Profile.
If a .NET Agent is connected to the Sample_Java Agent Group, it is not deducted from the Sample System Profile reservation.
Also, the Sample_Java Agent Group can utilize unlimited amount of Agents, as limitations of Sample reservation don't apply to it.
Configure a license assignment
You can configure license assignments in the Dyantrace Server Settings dialog box of the AppMon Client, or via REST.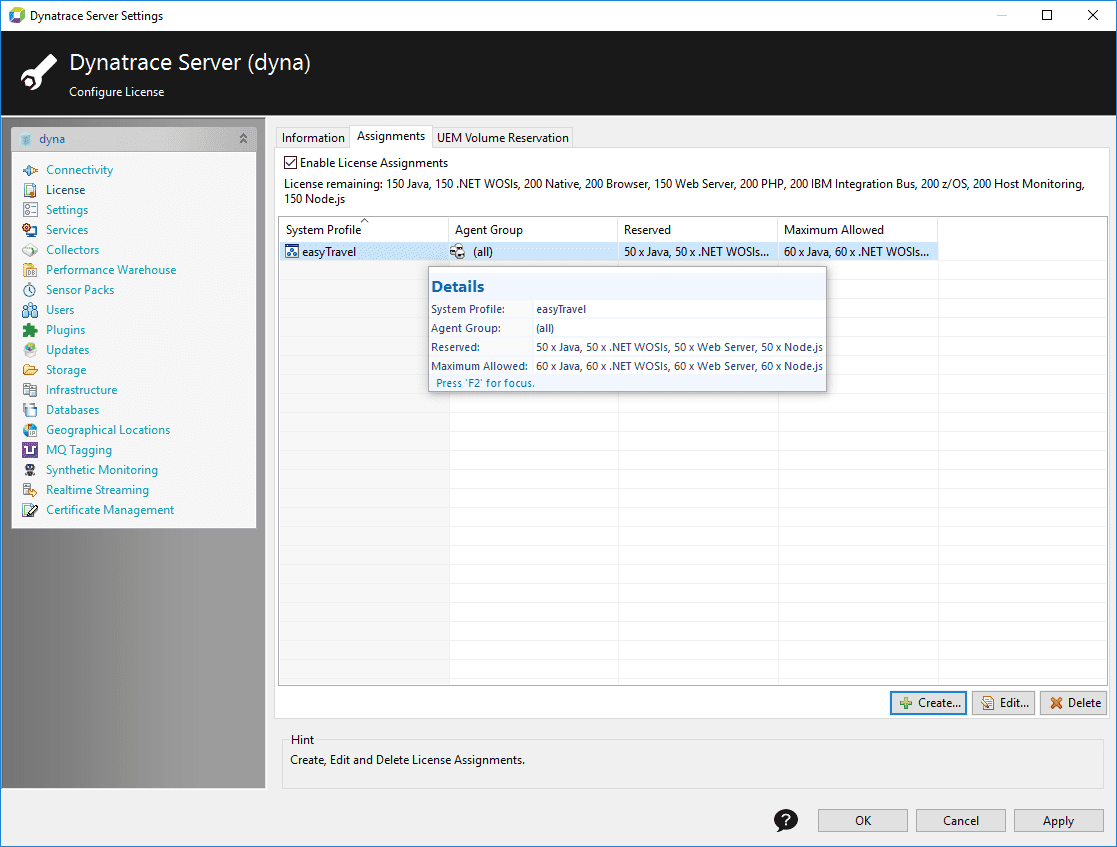 Click Settings > Dynatrace Server > License to access the License pane of the Server Settings dialog box.
Click the Assignments tab in the right pane. Here, you can create, edit, and delete license assignments using the buttons at the bottom of the table. The number of remaining available Agent licenses are shown above the assignments table.
Select the Enable License Assignments check box.
Click Create to open the Create New License Assignment dialog box.
Select a System Profile and optionally an Agent Group. If an Agent Group is not selected, the assignment applies to all Agents Groups of that System Profile without its own assignment. Remaining (unassigned) Agent counts are available for all Agents in the order in which they are connected.
Assign the number of Agents you want to reserve and/or the maximum number of Agents allowed for a given technology type. The maximum number depends on the number of Agents allowed by your license. Also define whether your Agents is allowed to consume agent hours.
Required permissions
To create, edit, or delete license assignments, your user account must have the following permissions enabled:
Change System Profile Settings
Deploy License
Manage Server Configuration
Overbooking
Overbooking occurs when the number of reservations exceeds the number permitted by your license. Overbooking can occur during the initial reservation assignment or when you change your license and decrease the number of available agents to fewer than what you originally reserved.
If you overbook a reservation, the number of agents allowed by your license still connects, however, you receive a notification in the Start Center and in the Dynatrace Server Settings dialog box.