eServices view license information
Once the License Management team creates your license, you can view the license details by choosing My Licenses from the eServices menu. The My Licenses page contains two tabs: Licenses and UEM Volume Vouchers. On these two tabs, you can view license details and UEM volume. You can also select actions to perform, such as downloading a license file, creating an emergency file, and redeeming or upgrading UEM volume.
Note
If you cannot view licensing information or have access to the license management features, contact the eServices team to have your user account added to the license.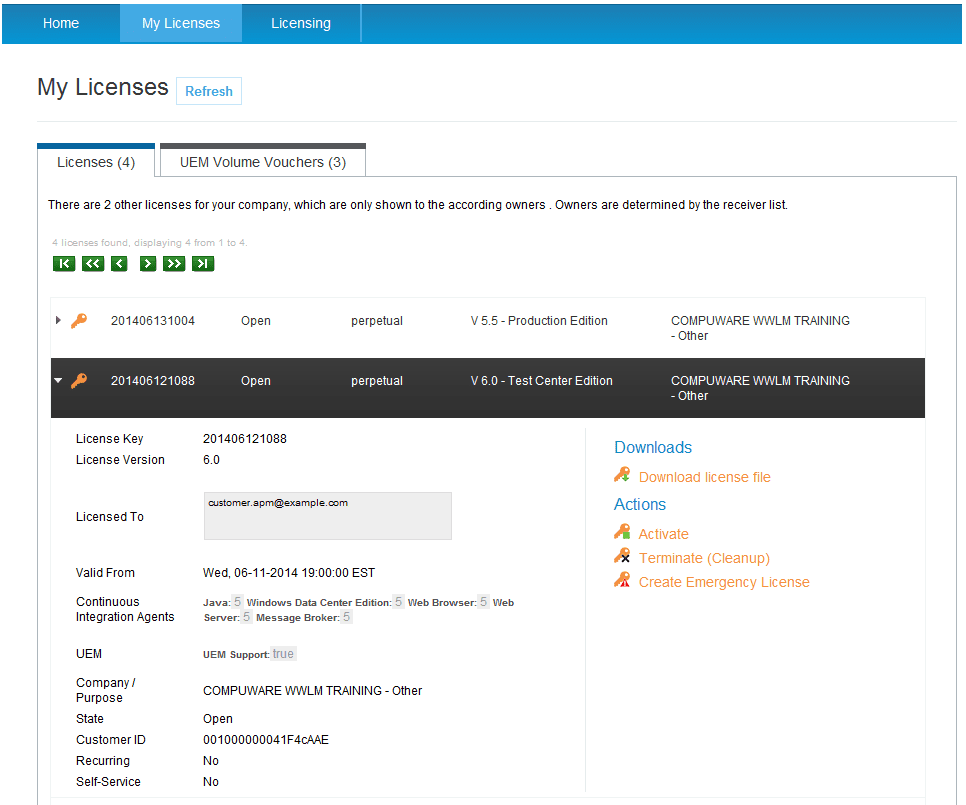 Item name
Possible values
Value (shown in the previous screenshot)
Description
License no.
201406121088
State
Open, issued, activated, deactivated, terminated
Open

POC and Demo licenses are in an state of Issued and don't need to be activated.
When a license has been deactivated for a specific hardware fingerprint, it can only be reactivated for a different one.
Terminated licenses can be filtered from certain lists for clarity.

Type of license
POC, evaluation, term, perpetual, ISV
Perpetual

POC - Proof of Concept;
Term - time-limited;
Perpetual - not limited in time

For Product version #
V 7.0
This license was issued for AppMon version 7.0
For Product edition

Test Center edition
Production edition

Test Center edition
Editions expose different features and functionality in the product, such as application scenarios, Agent configurations, and dashboards.
Licensed to
Mail address
customer.apm@example.com
Can contain multiple email addresses for the license owners. A license may have more than one owner.
Valid from
Wed, 06-14-2017 19:00:00 EST
Issue date of the license.
Valid until
Does not apply to perpetual licenses.
Available Agents
All Editions Agents: Java, WOSI (Windows OS Instance) Enterprise or Data center (=.Net), ADK, browser, Web Server
Other: UEM visits (volume)
Continuous Integration
Automation vs. Developer
Advanced Profiling Agents
Available Agent types and numbers for different editions.
On z/OS: A Licensing Management System must be installed on z/OS in addition to the AppMon Server license. See Upgrading z/OS Agents.
Downloads
Download license file, download activated license file
Download license file
If you must perform licensing tasks manually (uaing a file), you can download the dynaTrace_license_20YYMMTTHHMMNNNN.lic file you initially received by email.
After you imported it in the Client, choose Server Settings > License to see your license data including the activation key.
Activation action
Activate, Deactivate
Activate
With the Activation Key you can manually Activate the license here and then import the _activated.lic pressing the same button in the same Client dialog box as you did with the unactivated key before.
Deactivate manually by pressing the button in the Client licensing dialog box and copying the Activation and Deactivation Keys to the eServices Deactivate dialog box.
Reactivation action
Reactivate
The Reactivate link only appears after a license has been activated.
Reactivation lets you continue operation without assistance from the License Management team when an emergency happens, such as:

hardware defect
AppMon Server move
network configuration change

Upgrade action
Upgrade
Upgrade a license in Trial mode and issue a temporary license or upgrade a license in Direct mode and convert it to a new license.
Redeem UEM volume
Redeem volume vouchers
Click this link to redeem a UEM volume voucher for the currently selected license. After redeeming the voucher, you receive a volume license file (.vol file) to import into your AppMon Server.
Deactivate UEM volume
Deactivate UEM volume licenses
Click this link to deactivate any UEM volume for the currently selected license. A voucher is created for the volume not consumed prior to deactivation.
Terminate (Cleanup) action
Terminate
Terminate (Cleanup)
Delete deactivated or expired licenses from your profile.
Create emergency license
Create emergency license
Create emergency license
Click this link to create a one-time emergency license.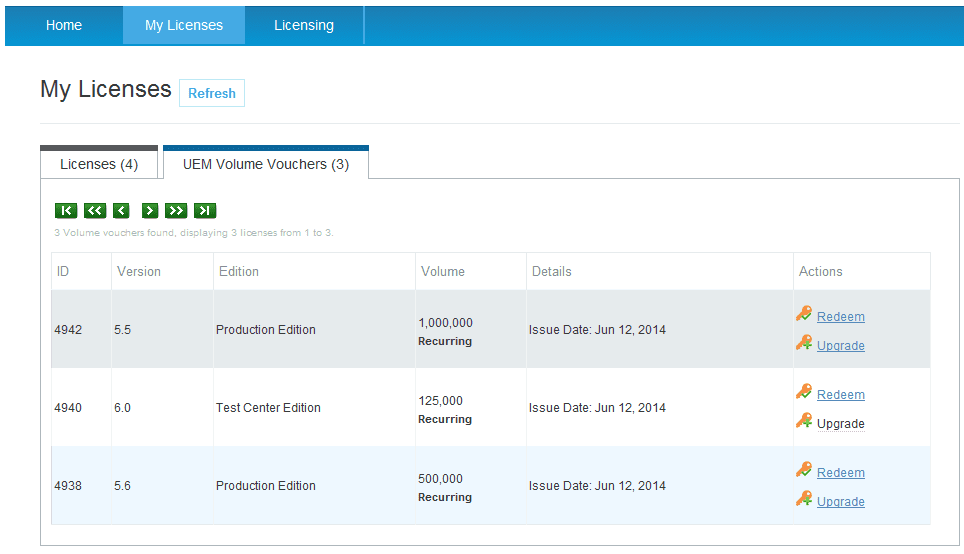 | Item name | Possible values | Item (shown in previous screenshot) | Description |
| --- | --- | --- | --- |
| Redeem (volume vouchers) | Redeem | Redeem | To redeem a voucher for a license, select the UEM Volume Vouchers tab on the My Licenses page, and then click the Redeem link. |
| Upgrade (volume vouchers) | Upgrade | Upgrade | After deactivating a license, a voucher is created for any unused UEM volume. You can upgrade this voucher to the current version by clicking the Upgrade link. |
If the information on the eServices website does not update after making any changes, Refresh on the My Licenses page.