Infrastructure monitoring - zero config with agents
As opposed to plug-in-based monitoring: With Agent-based (zero-configuration) infrastructure monitoring, many Measures are available out of the box. In addition to simplifying the configuration process (you don't need to set up passwords or permissions, especially for Windows), retrieving measurements from hosts now has less impact on the system's performance.
The target host must have at least one active and connected Agent installed.
If you migrate AppMon from a release earlier than 4.2, you should review existing configurations of Windows Performance Monitor and Unix Monitor plugins, and remove them if the Measures that are collected by the Agent are sufficient. See Plugin vs. Agent-based Measures for a table of equivalent Measures.
If you need to install and configure a Host Monitoring Agent because there is no other active Agent on the machine, refer to Host Monitoring Agent for details.
Dashboards
Besides supporting pre-configured Monitoring in Application Overview Dashboard and dashboards, Agent-based Measures can be used to build custom charts and dashboards. Use the Measure Picker dialog box, as shown below.
Create a new Chart dashlet:

AppMon 2017 May

In the Cockpit, expand the Charting node and double-click Custom.

AppMon 2018 April and later

In the sidebar, click Dashlets > Chart.

Double-click the Add Series button to open the Measure Picker dialog box.
Expand the tree as needed to display the desired Measure, then double-click the Measure to list it in the Add Measures to Chart area.
Click Add to add the Measure.
Repeat steps 3 and 4 as needed, then click Close.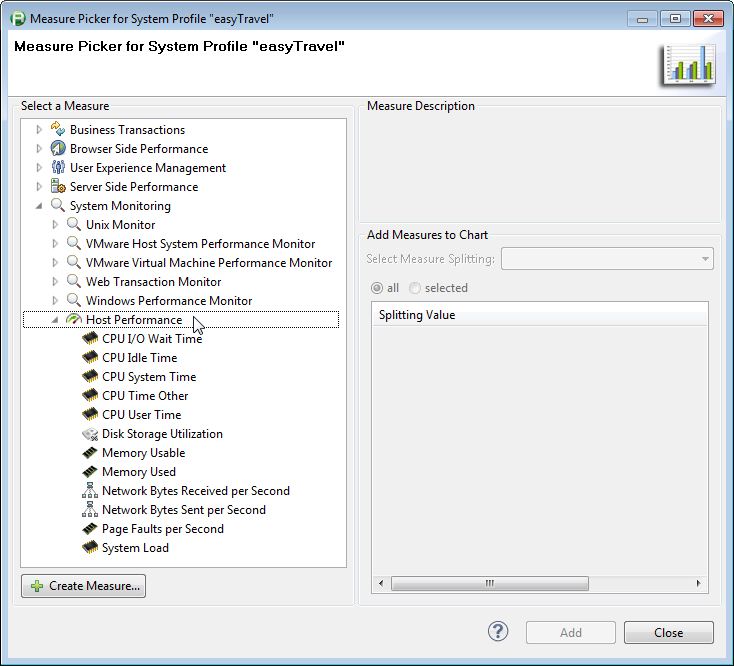 Plugin vs. agent-based measures
It is recommended that you use Agent-based Measures whenever possible.
In the table, Agent-based Measures that are not subscribed by default are marked with an asterisk (*).
| Windows Performance Monitor | Unix Monitor | Agent-based Monitoring | Notes |
| --- | --- | --- | --- |
| CPU |   |   | |
| User Time | User Time | CPU User Time |   |
| Idle Time | Idle Time | CPU Idle Time |   |
|   | System Time | CPU System Time | Also available on Windows. This Measure contains kernel time. |
|   | I/O Wait Time | CPU I/O Wait Time |   |
| Processor Time | Processor Time |   | |
| Processor Interrupts/sec |   |   |   |
| Disk | | | |
| Custom Disk Free Space | | Disk Storage Available* | This measure is automatically split per disk (Windows) or mount point (Unix). It is recommended that you replace this Measure with Disk Storage Utilization, which is subscribed by default. |
| Free Diskspace | Free Diskspace | Disk Storage Usable* | This measure is automatically split per disk (Windows) or mount point (Unix). |
| | Used Diskspace | Disk Storage Used* | This measure is automatically split per disk (Windows) or mount point (Unix). |
| Disk Reads/sec | Disk Reads/sec |   | |
| Disk Writes/sec | Disk Writes/sec |   |   |
| | Total Diskspace |   |   |
| | Var Usage |   |   |
|   | Temp Usage |   | |
| | Root Usage | | |
| Current Disk Queue Length | | | |
| LogicalDisk Free Percentage | | | |
| PhysicalDisk Read | | | |
| PhysicalDisk Write | | | |
| Memory |   |   |   |
| Free Memory | Free Memory | Memory Usable |   |
| | Free Swap | Swap Free* | |
| | Used Memory | Memory Used | |
| | Used Swap | Swap Used* | |
| | Memory Available | Memory Available* | |
| | Memory Usage | Memory Utilization* |   |
| Pages/Sec |   | Page Faults per Second | The Agent-based Measure only counts hard faults. |
| Committed Bytes In Use | | | |
| | Total Memory |   |   |
| | Total Swap |   |   |
| | Swap Usage | |   |
| Pages Input | Pages Input |   |   |
| Pages Output | Pages Ouput |   |   |
| Network | | | |
| | Collisions |   |   |
| Custom Network Bytes Total/sec | Bytes Total/sec |   |   |
| Custom Network Bytes Received/sec | Received Bytes/sec | Network Bytes Received per Second | This measure is automatically split per network interface. Custom configuration is not necessary. |
| Packets Received Errors | Received Packets Error |   | |
| | Received Packets Dropped | |   |
| | Received Packets OK |   |   |
| | Received Packets Total |   |   |
| Custom Network Bytes Sent/sec | Transmitted Bytes/sec | Network Bytes Sent per Second | This measure is automatically split per network interface. Custom configuration is not necessary. |
|   | Transmitted Packets Dropped |   |   |
|   | Transmitted Packets Error |   |   |
|   | Transmitted Packets OK |   |   |
|   | Transmitted Packets Total |   |   |
| Network Output Queue Length |   |   | |
| Unix process | | | |
| | Blocked |   |   |
|   | Process Count |   |   |
|   | Run Queue, current |   |   |
| | Run Queue, last 15 minutes |   |   |
|   | Run Queue, last 5 minutes |   |   |
|   | Run Queue, last minute | | |
| Windows-specific measurements |   | | |
| Process Count |   |   |   |
| Process Memory Usage |   | Current Overall Memory Consumption | This measure is part of the Metric Group Process Performance. |
| Run Queue, current |   |   |   |