Monitor a WAS liberty profile server
Overview
AppMon includes two classes added to the ClassLoader sensor pack. These classes let AppMon monitor WAS Liberty Profile Server. The classes was work for WAS Liberty profile server 8.5.5.4 and later.
Add classes
To add these classes, go into debug mode by pressing Ctrl + Shift + F9 in the AppMon Client. Select Sensor Packs, edit the ClassLoader sensor pack. Click add class and add one at a time.
org.eclipse.osgi.internal.loader.EquinoxClassLoader
org.eclipse.osgi.internal.loader.ModuleClassLoader
After adding each class edit the method and change them from all methods to loadClass(*).
The following screenshot specifies all the changes needed. Visibility needs to change to public / default / protected.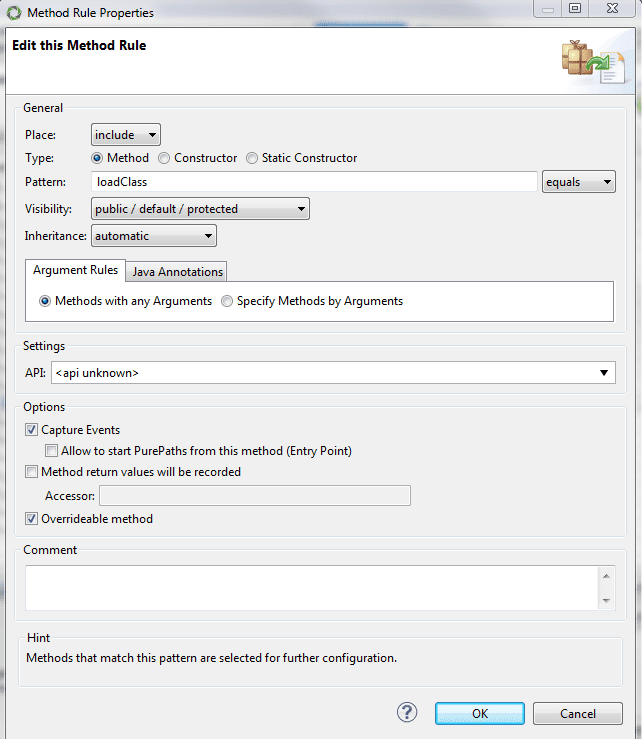 Apply your changes and then restart the JVM.
Additional info
There was an initial support ticket SUPDT-6650 with additional details on an error message that you might see. It effected the initial log in to the application with null pointer exceptions and NoClassDef Errors. This was resolved with the addition of the class loaders.
Here is the where the agentpath is added to the WAS Liberty Profile Server.
The command line is: /opt/IBM/WebSphere/AppServer/java/jre/bin/java -javaagent:/opt/IBM/WebSphere/Liberty/bin/tools/ws-javaagent.jar -Djava.awt.headless=true -XX:MaxPermSize=256m -Xmx1024m -verbose:class -verbose:gc -Xverbosegclog:logs/verbosegc.log -agentpath:/opt/dynatrace-6.1.0/agent/lib64/libdtagent.so=name=WebSphere_App,server=ipaddress:9998 -jar /opt/IBM/WebSphere/Liberty/bin/tools/ws-server.jar ApplicationName.
This was installed on a Linux 64-bit computer with IBM J9 VM 2.6.
Dynatrace 6.1.0.7880 build was used with fix pack 8054 applied.
WAS liberty Profile Server sensor pack attached.
The attachments contains a sensor pack. Import this sensor pack into your Dynatrace server. Click Tools in the top right hand corner and then select the attachments. From there you can download the sensor pack and import it into AppMon.