Deploy AppMon .NET Agent in MS Azure web apps
Azure Web Apps (formerly Azure Websites) is a service provided by Microsoft Azure that gives you the option of deploying and auto-scaling applications and services. Using a predefined Azure site extension you can modify your deployment by supplying additional resources or packages. See the Azure Web Sites documentation for more information. For maximum ease of installation, Dynatrace provides an Azure site extension that you can download from the Azure Site Extensions gallery.
This guide describes the steps necessary to inject the AppMon .NET Agent into an Azure Web application. Click here for troubleshooting tips.
The .NET Agent connects to a running instance of a Collector that must be accessible from your Azure Web application.
Instrumentation
Configure the Dynatrace Site Extension using the Azure portal
Open portal.azure.com in a new browser window.
Navigate to the web app you want to monitor.
From Settings, select Application Settings. Scroll down to the App Settings area and add two new Key/Value pairs:
Install the Dynatrace Azure site extension
You can do this either using the Azure Portal or through Kudo.
Azure portal
Open portal.azure.com in a new browser window.
Navigate to the web app you want to monitor.
Select Extensions from the list of options. You'll find this in the Development tools subsection (note the Search field at the top of the page in case you have trouble finding this option).
Within the new Azure blade that appears on the right-hand side, click Add.
Scroll through the list until you find Dynatrace OneAgent. Note that entries are not ordered alphabetically.
Click OK to start monitoring your Azure website.
Restart your website so that AppMon begins to receive monitoring data.
Kudo
Alternatively, you can use Kudo to install the Dynatrace site extension, which is available at this URL <website-name>.scm.azurewebsites.net.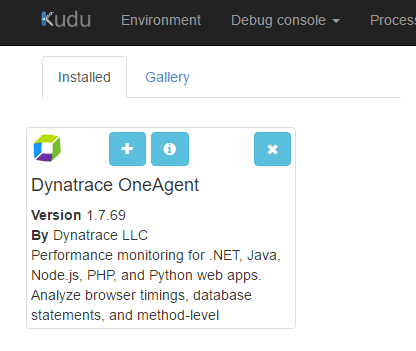 Update
Update the Azure Site Extension
If there is an available extension update, an Update button is visible in the Azure UI. Click it to update your extension.
Agent Updates
If there is an update available, it is installed automatically by the bootstrap agent at the application restart.
Uninstall
Just as with the installation process described previously, uninstalling the Dynatrace site extension can be done either using the Azure portal or Kudo.