The World map web view displays the geographic widespread of your users, with immediate insight into user experience in the current time scope for the selected System Profile and application.
Here you can filter geography of visits, before switching to more detailed user analysis. Click countries and regions you're interested in, then click Show user analytics, to switch to the User analytics web view.
Note
The drilldown to specific states and provinces of a country requires additional configuration of the Country of Visits measure for each system profile. See World map country drilldown section of the AppMon Web Administration page to learn how to do that.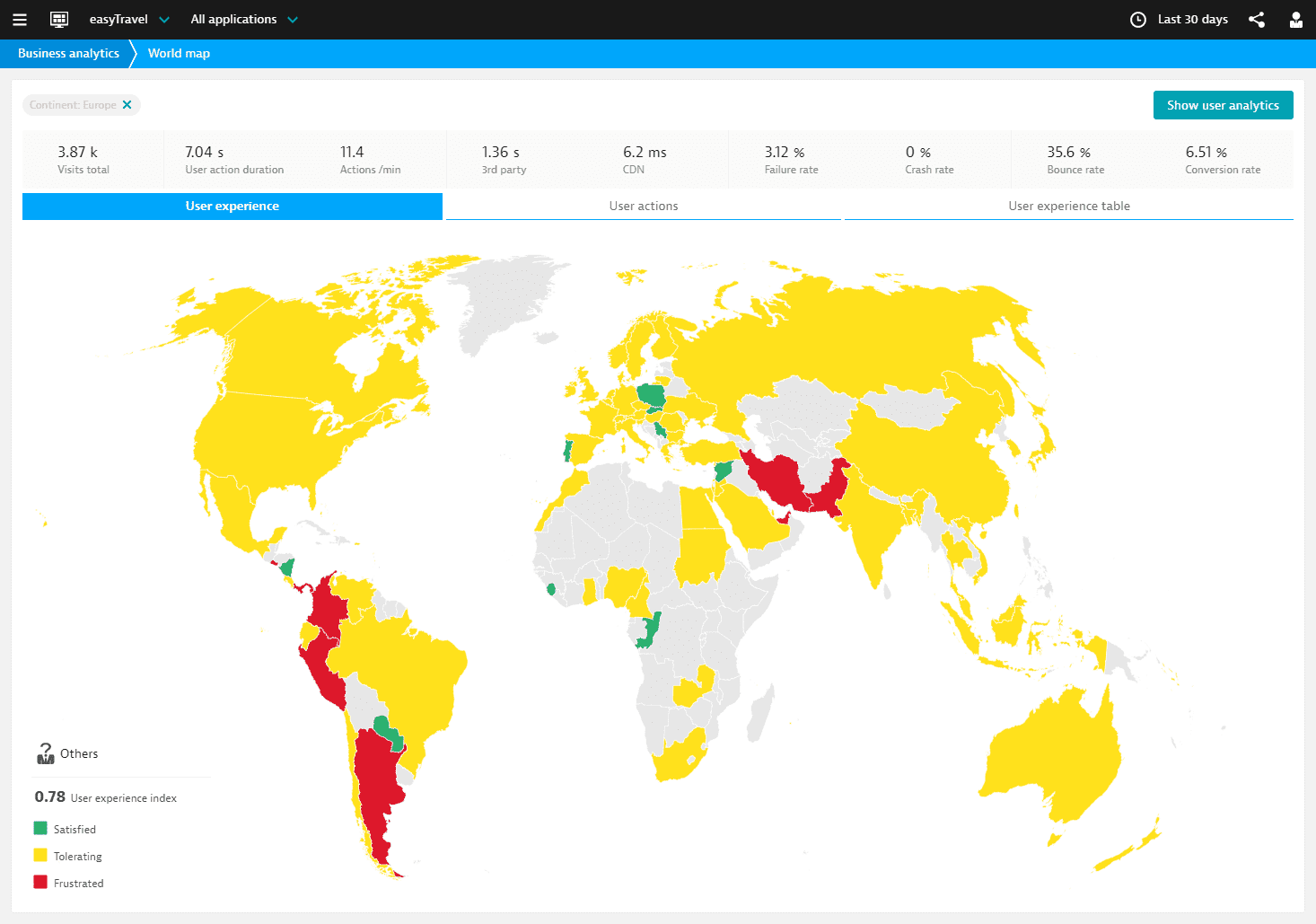 The pane at the top displays real time data for the key user metrics, like total number of visits, average response time and more. This data always reflects the configured data scope and is contextual based on currently selected region.
The view includes the User experience, User actions, and User experience table tabs. Each tab provides different data views for displaying the following key metrics that are aggregated at the country and state level.
User experience index (Apdex rating)
What is the user experience index?
The User Experience Index used in AppMon Web indicates how performance is perceived by an application's users, and categorizes visits into satisfying, tolerating, and frustrating visits. The index is based on the following factors:
| | |
| --- | --- |
| Apdex rating | A universal standard for measuring the satisfaction of user action performance. |
| Errors or failures | JavaScript errors or pages not found are examples. A page that loads quickly may still have an error. |
| Entire user journey | The last user action performed in the entire user journey is weighted more heavily. |
| User environment | Poor bandwidth is considered in the index calculation. |
Users have a satisfying experience if:
No action failed
More than 50% of all actions were satisfying
Users have a frustrating experience if:
Their last action failed (The Web site does not work - I'm leaving).
Their last action was frustrating (The Web site is too slow - I'm leaving).
More than 50% of all actions were frustrating.
Users have a tolerating experience if their experience is neither frustrating or satisfying, which means that:
Their last action was not frustrating or failed.
Less than 50% of all actions were satisfying.
More than 50% of all actions were at least tolerating.
Apdex rating example
For example, assume you have an application-wide satisfied-threshold called page load baseline. The threshold for page load baseline is defined as two seconds. User actions are mapped to the following zones based on their response time:

The formula for Apdex rating is the follows:

If there are 10 satisfied actions, five tolerating actions and two frustrated actions, the result is an Apdex rating of (10+5/2)/17=0.73.
Total count of all visits
Total count of all user actions
Average number of user actions per minute
Failure rate of all actions
Bounce and conversion rates
The content of the User experience table displays data from the geographic level to which you are drilled down to.
For example, if you are examining user actions, and select North America > United States > Michigan, the User experience table lists only the aggregated User Experience metrics for Michigan.
On the User experience or User actions tab, select a region or country, and then hover over a country or state to view a popup message containing these metrics.
The Top countries tile of the Business analytics web view brings you to the User experience table with countries sorted by the number of visits.