The Visits web view displays 100 most recent visits of the selected System Profile and application in the current time scope.
If you drilled down from the User analytics web view, the visits are filtered by the criteria selected there.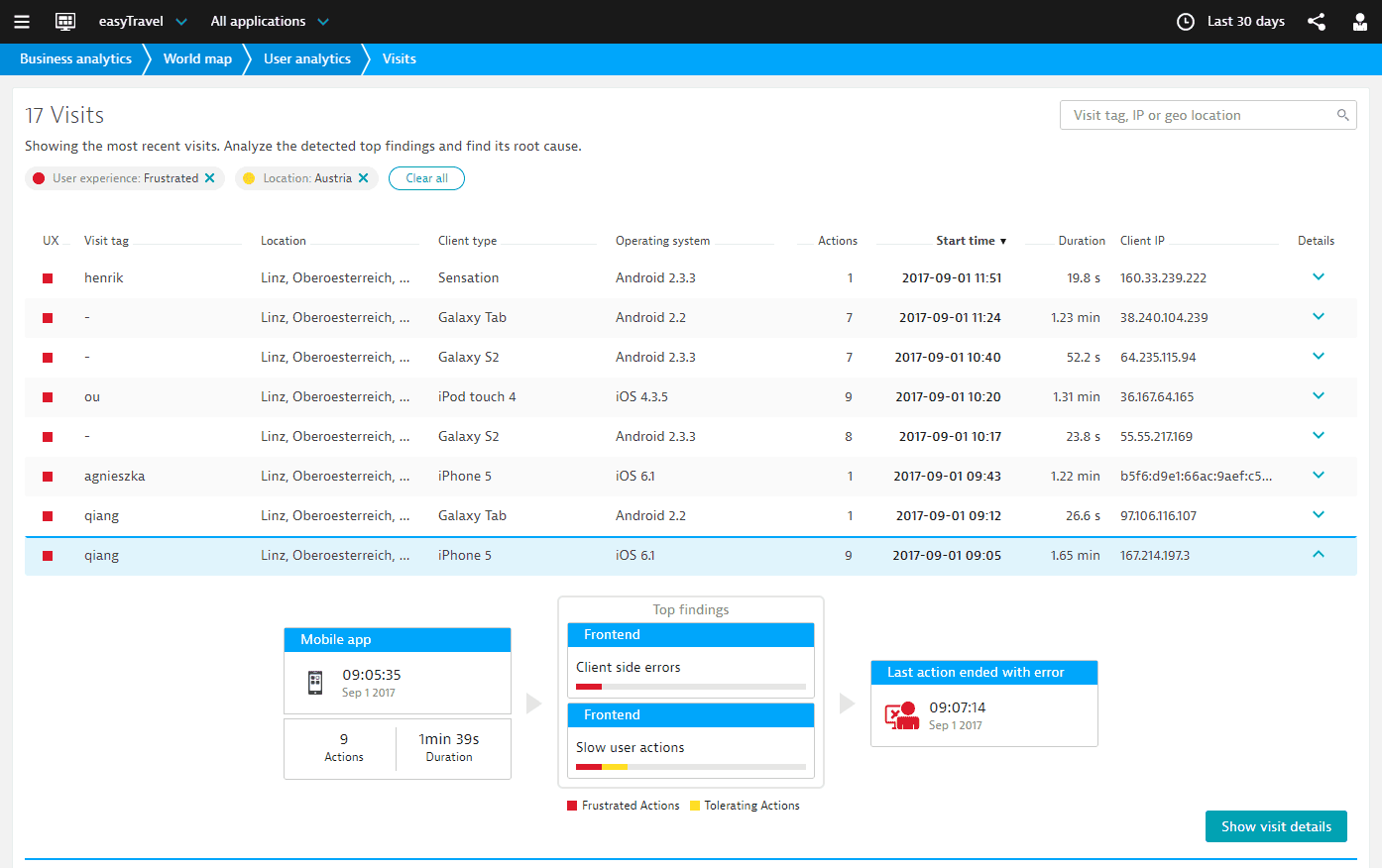 Click the visit to expand it and view top findings of problems, which led to bad user experience. Click Show visit details to navigate to the Visit details view, containing all the information about the visit, and the list of user actions in this visit. Click Show waterfall to view the graph of user actions. See User actions web view to learn more.
Note
The User actions web view will not display the entire list of actions that match the selected filters, but 100 most recent actions.
From the Visit details view you can further scrutinize a visit by clicking the Open in client button to analyze it in the Visits dashlet. For this drilldown to work, the Client should be running at the time of click.
Visit search
You can search for a particular visit right from this web view. Type your query in the search box in the top right corner and hit Enter. See Find specific user visits for more information.
Top findings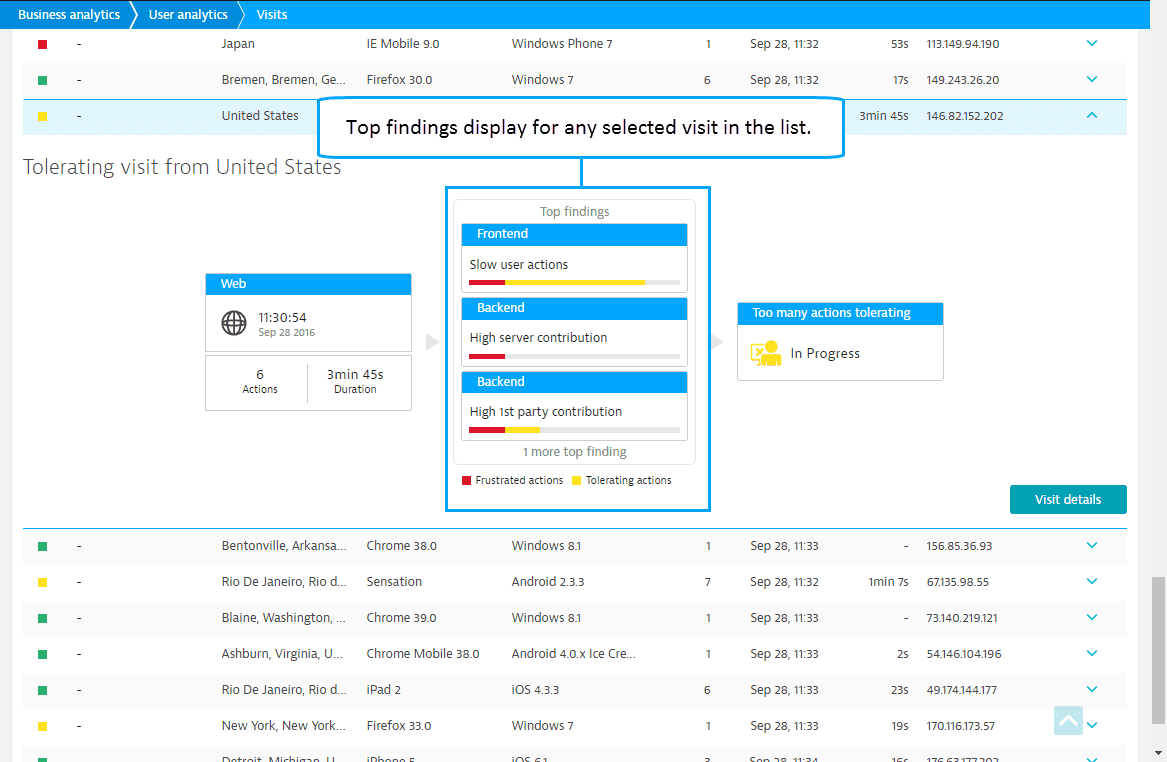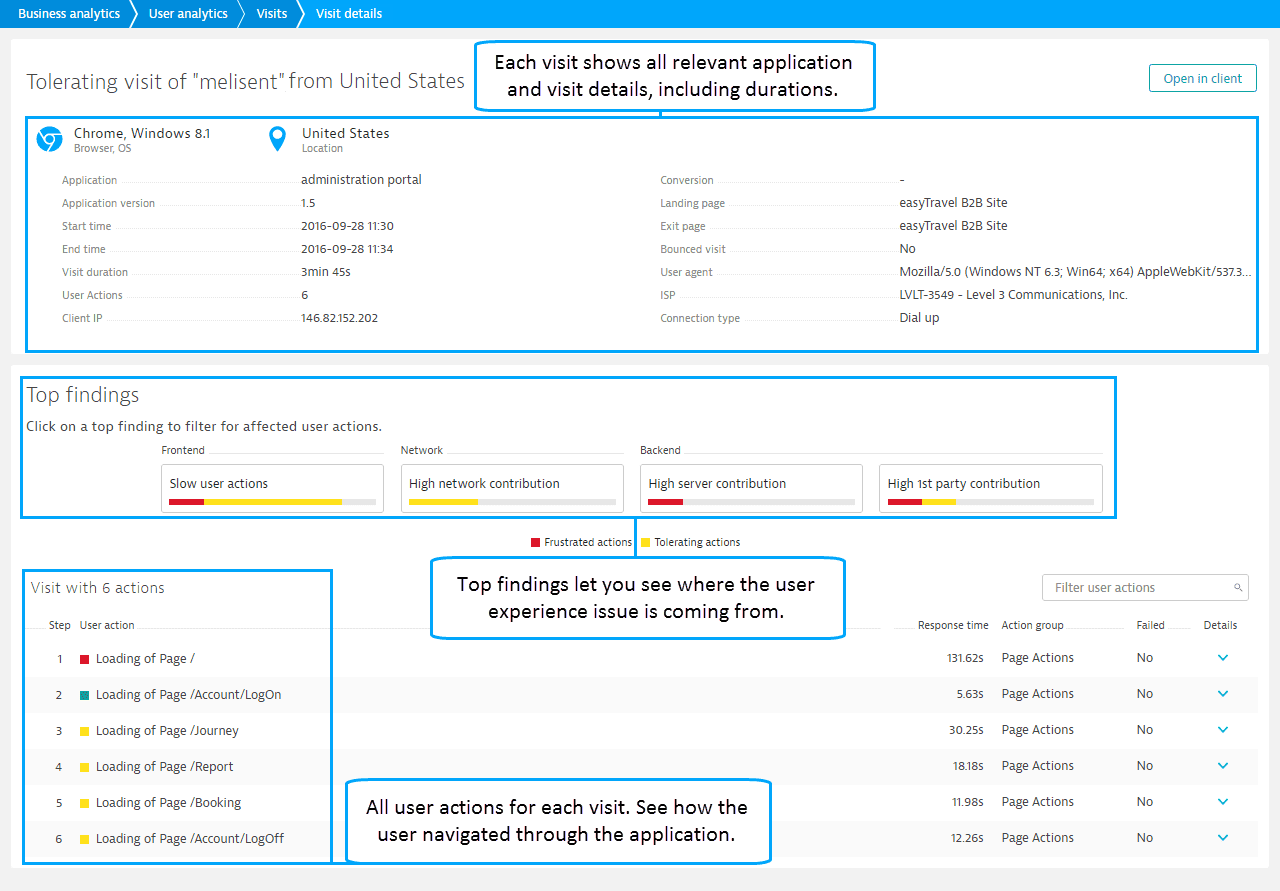 These issue types can appear as top findings for a visit.
Frontend
Slow user actions: User actions are marked as satisfied, tolerating or frustrated. Based on Apdex thresholds that can be configured per action group.
Client side errors: Flags user actions containing JavaScript errors or other reported errors that triggered an error detection rule.
Network
High third party contribution: Third party load times are a much higher part of the overall network time than normal.
High CDN contribution: Indicates that available content delivery sources contributed to an abnormally high percentage of the total network time for the user actions.
High network contribution: Indicates when bandwidth and/or request and response sizes make up a high percentage of total network time.
Backend
High server contribution: Time spent on the server to process requests that impact user action response time is unusually high.
High 1st party contribution: Time to load resources from the application domain and CDNs is an abnormally high percentage of load time.