The Start Center lets you access predefined dashboards for common use cases. Use cases and predefined dashboards shown in the Start Center differ depending on your AppMon Edition (Test Center or Production). The Start Center opens by default when you start the AppMon Client. Clear the Show on Startup check box in the Start Center window to change this default.
To open the start center manually, click the Open Start Center

icon.
Administration
The Administration tab gives an overview of common administrative tasks. When you configure AppMon after a fresh installation, you are prompted to perform mandatory tasks such as installing a license, setting up a data warehouse, and configuring your email accounts. Tasks that are successfully completed are indicated with a green check-mark. Tasks that need your immediate attention are flagged with an error icon. Tasks that are less urgent but need to be worked on are flagged as warnings. Make sure you work through all of these administrative tasks before you start to use AppMon. See the related pages links on the right of this page.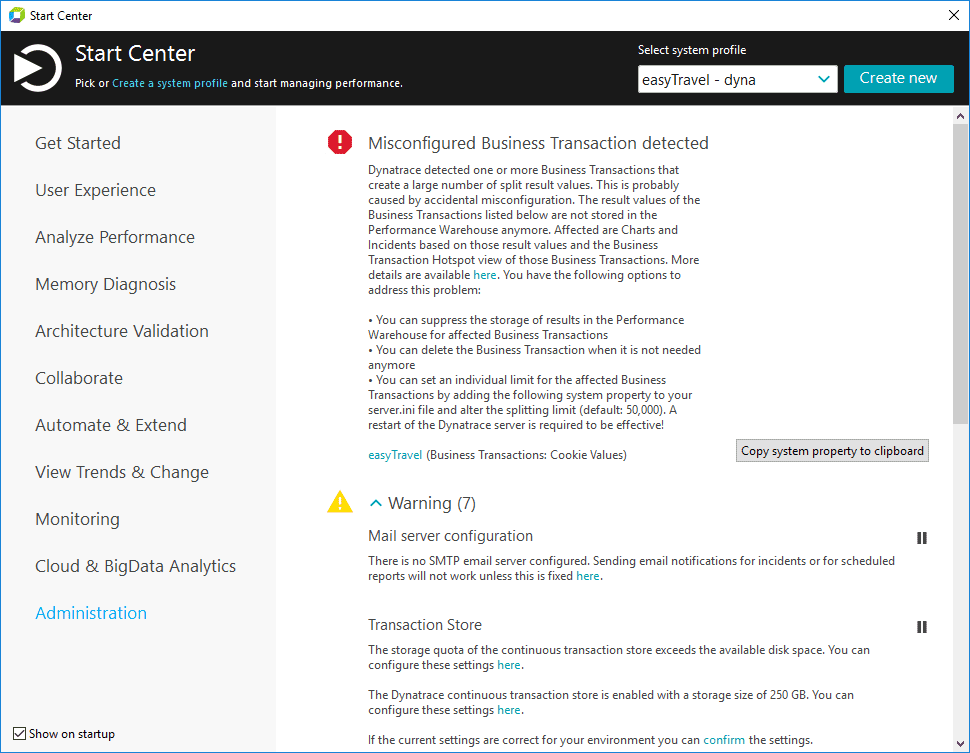 Getting started
After completing the Administration tasks, you can close the Start Center and adapt the default Monitoring System Profile as described in Application Environment Configuration or create a new one (Tools menu > Create System Profile) and go through the wizard.