The Test Results dashlet visualizes the results of various tests in your environment.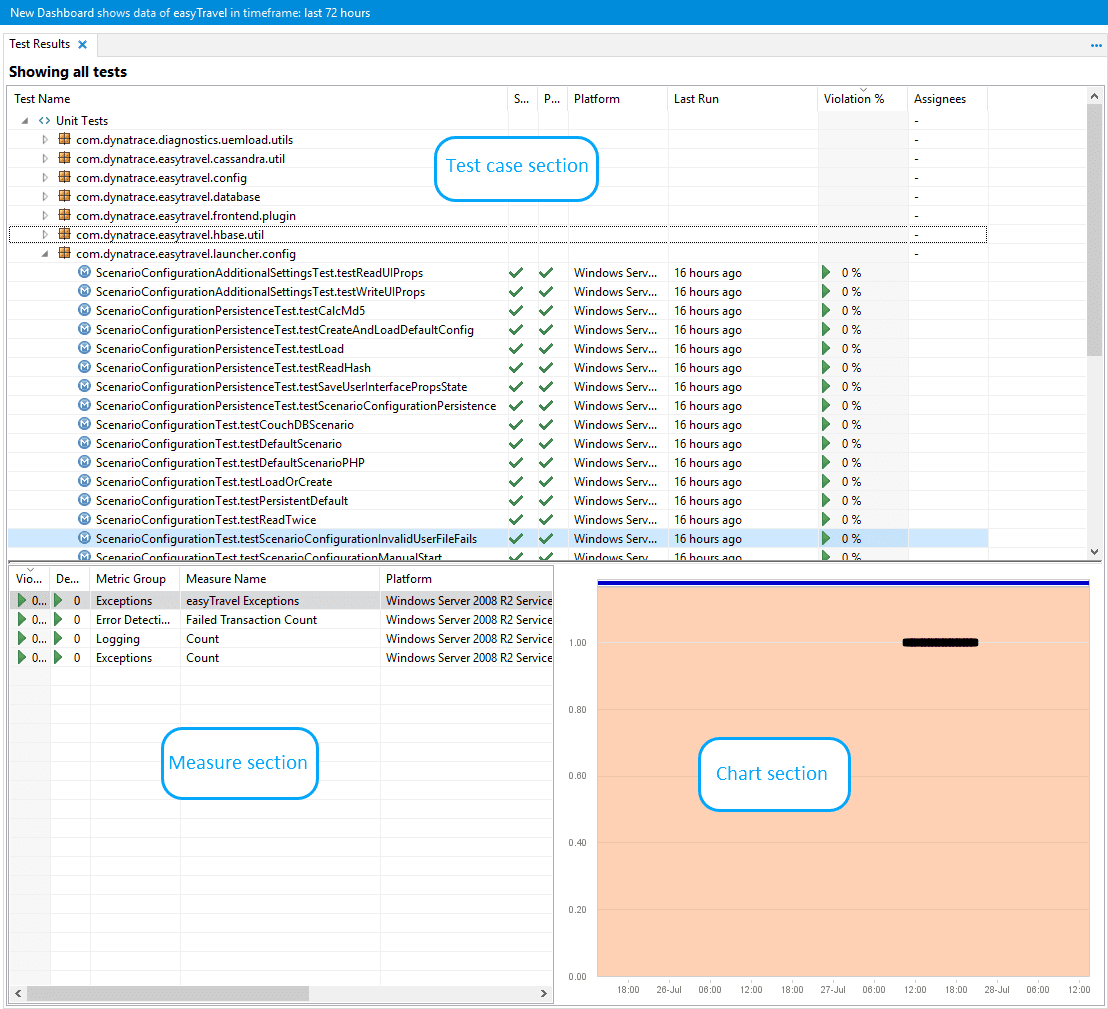 This dashlet is only available in the AppMon Test Center edition.
Test case section
The upper section of the dashlet lists the test cases, organized by defined test category and package. Each test case entry shows an aggregated view of the KPIs.
Test status
Every test case has a status:
 OK: Test case executed correctly.
 Degrading: Test case runs have become slower.
 Improving: Test case runs have become faster.
 Volatile: Test case has a very volatile outcome — sometimes faster, sometimes slower — so changes in performance might not be recognized correctly. This especially happens with very short-running tests. Try to increase the duration of the test, perhaps by executing the same operation multiple times.
 Failing: Test case has a functional problem, so no performance data could be recorded.
 Invalidated: The last test run of this test case was manually invalidated by the user.
When you click a test status icon in the toolbar in the upper right corner of the Test Results dashlet, related test status columns display in the measure section. For example, click the Degraded icon to include the Degraded Runs column or the Volatile icon to include the Volatility column.
Grouping by package can be toggled by clicking the Group by packages icon.
Viewing details
Right-click the item and select Details to view details for a test case, measure, or test run. You can copy information from the Details dialog box.

Measures section
The measure section in the lower left of the dashlet shows the latest values of the KPIs associated with a test case, and indicates whether those values are within, above, or below the corridor.
Chart section
The chart section shows the historical values of a KPI for a test case, including the calculated performance corridor.
Viewing markers
Any marker set in the test metadata displays in the chart's heat field.
See the Test Automation FAQ for more information.