System Information dashlet
The System Information dashlet provides information you need to provide when you contact AppMon Support: all the log and configuration files, dashboards, and other information for your AppMon installation.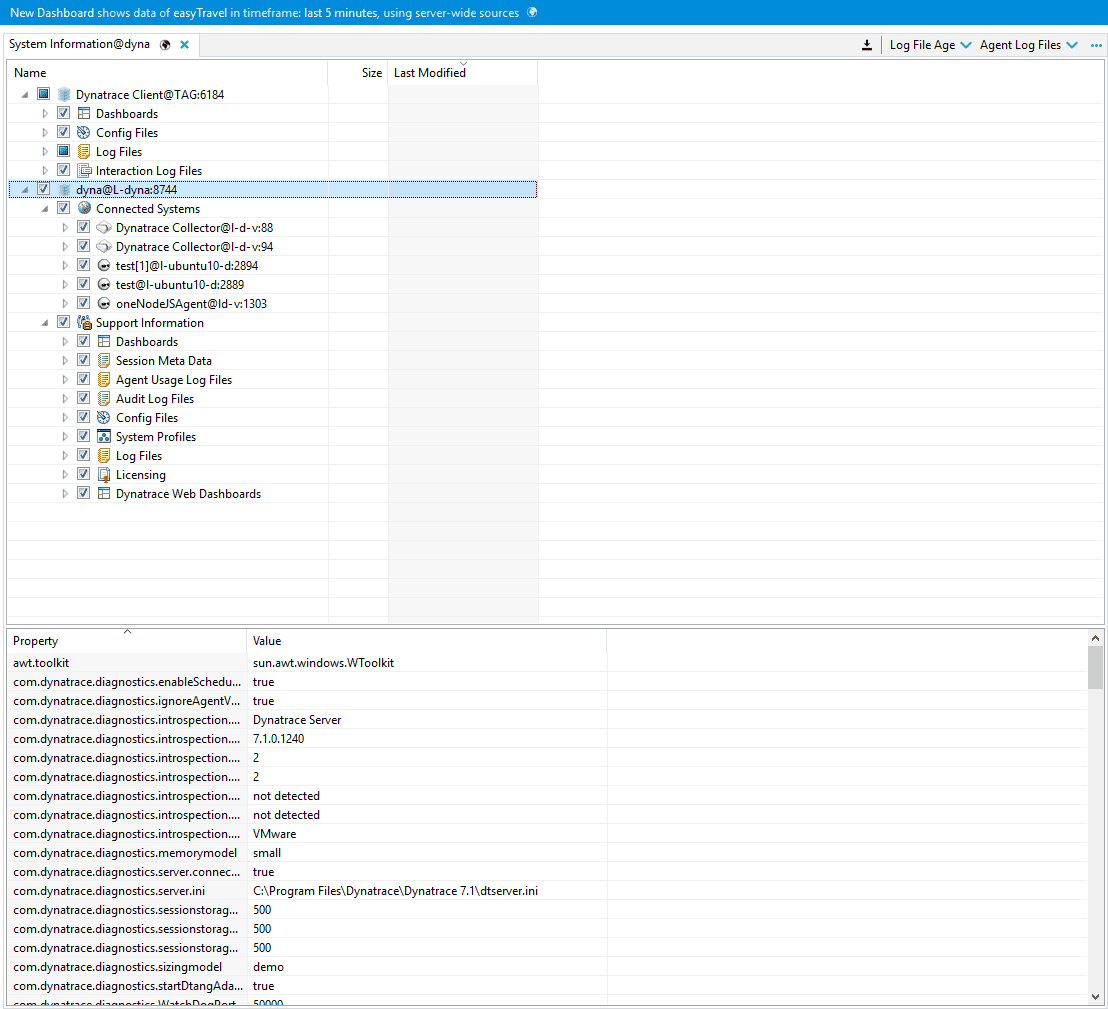 Create a support archive
If you discover problems with your AppMon environment, the log files and other information available through this dashlet can help your AppMon administrator or the AppMon Support team to analyze and resolve the problem.
To create a support archive in .zip format:
From the Log File Age toolbar menu, select the timeframe for logs.
In the Agents Log Files toolbar menu, define whether to include Agents log files.
Select or clear the check boxes to specify which items to include in the archive. If an item is unavailable (dimmed), select the parent item and then clear the check boxes for the child items you don't want to include.
Click the package icon  in the toolbar at the top right of the dashlet to open the Save As dialog box.
Navigate to the folder where you want to save the archive, type a name for the archive and click Save.
By default, the archive is saved as <name>supportarchive.zip.
Available support information
| Item | Description |
| --- | --- |
| Dashboards | .xml configuration files of your dashboards. |
| Session metadata | Metadata of the live and stored sessions. |
| Agent usage log files | Shows how many Agents of each type, as well as agent hours, and UEM visits each System Profile uses. |
| Audit log files | Show which user performed which actions on your AppMon server. |
| Config files | Various configuration files of your AppMon installation. |
| System profiles | Configuration files of your System Profiles. |
| Log files | Log files of various services of AppMon Server. |
| Licensing | Information about your license. |
Required permission
To view this dashlet, you need the View System Information dashlet permission assigned to the Server Management role.