The Method Hotspots dashlet shows methods executed during the specified timeframe. The methods are aggregated according to the breakdown time selected in the dashlet toolbar:
Execution Time
CPU Time
Synchronization Time
Wait Time
The Method Breakdown table in the top part the dashlet lists a maximum of 100 methods beginning with the slowest method. Selecting a method displays the hierarchy of the method in the Caller Breakdown in the lower section of the dashlet.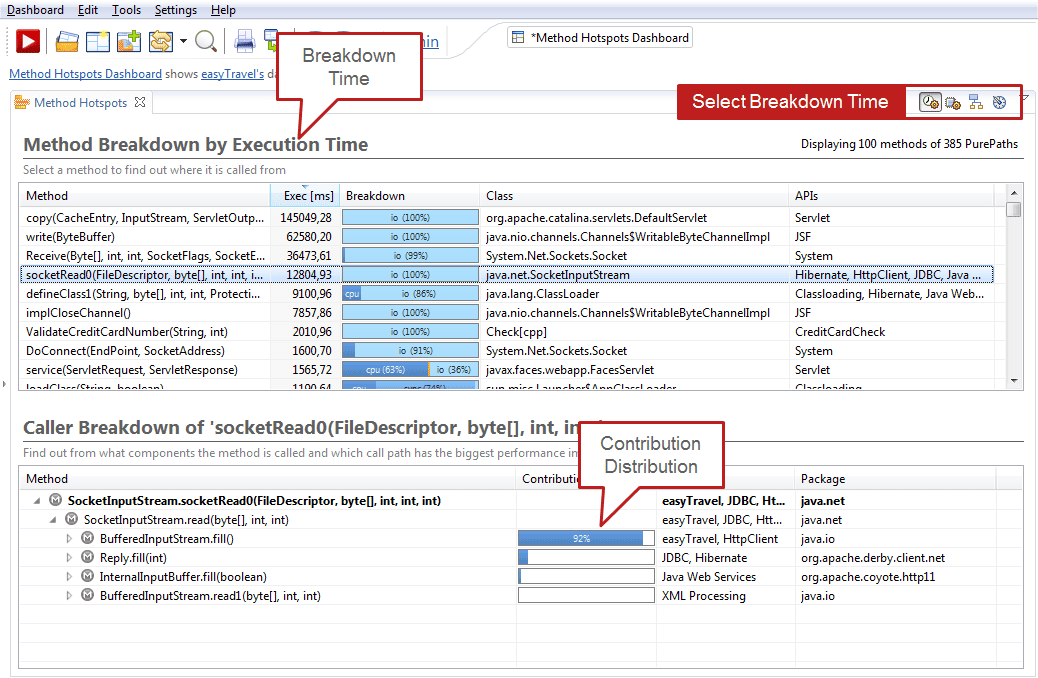 Prerequisites
To display sync and wait times for Java and .NET applications in this dashlet, Auto Sensors must be enabled.
Caller breakdown
The Caller Breakdown, or Contribution Tree, displays the detailed call aggregation of the selected method. The called method displays at the top of the tree, and the callers show below the method. Because the Contribution Tree is an aggregation of many paths, the called method at the top is likely reached from many different call paths in all involved PurePaths. The Contribution Tree therefore consists of branches that are weighted according to the breakdown time contribution of each tree branch. Branches with high percentage values are typical of greater interest, because these are the caller branches that may be the likeliest sources of performance problems.
The following figure shows an aggregation of 385 PurePaths. The method ClassLoader.defineClass1 is only called by ClassLoader.defineClassCond. Farther down the tree, there are two branches that called SecureClassLoader.defineClass:
79% of the time was spent in ClassLoader.defineClass1 when called by URLClassLoader.defineClass.
21% of the time was spent in ClassLoader.defineClass1 when called by WebappClassLoader.findClassInternal.

Navigation
Double-clicking a node that has no contribution information expands or collapses the node. Double-clicking a node that has contribution information collapses the subtree or expands the tree below this node until either another fork with different contribution percentages is found or the tree ends.