Filter dashboard and dashlet data
The AppMon Client provides the ability to set filters on dashboards and dashlets. Filters set on a dashboard are inherited by its dashlets unless a specific dashlet is configured to override the dashboard filters.
To define the dashboard filters, right-click the dashboard name and select Edit Filter from the context menu.
To define a dashlet filter, right-click the dashlet name and select Edit Filter from the context menu. The Edit Filter command is not available for some dashlets.
The filters provided by the AppMon Client are generally designed to filter out the underlying PurePaths. That means filter settings are not applied on visible data in views but instead are applied on the underlying PurePaths. The only exception is the Top X filter, which is exclusively applied on the visible data.
For example, when a Methods dashlet is opened, it has an Agent column in its table. When an Agent filter is applied on this dashlet, the Agent column still shows other Agents than those selected by the filter, because the filter is not applied on the view but on the underlying PurePaths. The Agent filter only ensures that the listed methods are part of PurePaths that contain the selected Agent.
The AppMon Client's filter mechanism consists of two domains: dashboard filters and dashlet filters. The filters available on the dashboard are predefined and contain the most commonly used filters. Filters set on the dashboard only affects a dashlet if it supports that filter type and does not override the settings of that filter.
Filtering example
To investigate a single Business Transaction, for example bookings by location in an easyTravel session, search for the Business Transaction easyTravel Bookings by location. Then and select Open in new dashboard in the context menu. This creates a new Business Transaction Dashboard with a Business Transaction filter. Then configure the Business Transaction filter for the dashboard.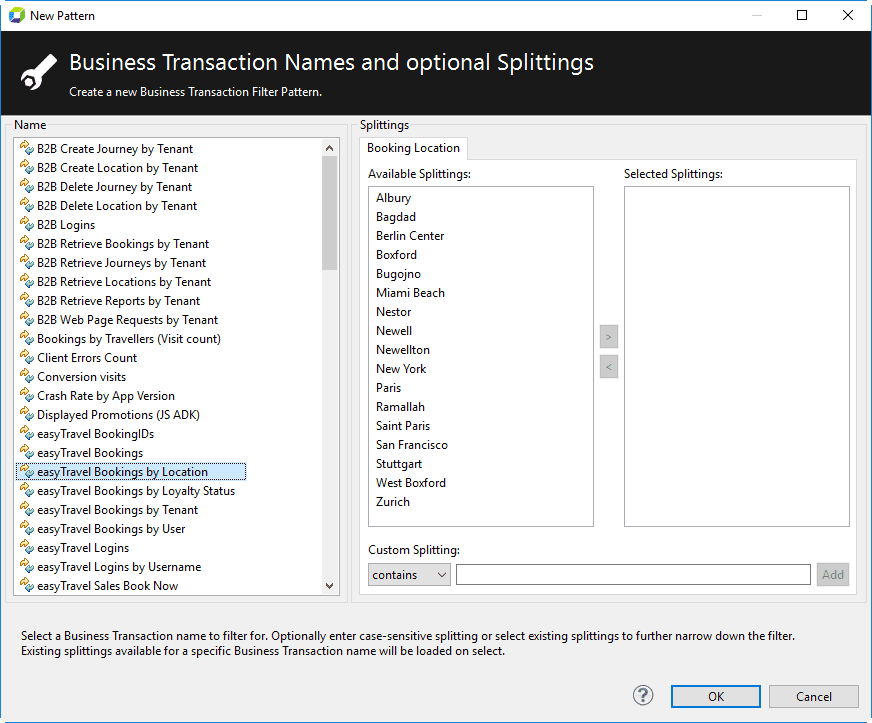 Every dashlet added to the dashboard inherits the filter setting by default. Because of this each shows only PurePaths covered by the selected Business Transaction.
Adding a Web Requests dashlet shows only Web Requests from PurePaths covered by the Business Transaction.

In the PurePath dashlet, to further investigate the Business Transaction PurePaths from the last five minutes, define an additional Timeframe filter.

Drill down from a PurePath to an API breakdown. This adds an API Breakdown dashlet to the dashboard. Instead of using the custom filter settings for the dashlet, the AppMon Client sets the PurePath filter to limit the data shown in the API Breakdown dashlet to the single PurePath selected for drilldown.