System Profile - User Experience
The User Experience item form the System Profile Preferences dialog box allows you to configure UEM with AppMon.
UEM is available for web and mobile native applications. Besides the Global settings (1 in the following figure), you can configure UEM settings to apply to all applications using Default Application tab, or configure settings in an application-specific tab by adding a specific application, which creates a seperate tab for the application. This lets you customize UEM behavior for each application. For example, if you have two applications and only one of them is using Angular.js, you can enable the Angular.js sensor for this particular application only.
New system profiles contain a single configuration for the Default application (2). Click the Add specific application button (4) to copy the configuration for a specific application (3). Any application that does not have a specific configuration uses the Default application configuration.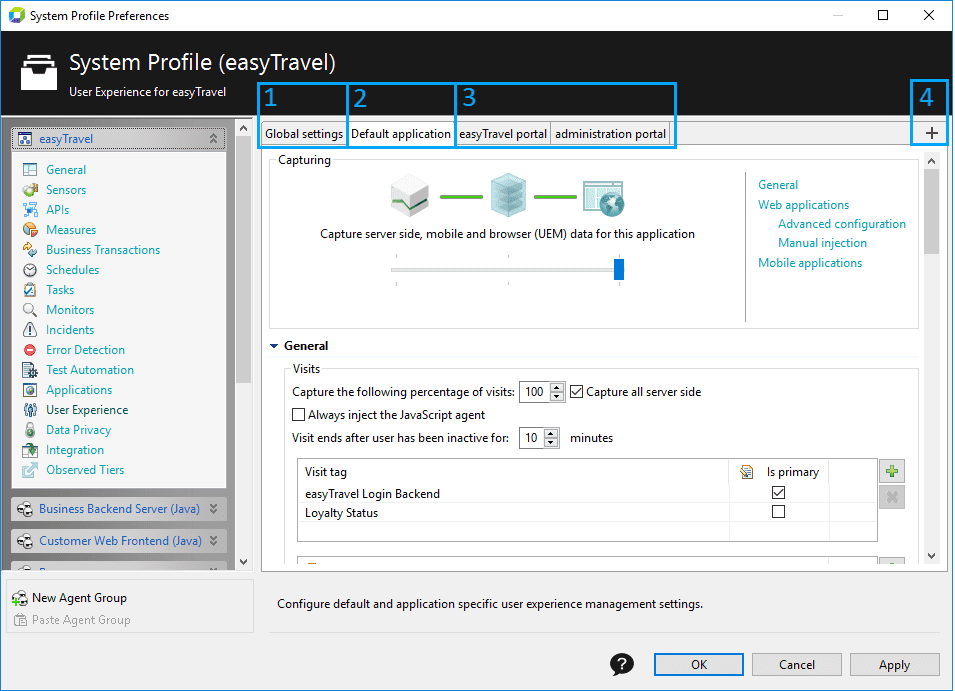 Global settings
These parameters apply to all applications.
| Setting | Description |
| --- | --- |
| JavaScript agent name | Specifies the name of the JavaScript Agent file that gets injected. The default is dtagent. Usually there is no need to rename it. |
| Monitor request name | Specifies the endpoint of the monitor request from dynaTraceMonitor. Usually there is no need to change it. |
Application level settings
These parameters can be configured for each application separately on the appropriate tab. Applications without specific setup use the default settings. These settings include: