The Tasks item of the System Profile Preferences dialog box allows you to manage Tasks that exist in the System Profile. This includes active and disabled Tasks.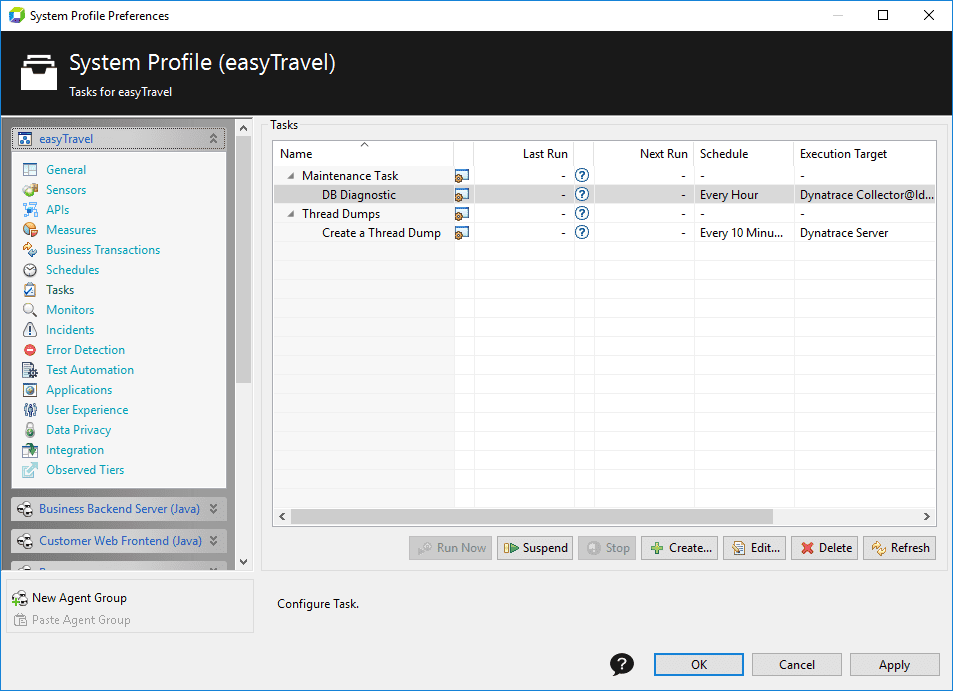 | Operation | Description |
| --- | --- |
| Run Now | Run the selected Task once. Does not schedule the Task for repeated execution if it is stopped. |
| Resume/Suspend | Schedule the selected Task for repeated execution using Schedule assigned to the Task during Task creation, or suspend the task execution. |
| Stop | Stop the execution of the selected Task. If the Task is scheduled for repeated execution, this schedule is removed. |
| Create | Create a new Task based on built-in Tasks and user-defined Plugins. During Task creation, a Task is assigned a Schedule for repeated execution, as well as an optional execution target and Task parameters depending on the Task type. For example, a Memory-Dump Task requires an Agent group specification. |
| Edit | Edit the selected Task. |
| Delete | Delete the selected Task. |
| Refresh | Refresh the list of Tasks. Updates the state of the displayed Tasks. |
See Thread Diagnostics and Memory Diagnostics for more information on Memory Dump or Thread Dump Tasks.