The APIs item in the System Profile Preferences dialog box allows you to specify API packages for PHP, Java and .NET.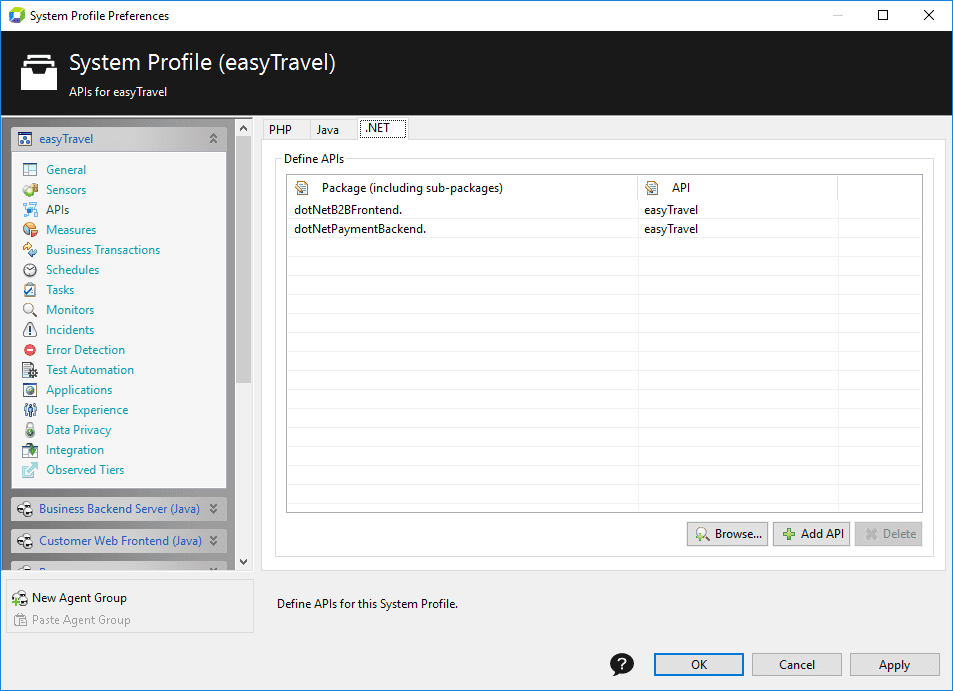 APIs are defined on a per-package basis. For each API, click Add API and enter a package pattern and corresponding API. Enter the APIs manually or click Browse to use the Class Browser. See APIs for more information.
Define APIs for PHP in the PHP API rule configurator dialog box. The API string can include spaces and other special characters. Patterns entered for Package selects sub-packages of matching patterns. For example, the pattern com. also matches with com.dynatrace.
Pattern order is not relevant since AppMon chooses the most specific rules first to avoid errors due to partially overlapping patterns.
Add PHP API rules
AppMon identifies and creates APIs for popular plugins, including Drupal, Magento and WordPress. You can also define custom APIs.
In the PHP tab, click Add API to add rules in the Add new PHP API rule dialog box. Enter the path or namespace and set a pattern match for each, and enter the API name. Valid pattern match types include:
equals: The pattern applies if the actual name is equal to the pattern text.
starts: The pattern applies if the actual name starts with the given pattern text.
ends: The pattern applies if the actual name ends with the given pattern text.