Agent Group - Sensor Placement
The Sensor Placement item in an Agent Group from the System Profile Preferences dialog box allows you to inject sensors and configure placement rules.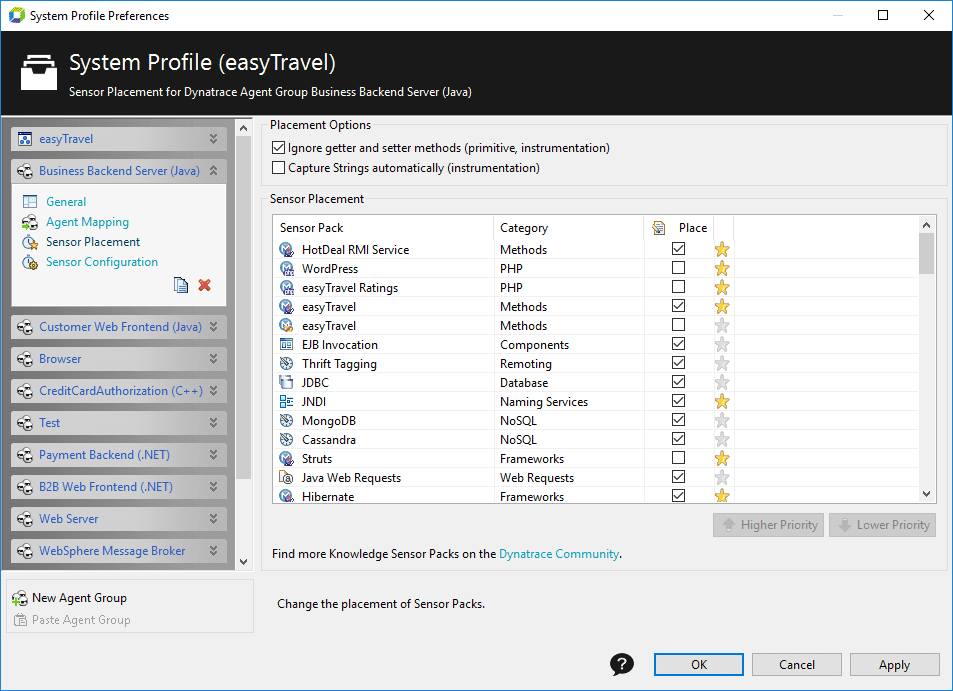 Placement options
| Parameter | Description |
| --- | --- |
| Ignore getter and setter methods (primitive, instrumentation) | Do not instrument methods that start with get or set. This option overrides all manual rules, including explicit Method Rules. |
| Capture Strings automatically (instrumentation) | Capture the first three method arguments' first string value. |
Sensor placement
Define Sensor placement and priority. Hot Sensor Placement is required to apply placement changes to already connected Agents. If you cannot hot-place a Sensor or Hot Sensor Placement is not supported or enabled, you must restart the respective SUD's. Placed Hot Sensors include

in the table. See Configuration Change Immediacy Matrix for more information.
Note
Only placed Sensors are configurable and visible in the Agent Group's Sensor Configuration section later.
See Usage of Agent Groups for more information.