The Updates item of the Dynatrace Server Settings dialog box allows you to install and manage product updates and fixes. Click Settings > Dynatrace Server > Updates to access it.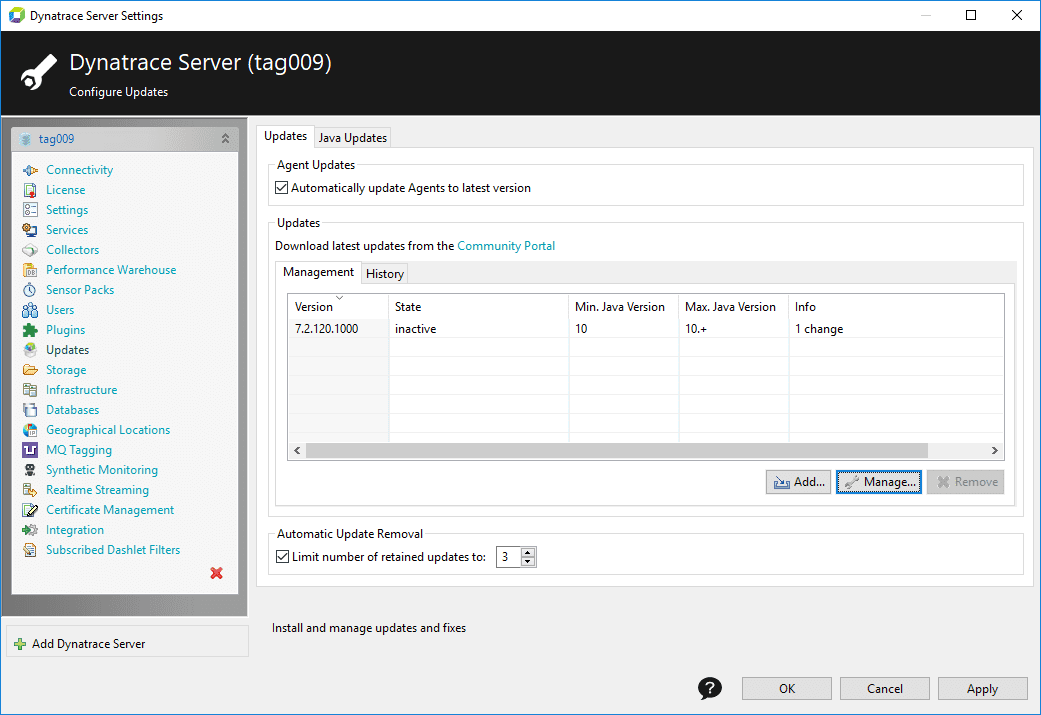 The AppMon Client issues a notification whenever an update is available. See Update Availability for more information.
Your AppMon user account must have the following permissions enabled to install, roll back, or remove an update: Manage Updates, Shutdown or Restart, and Shutdown or Restart Collector. See User Permissions and Authentication for more information.
You can also use the AppMon REST API and selectively install an update on specified Agents.
What is a product update?
A product update is an installable package that contains defect fixes and minor improvements. For instance for version 7.0 an update 7.0.1 can be installed. Update activity includes the following:
Add an Update to upload to a running AppMon Server.
Install the update. The update can be either a complete install or a controlled install, where only selected Agents in specified Agent Groups or on specific hosts are updated.
Manage update installations.
Review update history.
Updates are added and managed using the Update Wizard. See Update wizard for more information.
Updates (7.0.1 to 7.0.2) are different from upgrades (7.0 to 7.1), which require a migration process. See the Update and Migration guide for more information on product upgrades.
Manage updates
You can manage updates only if the AppMon Client is connected to an AppMon Server.
For the standalone Client, select the desired AppMon Server on which the update should be installed. For the Webstart Client, the server from which you started the Webstart Client is the only server available.
In the general updates settings, select the Automatically update agents to latest versions check box to include the bootstrap Agent with the latest native Agent version available on the Collector. Clear the check box for the Collector to request the bootstrap Agents to use the same native Agent version as used last time.
Remove an update from the list
Removing an update only deletes the update from the Server machine where it was uploaded. An update must be inactive to remove it.
An update must be inactive to remove it.
In the Management tab of the Updates pane, select an install version from the list in the Management pane and click Remove. A message appears asking you to confirm the deletion. Click Yes to delete the update from the list. The update is deleted from the file system. The History tab displays a record of when the update was removed.
Note
Never manually delete an update from the file system. This may result in the loss of any fixes installed by the update, or may corrupt your installation.
View update history
Click the History tab in the Updates pane to see change dates and update action history for the selected server.