Subscribed Dashlet Filters configuration
AppMon 2018 October This feature is only available in AppMon 2018 October
The Subscribed Dashlet Filters item of the Dynatrace Server Settings dialog box allows you to manage subscription to dashlet filters.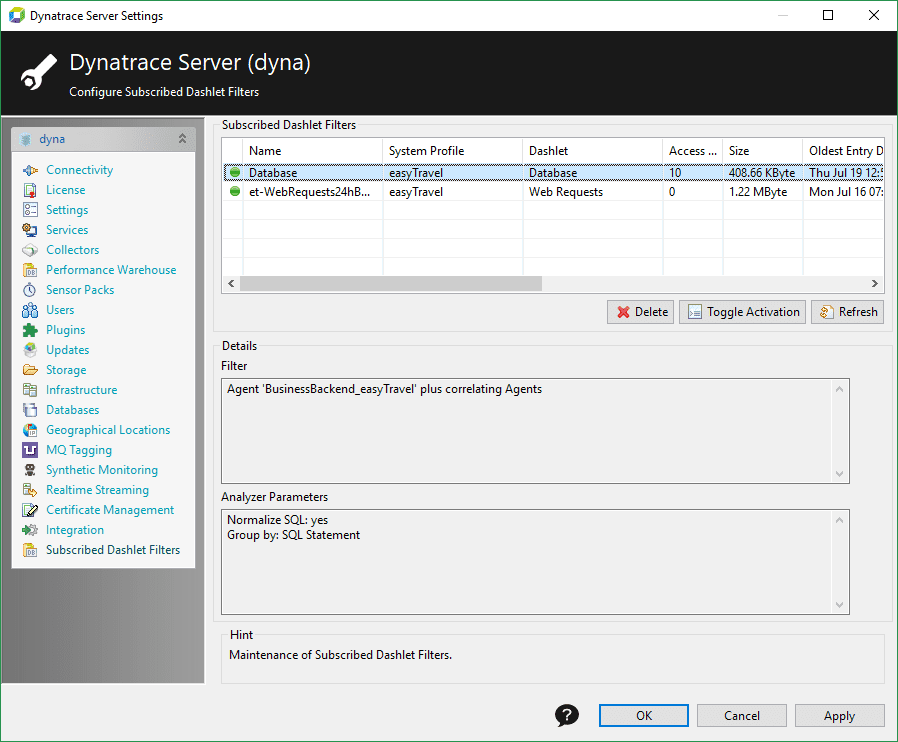 Here you can check parameters of subscription and toggle each subscription on/off.
Dashlet filter subscription
By default, dashlets get data from the analyzer, which prepares a set of data according to dashboard/dashlet filtering parameters for every request. Querying same data multiple times consumes a lot of server resources, leading to long response times to deliver results.
You can decrease the server load by subscribing to certain dashlet configurations. In that case, data is pre-calculated and stored in the analysis cache; and all dashlets with this configuration retrieve the cached data.
Click to view the list of supported dashlets
The following dashlets support dashlet filter subscription:
API Breakdown
Business Transactions
Client Errors
Database
Errors
Exceptions
Messaging
Transaction Flow
Web Requests
A subscription has the following parameters:
The type of the dashlet
The parameters of the analyzer, excluding drill-down limit and result limit.
The criteria of filters applied to the dashlet—on both dashboard and dashlet levels. The following filters are not supported: timeframe, visits, and Business Transactions.
The possible number of subscriptions depends on your deployment size.
| Deployment size | Subscriptions limit |
| --- | --- |
| Demo | 10 |
| Small | 25 |
| Medium | 50 |
| Large | 75 |
| xLarge | 100 |
| xLarge64 | 150 |
| xLarge96 | 200 |
| xLarge128 | 200 |
| xLarge256 | 250 |
To set a dashlet filter subscription:
Set all the required filters as needed.
Right-click the dashlet and select Subscribe dashlet filters from the context menu.
In the Name filed, type the name for the new subscription.
The subscription is applied to the dashlet automatically.
All the dashlets, matching the criteria, use the subscription automatically. To force a dashlet to use the standard mode, right-click it and select Ignore subscription filters from the context menu.
Cached data is stored in several-minutes chunks. If available data doesn't match the selected timeframe a warning message appears at the top of the dashlet.

Click it to use the standard mode.