Realtime Streaming configuration
Use the Realtime Streaming pane of the AppMon Server Settings to configure global real time feeds for AppMon streaming capability.
Configure the PureLytics Stream
To configure AppMon to stream PureLytics data, you enable the PureLytics stream, specify your elasticsearch endpoint and other AppMon Server Settings for realtime streaming, then enable the PureLytics stream for each System Profile for which you want to export data.
See On-Demand PureLytics Streaming configuration to learn how to configure an on-demand stream of user action and/or visit data.
Open Realtime Streaming in the AppMon Client Settings (Settings > Dynatrace Server > Realtime Streaming > PureLytics Stream).
Check Configure PureLytics Stream.
Choose the target you want to stream the JSON documents to. You can either stream them to an Elasticsearch Cluster (Version 1 to 5), Elasticsearch 6 Cluster or stream them to an generic HTTP endpoint using the same Elasticsearch bulk format.
Enter the URL to your Elasticsearch cluster or generic HTTP endpoint (REST port) in the URL field. The PureLytics Stream appends /_bulk to the entered URL).
Optionally select Allow untrusted SSL if you want to use HTTPS to export to the server specified in the URL field without certificate checking.
Optionally select Basic HTTP Authentication to authenticate with a user name and password, then enter the user name and password required to authenticate. You can also verify the connection to the Elasticsearch cluster or generic endpoint by clicking Test connection.
Use Dispatch Interval(s) and Queue Size to set the amount of data sent with every bulk request and the interval between the requests. A request is sent when the internal document queue hits the size specified in Queue Size and/or after the amount of time specified in Dispatch Interval(s) has passed (Dispatch Interval). Request size is approximately the number of documents times 2 kB. This depends heavily on factors such as configured Business Transactions and resource timings.

Click OK.
Open the System Profile Preferences dialog box and click the General tab.
Select the PureLytics Stream checkbox and click OK.

Configure the Business Transaction feed
Perform the basic setup for the Business Transaction export in the Server Settings > Realtime Streaming > Business Transactions Feed.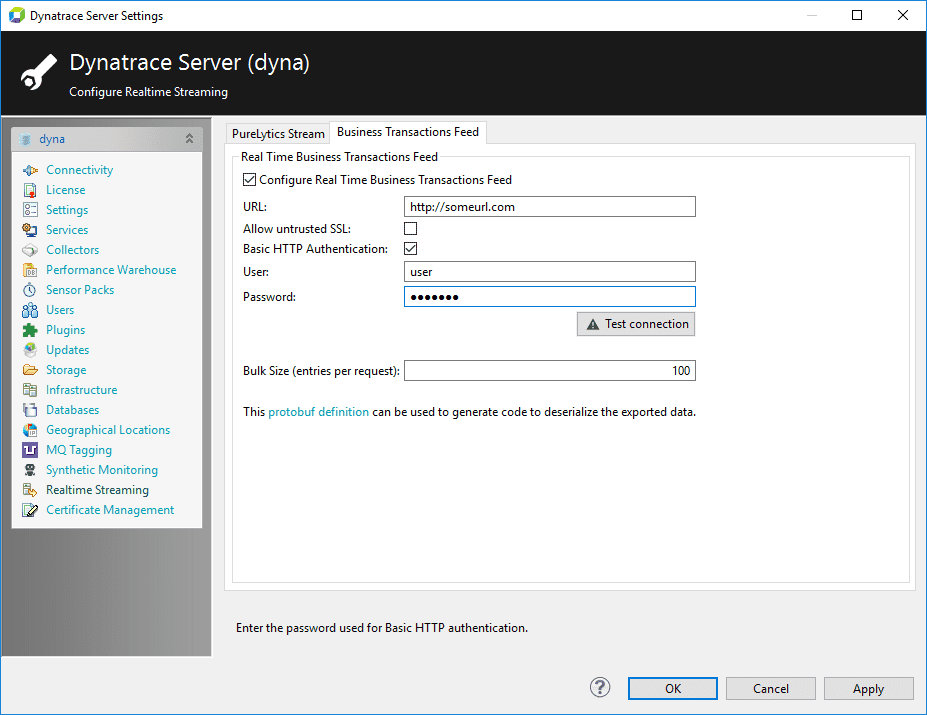 Select Enable Real Time Business Transactions Feed, then provide the required information for the feed.
URL: Specify the URL to which the Business Transaction data is posted.
Allow untrusted SSL: Export to servers without checking the certificate.
HTTP Authentication: Enable basic authentication
Test connection: Validate the connection settings.
Bulk Size: Set the number of Business Transaction results to be included in one request. There is a timeout of one minute, so a request might actually contain fewer Business Transaction results than specified here.
Business Transaction-specific setup
Enable data export for a specific Business Transaction through the Business Transaction Editor. Go to System Profile Preferences > Business Transactions, then select the Business Transaction and click Edit; or click Create for a new Business Transaction.
Select Export Results via HTTP. Two additional check boxes appear. Select the additional data to export: PurePath reference and/or Performance data.
Business Transactions created for multidimensional analysis can contain many different splittings or split measures that result in many groups, possibly with single values such as a transaction ID. In this situation, make sure Store results in Performance Warehouse is not selected. The data would be unsuitable for charting and would only burden your Performance Warehouse unnecessarily. Also remove any splitting option restrictions, to collect all values.