Use the Dynatrace Client Preferences dialog box to configure the UI update interval, display options, IDE integration, proxy, and the AppMon Client directories.
To access the dialog box, select Settings > Dynatrace Client in the AppMon Client.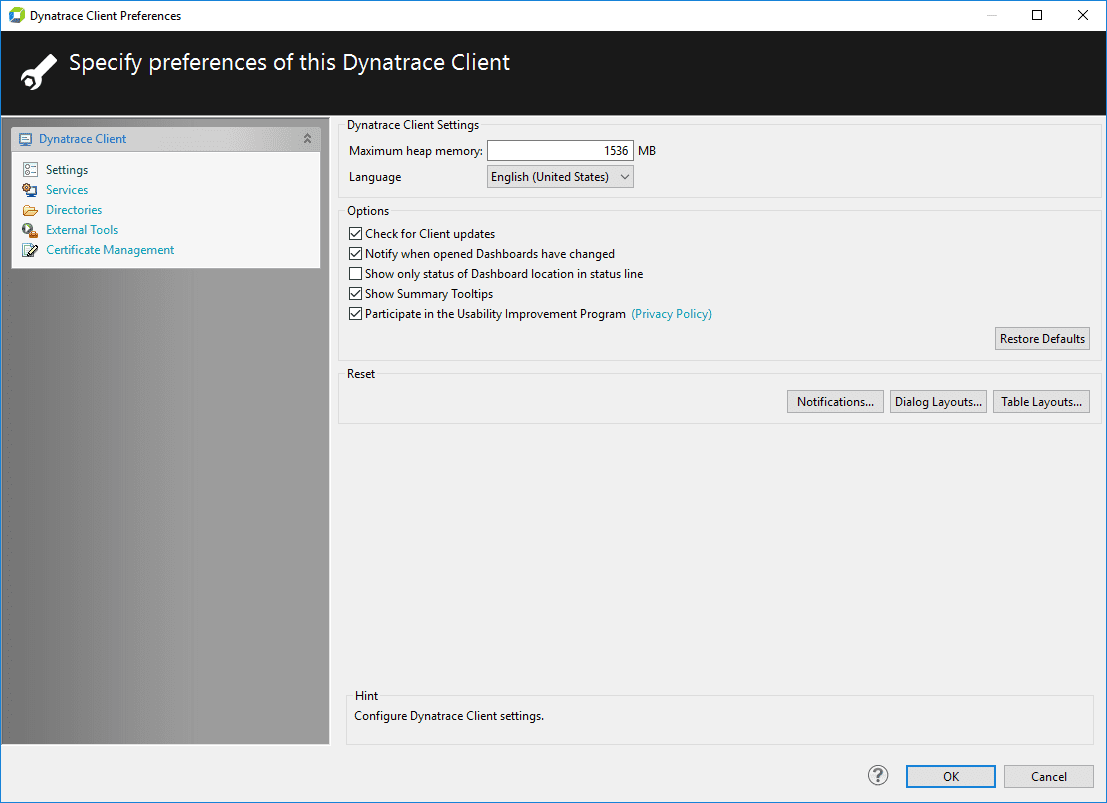 Settings
The Settings item includes the following configuration options:
Maximum heap memory: Specify the maximum amount of memory the AppMon Client uses. Restart the AppMon Client for settings changes to take effect. The maximum heap memory for an AppMon Webstart Client cannot be adjusted because of security restrictions for the Oracle Java runtime environment.
Language: Select the language for the AppMon Client.
Check for Client Updates: Selecting this check box lets the Client check whether AppMon Client updates are available on the AppMon Server, and updates the Client if updates are available. You must restart the AppMon Client for Plugin updates to take effect.
Notify when opened Dashboards have changed: Display a message in the AppMon Client when an opened dashboard is changed on the server side.
Show only status of Dashboard location in status line: Display the status of the source of the active dashboard. If the active dashboard is offline, the status of all connected AppMon Servers is displayed.
Show Summary Tooltips: Hold the mouse pointer over data to display informational tooltips.
Participate in the Usability Improvement Program: Enable this option to share certain information to help Dynatrace improve the quality of the AppMon Client. Click the Privacy Policy link in the dialog box for details of the Usability Improvement Program.
Restore Defaults: Discard all current modifications to the layout of all AppMon Client windows and restore the original layout.
Warning Dialogs: Restore all Client generated notifications that may be suppressed by selecting Don't show this message again in the message window.
Dialog Layouts: Reset the layout and size of all Client windows to the defaults.
Table Layouts: Reset all table layouts to the defaults.
Services
The Services item contains configuration options for services and connections:
Enable REST Web Services: When you enable this option, specify the SSL listening port.
Allow non-SSL connections: When you enable this option, specify the non-SSL listening port.
Manually configure proxy: If communication between the AppMon Server and AppMon Client uses an HTTP proxy server, select this check box then specify the Proxy host name and port, and the Authentication type.
Directories
The Directories item allows you to specify the locations of configurable AppMon Client directories:
Log
Reports
Offline Sessions
Dashboards
Temp
The default directories for logging, reports, and offline sessions are created during installation. If you change these settings, it does not create the specified directories. The directories must already exist, or the changed setting is rejected.
In this screen, you can also define the Base path for your Plugin development tool. See IDE Integration and the relevant subtopics for more information on Plugins.
External Tools
The AppMon Client supports external tools like .NET Reflector and JAD. If you set the paths to a decompiler application, the AppMon Client uses it for decompilation rather than the shipped decompilers.
In the External Tools item, you can also set the path for your preferred text editor and Java decompiler.
Certificate Management
Shows private keys and certificates locally stored in the client's keystore. See Certificate Management for more information.