AppMon Web administration
AppMon Web is an HTML5-powered web application that is accessible from the following default secure (HTTPS) URL:
https://<servername>:9911
AppMon Web is built for viewing on tablet devices and desktop machines that have a minimum browser resolution of 1024 x 768 pixels. For example, iPad mini physical resolution 2048 x 1536 versus browser resolution 1024 x 768. More details for your device can be found here.
AppMon Web is supported and tested with the following browsers:
Edge 14+
Firefox 50+
Chrome 55+
Safari 10+
Drilldowns to the AppMon Client require a running AppMon Client. See the AppMon Client requirements for more details.
Port configuration
You can modify the default AppMon Web port (9911) by setting the webuihttpsport attribute in the server.config.xml file. This file is located in the /server/conf folder on the AppMon Server machine. To modify the default AppMon Web port, the AppMon Server must be stopped and restarted.
<

serverconfig

>
	<

webui

 

webuihttpsport

=

"9912"

 

webuienabled

=

"true"

 />
</

serverconfig

>

Learn more about the commonly adjusted settings in server.config.xml.
User account configuration
To access and view AppMon Web, an AppMon user account that is assigned any role is required. See User Permissions and Authentication for more information.
Secure certificate setup
When attempting to log into AppMon Web, your browser may display a security warning. This is because your browser doesn't recognize the AppMon Web security certificate. If this message appears, you have several options depending on your browser type:
For all browsers, you can dismiss the security warning message and proceed to log into AppMon Web.
For Firefox, Internet Explorer and Safari you can add the Dynatrace certificate to the browser's list of trusted certificates.
For Chrome, you can ask your system administrator to install the AppMon Web security certificate in your system's keystore. See Certificate Management and sub-pages for more information.
Data display
Only live session data and Performance Warehouse measure data displays on web dashboards. Stored session data, which includes memory and thread dumps, sampling, or PurePath sessions stored on a hard drive, do not display on web dashboards. You can view this data on AppMon Client dashboards. Learn more about session data.
World map country drilldown
On the World map you can navigate deeper than the country level, into a specific region of a country. Configure regions within a country in the AppMon Client using the Country of Visits business transaction.
To set up the Country of Visits business transaction splitting value:
Open the System Profile Preferences dialog box and click Measures.
Expand Business Transaction Evaluation/Filter/Splitting Values.
Double-click Country of Visits. The Measure Properties dialog box appears.
In the Configuration tab under Business Transaction Evaluation/Filter/Splitting Values Measure Specific Attributes, select the Geographical granularity. This determines the detail level on which the client IP address resolves to location information.
In the Cities/Regions enabled for box, click Add to add a city or region, then use the drop downs to set the country and city/region splitting values.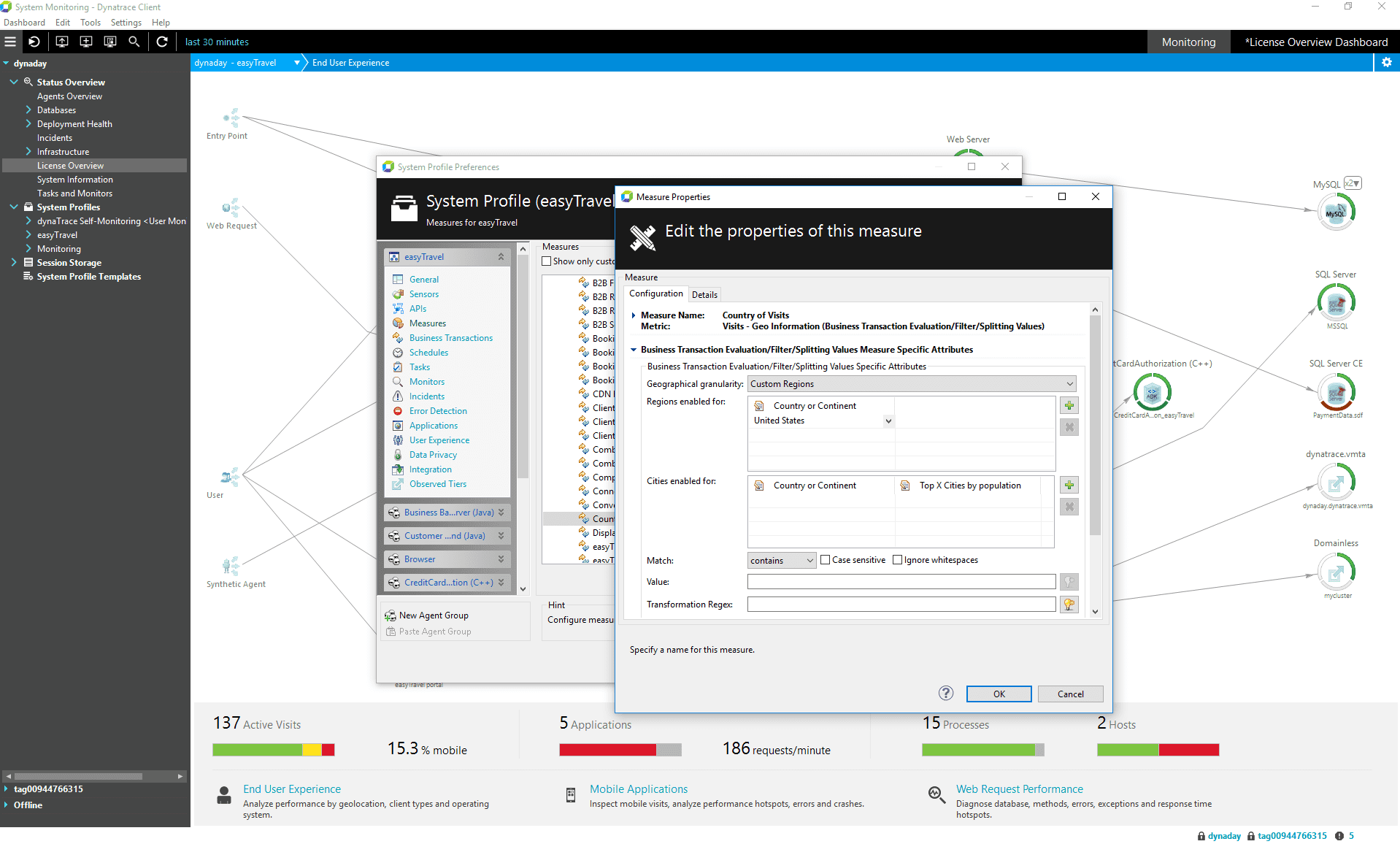 See Configure Geographic Location for more information.