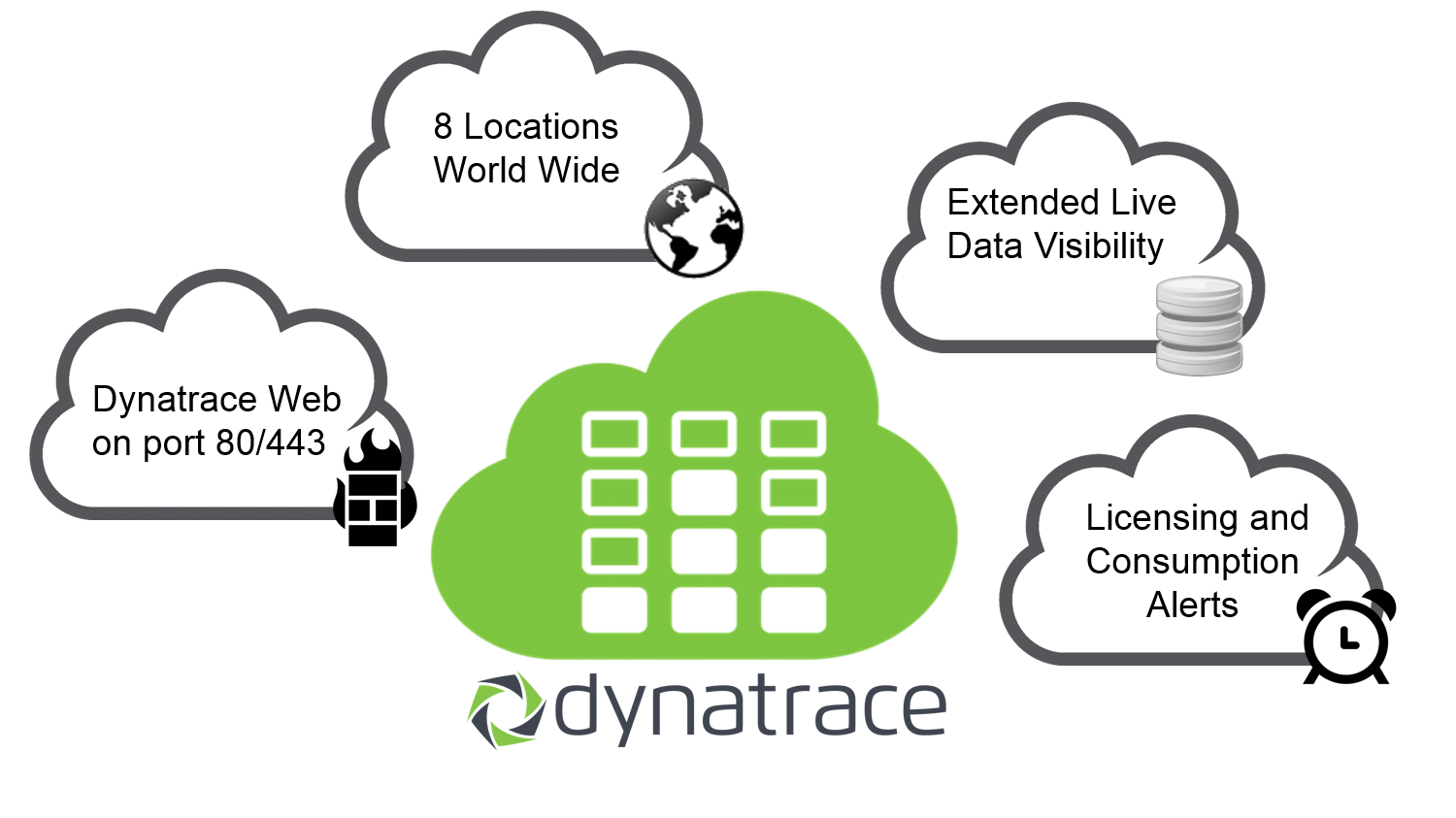 Get Started Faster
You're just one click away from starting your SaaS instance. Let us worry about maintaining your system while you enjoy these new enhancements:
Double the available session storage size (up to 2 TB for large sizing) enables increased visibility into your live data
Dynatrace Web via your own dedicated URL: <yourcompany>.[compuwareapmaas.com](http://compuwareapmaas.com)
Keep track of consumption with **automated email licensing and consumption alerts **
8 cluster locations worldwide
AppMon SaaS is available as of December 17th, 2014
With the recently released Dynatrace Application Monitoring and User Experience Management 6.1 Version, we are also extending our as a Service Offering. With the previous release, we introduced new more powerful instance types, nearly doubling the limits for both connected agents and UEM visits.  Now, we follow up with once again pushing the limits through new, more powerful database instances, allowing for unlimited historical data retention. Being able to support the growth of your Dynatrace environments is one of our key concerns, and with this in mind, we are always trying to extend the list of supported regions, so you can have the best connections available to your cloud environments, as well as giving you tools to control and manage your cost and consumption.
Learn more about the 6.1 release in the Dynatrace Application Monitoring & UEM 6.1 Release Notes.
Unlimited data retention for your performance data
With the new release, we automatically extend your Performance Warehouse once it reaches 90% capacity, allowing you to store nearly** unlimited Measure based data** . This is available for all 6.1 based environments, and we strongly encourage customers to upgrade as soon as possible to the newest version.
Together with more storage for historical data, we also added a capability to extend the retention time for your live data on-demand, however this might require some down-time and as such can not be done automatically.
All the new database instance types are also available from scratch and are assigned based on your initial deployment size when starting a new Cloud environment.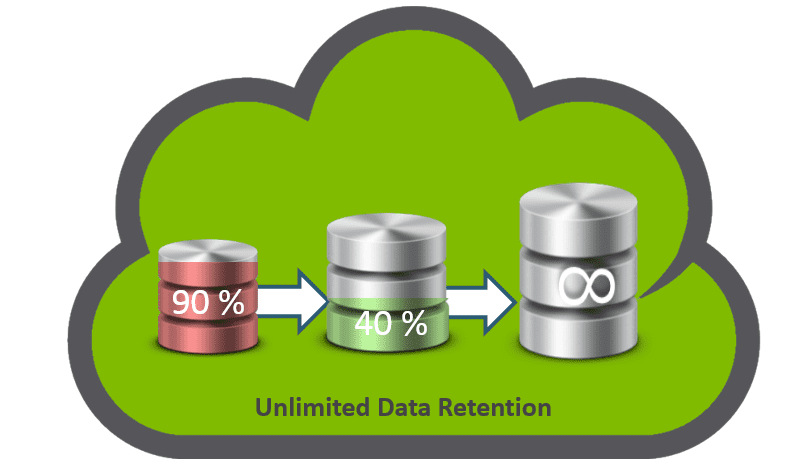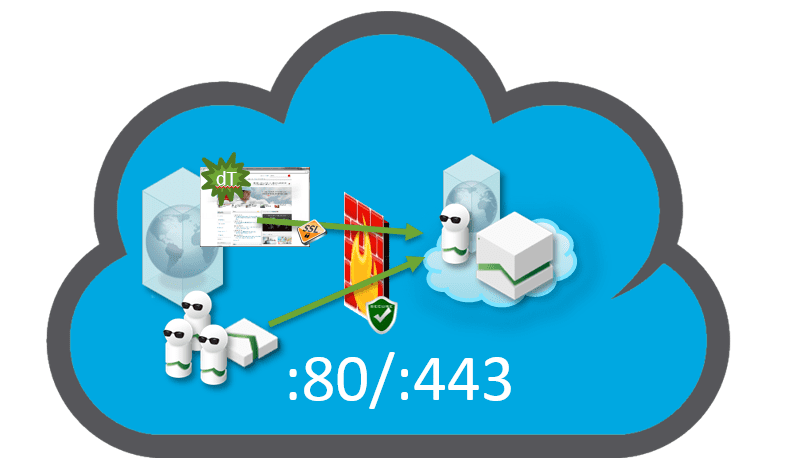 No more delays because of missing firewall configurations
Setting up Dynatrace environment in the cloud: 15 minutes
Installing tags and agent components: another couple of minutes
Getting the firewall configured to use nonstandard ports: days and weeks
No more! From now on you can bypass your firewall administrator connecting your Dynatrace components using the standard http and https ports (80 and 443) to the your cloud environment. Of course we will still be serving the offer via the previously supported ports as well, so for existing customer this change has no impact. This should just make it easier for you to add new components or new locations faster and without firewall hassle.
Hola South Americans
With great pleasure we announce a new Region joining our Dynatrace Cloud Solution: Brazil.
Up until now, we were hosting many of our South American customers through the US west and east locations. Starting with 6.1, we will be able to run your environments closer to home, specifically from a data-center in São Paulo . This will further** improve the connectivity and latency** in this region, making it easier for you to expand and grow your performance visibility into your apps with Dynatrace.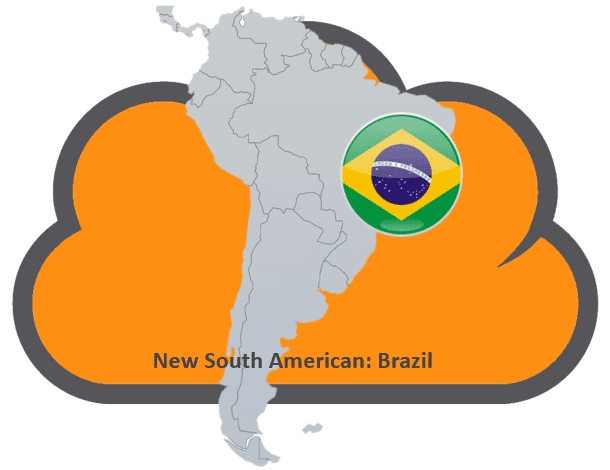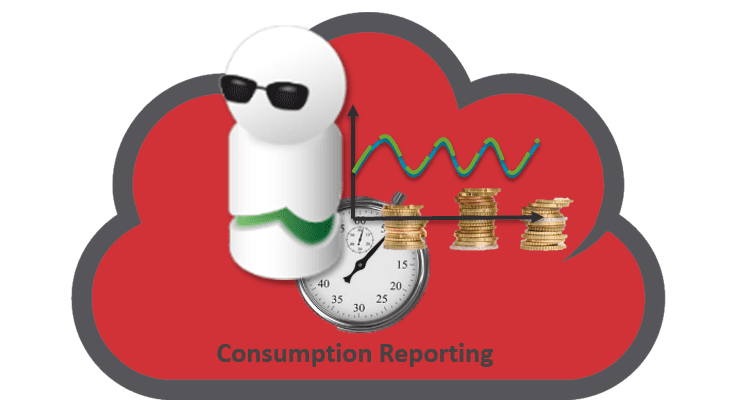 Manage your consumption and control your costs
With our new Consumption Report Service, you can keep a close eye on the consumption of your Visits and Agents every month. You can make sure that the volumes you purchased are consumed by the right applications and teams.
Consumption reports at your fingertips
With the newest release we introduce a new feature in our Orchestration Platform: Consumption Monitoring
You can find it in the Details page of every customer, including:
UEM Volumes, as for now it shows you the total consumed licensed Visits , the total license volume and the percentage of volume left.
Agent hours per Technology and for all 6.1 based environments also per system profile
The agent hour information is available on a per month basis both for the recent month and the past month.
You can also download the consumption file itself without going into the customer instance by just using the download button. Its in csv format and can easily be imported to Excel to create additional stats or graphs.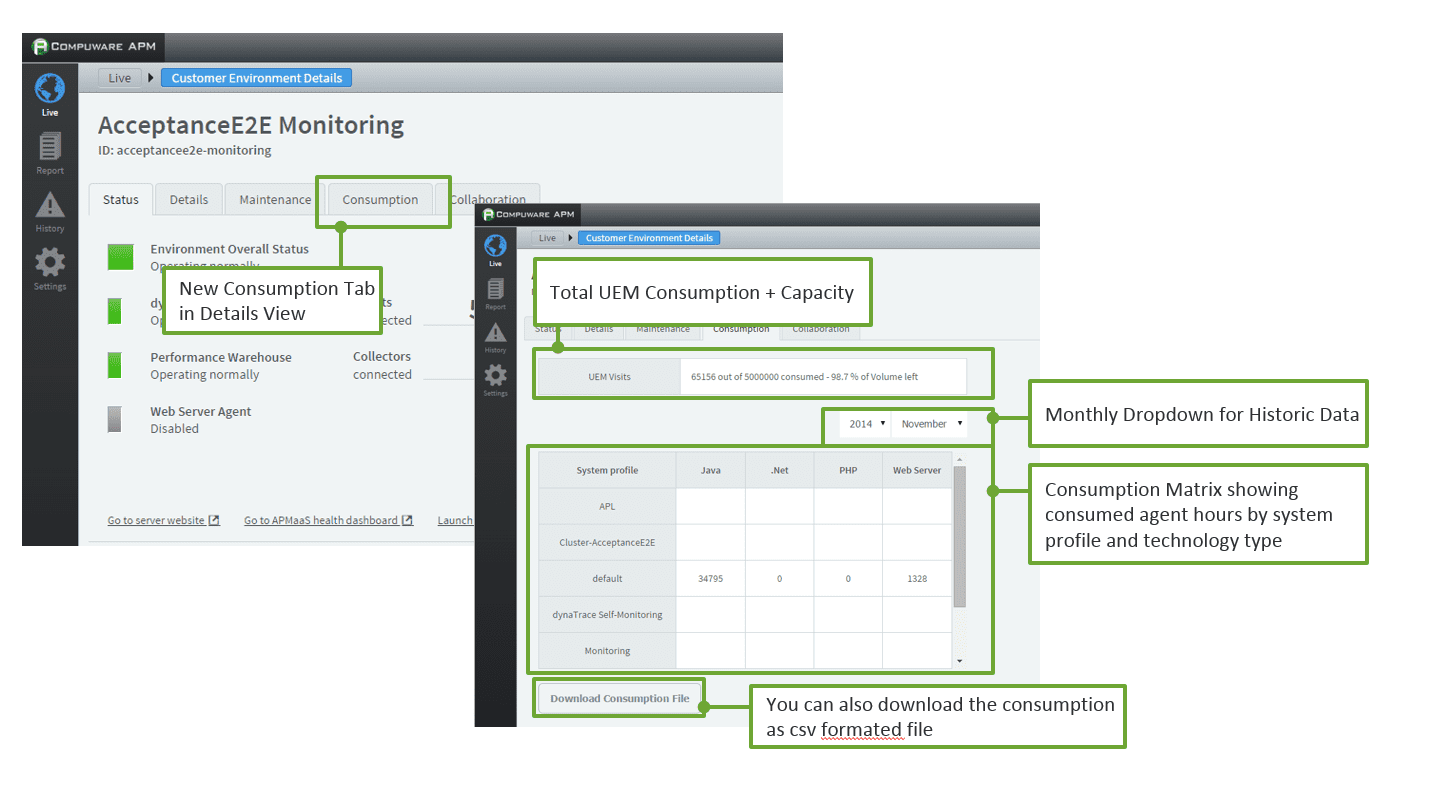 Orchestration Platform version 1.0.461 - July 24th 2014
I am glad to introduce you to our newest Release for AMaaS dynaTrace, which comes with the most recent dynaTrace Version, 6.0 and introduces a couple of major improvements: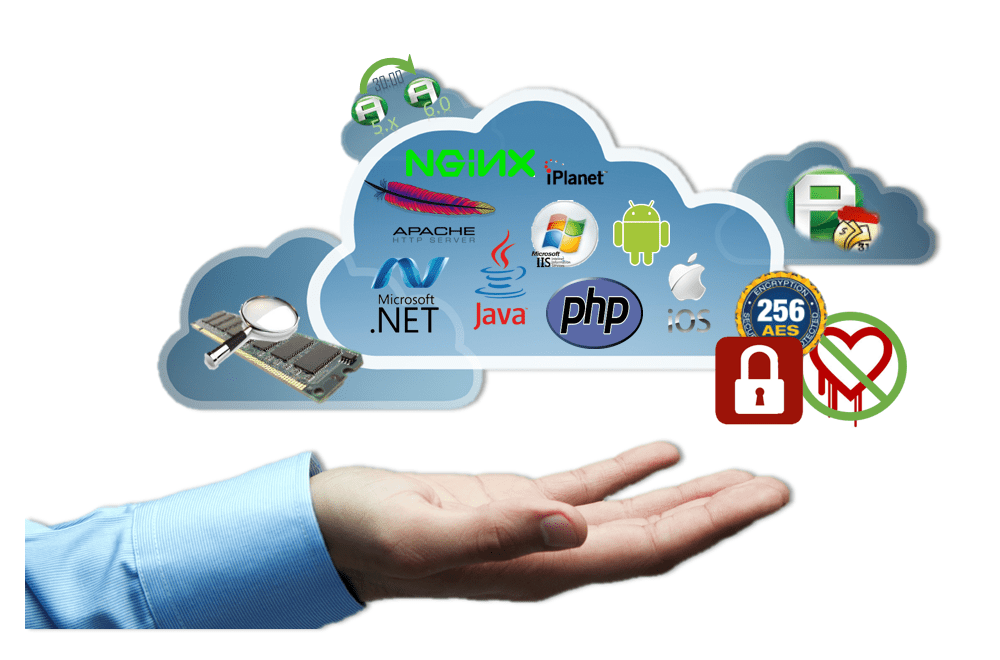 New features
1. Only the freshest and newest - dynaTrace 6.0 Support
At the same time as dynaTrace 6.0 goes live, we will also be offering the 6.0 Version as a new option for our SaaS customers. Details for 6.0 can be found here.
2. Bigger and Better - New Instances, New Sizing
With two new Instance options: m3.2xlarge and c3.4xlarge, we are pushing the limits up to 100 Agents per Server.
3. High Security - We lock your credentials tight
Our new secure keystores make sure your credentials are locked away securly without impacting your experience.
4. Faster forward - 10x faster upgrades
An improved architecture enables switching between instance sizes and versions in a matter of minutes
5. Controlled Consumption - New OOTB Licensing Dashboard
Every new environment will be shipped with a dedicated dashboard, which will help you to have a better overview and control the consumption of your license.
Orchestration Platform version 1.0.376 - January 23rd 2014
With our first release in the new year we extended our capabilities to deliver the dynaTrace experience via Software as a Service once again. We have been introducing a couple of features over time already but with this release we have some substantial improvements.
New features
1. dynaTrace 5.6 Support
With this newest Version of the Orchestration Platform we fully support the latest dynaTrace Release 5.6, allowing us to run new instances and also migrate existing customers from 5.5.1 or 5.5 to 5.6 enabling them to get access to all the great stuff we have in dynaTrace 5.6 (dynaTrace 5.6 Release Notes ). Its available both for customer instances as well as POC environments and also the included components such as Collector and Webserver agent for tag only injection have been updated.
2. New Regions: Singapore and Tokyo
Yokoso! We already rolled out the extension to Singapore quite awhile ago, with this release also Japan(Tokyo) will be a fully supported region. This will allow customer in the Northern and Central APAC area to have a better experience with our product especially if it comes to Client performance.
3. New Grouping Options on the User Interface
Since both our number of customers as well as the amount of POCs we are doing are constantly growing we realized that the tile-based Orchestration User Interface was becoming cluttered. To bring back order we introduced two different groubing options, one by POC and customers and the other one per Region. So if you want to find out who the newest customer in the US WEST Region right now is, you don't have to go through all the environment details views , just activate the two new checkboxes and there you go.
4. Better Fail-safe and Backup Function
Given the recent requests to have a higher data security and also to ensure that customers will always have the possibility to keep their historical data , we improved our data warehouse (DTW) backup strategy. From now on we will keep snapshots of the DTW even after the environment itself was deleted and we also have the capabilities to restore the snapshot to a newly created instance.
Orchestration Platform version 1.0.326 - August 22nd 2013
We proudly present the newest Version of our Orchestration Platform, bringing new features and a improved experience for our APM as a Service solution.
New features
1. Agent-less tagging through included Apache Server, Webserver Agent and Collector
With the new update we enable you to start an Apache Server with our Webserver agent and an standalone Collector additionally to the dynaTrace Server. All this comes in a pre-configured package so that all you have to go is to go to the integrated Apache Website , copy the monitoring scrip , deploy it on Website and can basically establish an agent-less monitoring solution. Additionally we also added the option to only start the Collector for those cases we can only deploy and agent and no other resources for a Collector would be available. Those options are not the recommended way to do things and are more a workaround, you will still have the best experiences both performance as well as security wise if you deploy both agent and collector on-prem.
2. New Fixpack delivery mechanism and improved dynaTrace Server Website
The new Version includes our first automatic Fixpack delivery mechanism. Via the Orchestration Platform we can provide Fixpacks directly to the customer in a fast and non intrusive manner. Once the customer environment is "flagged" for an upgrade a new options appears on the server website of the customers and its up to him then to select when he wants to start the roll out of the new Fixpack. Apart from the new fixpack option we also, improved the overall website adding a direct link to the downloads and update iconography.
3. Better Reporting and Alerting
The new Reporting includes improved bar diagrams that also contain the incident types, better availability algorithms and improved event handling. We also overhauled our Amazon Monitoring to be less rigorous but still precise.
4. Improved User Experience and many other smaller enhancements
We adjusted many smaller details to improve the all over experience with the Orchestration Platform, from better and more coherent titles to better placement of important activities such as starting new environments to adjusting the way we display numbers and adding more environment informations in the Details page. We also worked on the deployment of POC instances giving the users more permissions so that the POC can be performed without limiting the users activities. Just to make sure we are still more rigorous in the Production environment and its the task of the Enablement Services to adjust the permissions for production customers.
Orchestration Platform version 1.0.2 - June 27th 2013
POC environment type: separate SSH key, automatic [POC] prefix, exclusion from availability statistics and basic scheduling options for start/delete
Collaboration comments available
Problems during environment transition will now be reflected in the environment status after the timeout, with the option to resume or abort the action
Agents/collector status information is now present on the live view
Improved UI for Amazon Web Services Availability section
More information about the environment is shown in Details tab
Stronger passwords for dynaTrace user accounts
APM-4566 - fixed some issues with automatic failover
Orchestration Platform version 1.0 - May 23rd 2013
AMI 5.5.0.5226 GA available
APM-5404 - dynaTrace website requires a login (5.0)
APM-5403, JLT-75820 - performance fixes (both 5.0 and 5.5)
APM-5457 - Embedded Collector service is turned off (both 5.0 and 5.5)
JLT-76085 - Session storage is no longer configured via a symbolic link (both 5.0 and 5.5)