Key characteristics
Automatic JavaScript tag injection
Full UEM functionality
Full server-side visibility
Host and process monitoring
Dynatrace Server managed by the Dynatrace SaaS team for updates & maintenance
Architecture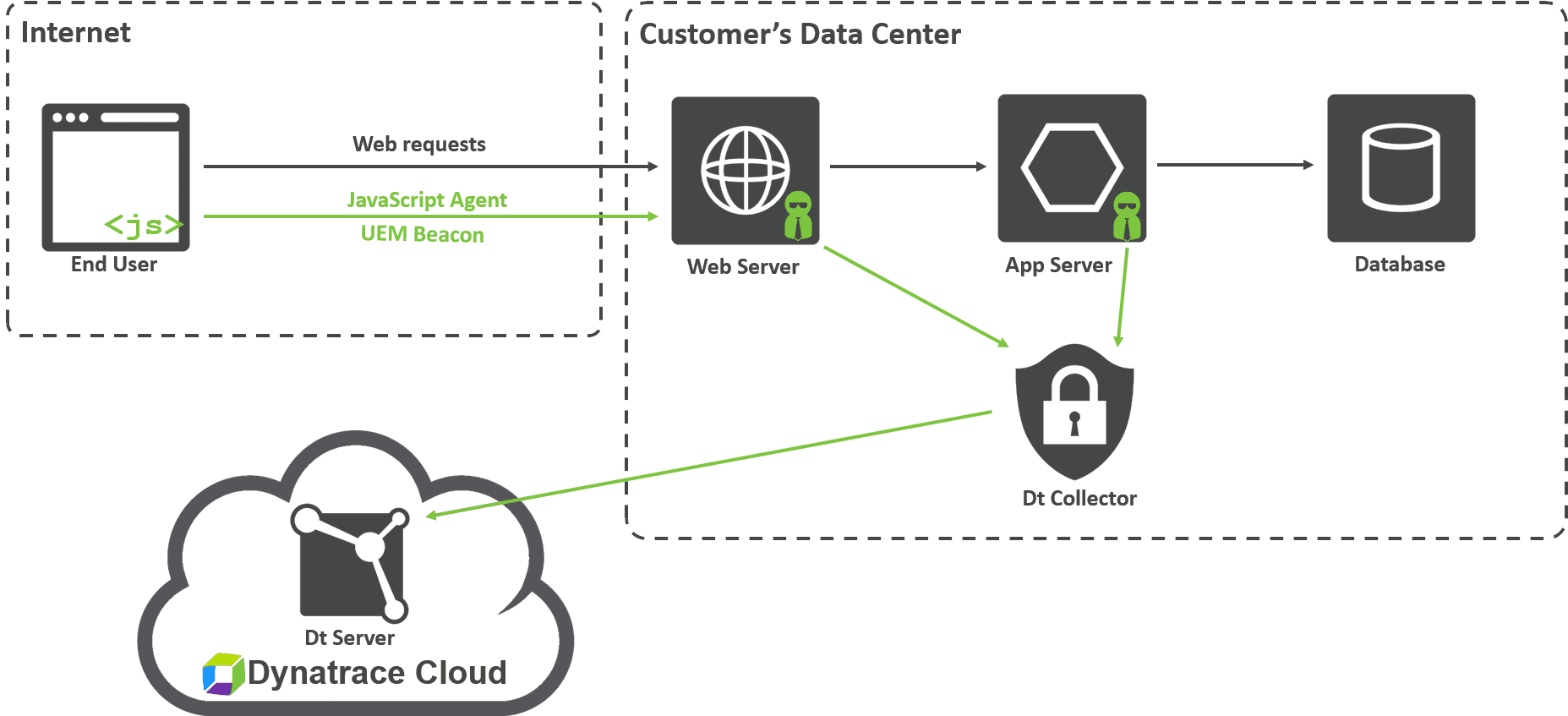 Deployment steps
Warning
In this deployment scenario, a Collector that is installed and managed in the customer data center is mandatory as compression can incur a significant impact on the number of PurePaths and other data that can be sent to the AppMon Server.
Download the Agent and Collector installation files from the AppMon product download page
Prepare your environment by copying the Agent and Collector installation files to the target machines
Prepare your internal environment by adjusting proxies and firewall configurations
Install the Collector(s), See Set up Collectors for installation instructions.
Install the Agents. See Set up Agents for installation instructions.
If you want to learn more about the AppMon system components and configuration, refer to the AppMon product documentation.
Ports & URLs
Note
Some instances still use compuwareapmaas.com instead of dynatracesaas.com. Please refer your welcome email to find out which domain is used by your instance. Also compuwareapmaas.com will be discontinued in the future. More information here: Upgrade Process.
Webstart Client:

2020 (HTTP), 2021 (HTTPS)
URL: https://<account-name>.dynatracesaas.com:8021/webstart/Client/client.jnlp

AppMon Server:

8020 (HTTP), 8021 (HTTPS)
URL: https://<account-name>.dynatracesaas.com:8021/
6699 (HTTPS): Collector connections

AppMon Web:

443 (HTTPS)
URL: https://<account-name>.dynatracesaas.com
See also
For more information, please refer to the following product documentation: