Upgrade timeline for AppMon SaaS instances
Dynatrace 6.3 (AppMon 6.3 Release Notes) has been released on the 29th of February 2016. The SaaS environments will be updated in two phases:
**Phase 1: Upgrade to 6.3 on demand via support ticket (29th of February - 8th of April 2016)

Customers can request the upgrade of their SaaS instance by opening a support ticket and by indicating their desired maintenance window.

**Phase 2: Upgrade of ALL the SaaS instances (11th of April - end of July)

Remaining customers will be contacted per e-mail one week before the planed upgrade of their SaaS instance. The maintenance window for their instance will be assigned by the SaaS team and communicated per e-mail.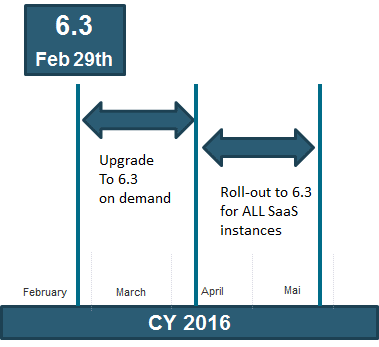 Upgrade process
See Upgrade Process.