Performance management for DevOps teams
Push the right code in better quality through your pipeline
Biz: Let your users tell you what to build
Users know best which features they want, which features they dislike and which features are not working right. Dynatrace tracks every single user, every single interaction and knows where performance or usability impact the end user experience. Use user analytics to prioritize your backlog, perform A/B testing and remove business debt.
Identify end user behavior per app and feature
Remove business debt to stay lean and agile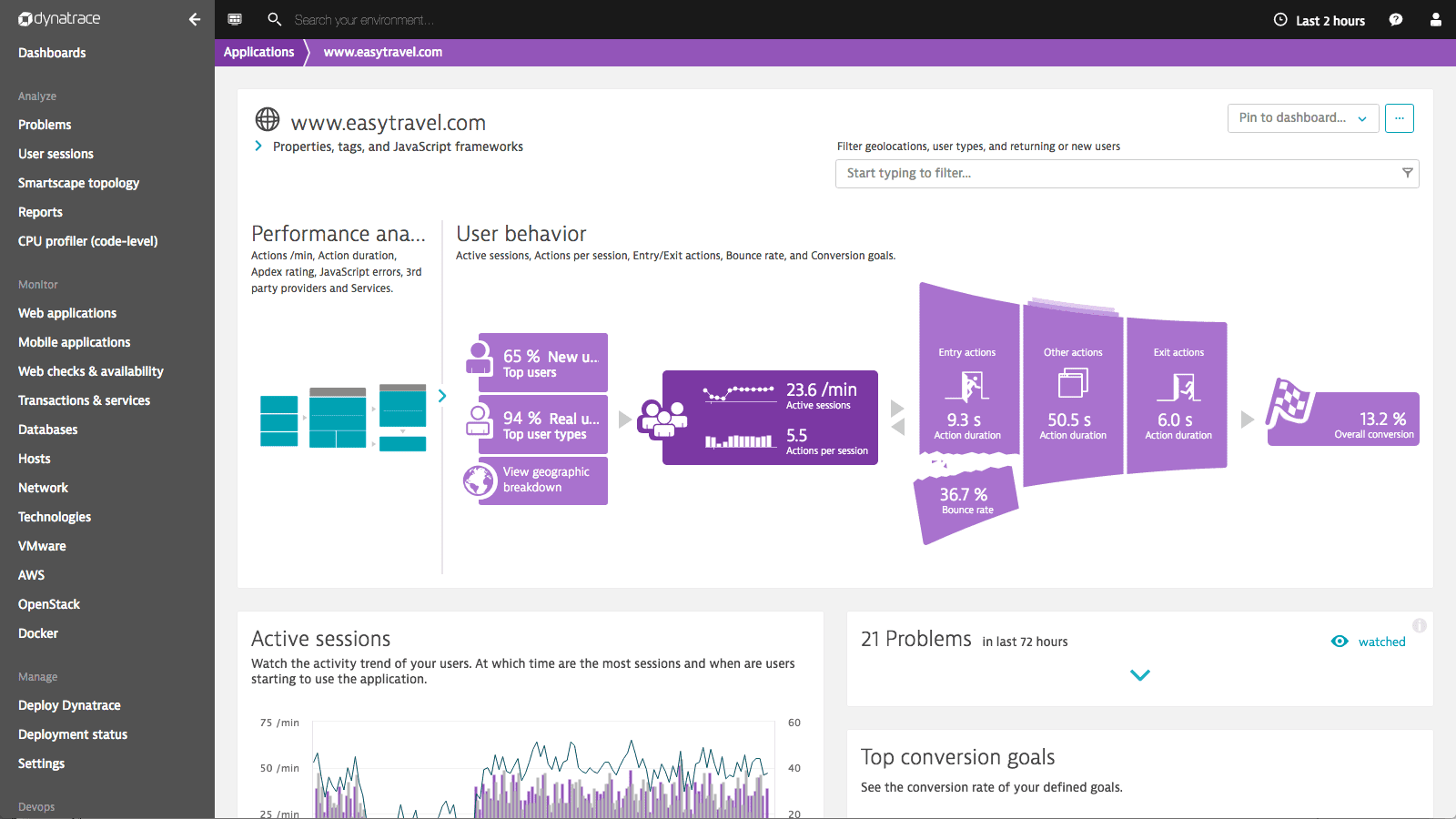 Dev: Don't check in bad code
80% of the code you are responsible for is not your own code as you build software on frameworks or inherit software from somebody else. The risk of breaking code or impacting scalability and performance is growing. Dynatrace automatically identifies architectural regressions on 100% of code you are responsible for. It highlights the bad code and stops you from bad code commits!
Automatically detect top scalability and performance patterns
Identify bad code changes before GIT COMMIT in your IDE
Code-level visibility, memory leak detection and more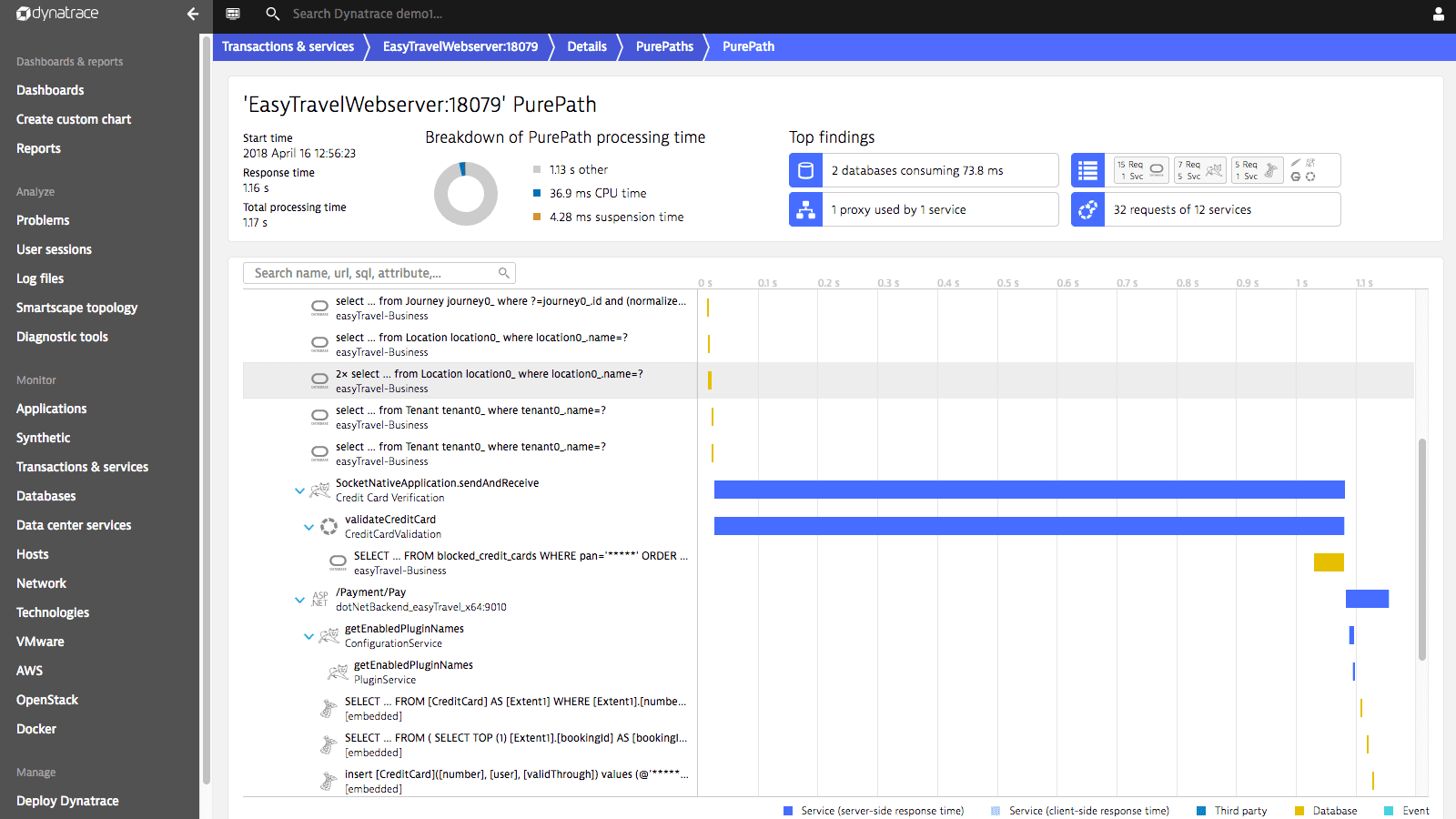 Architects: Continuously Validate your Architectural Decisions
The more teams, frameworks, tiers, services and new technology stacks you add to your projects the harder it is to validate end-to-end architectural guidelines. Dynatrace automates that review process by highlighting code changes that introduce architectural, performance and scalability regressions of all code commits made to your pipeline. Manage your technical debt before deploying bad changes into production.
Enforce architectural guides across all teams
Improve overall code and architecture quality
Reduce technical debt to become more efficient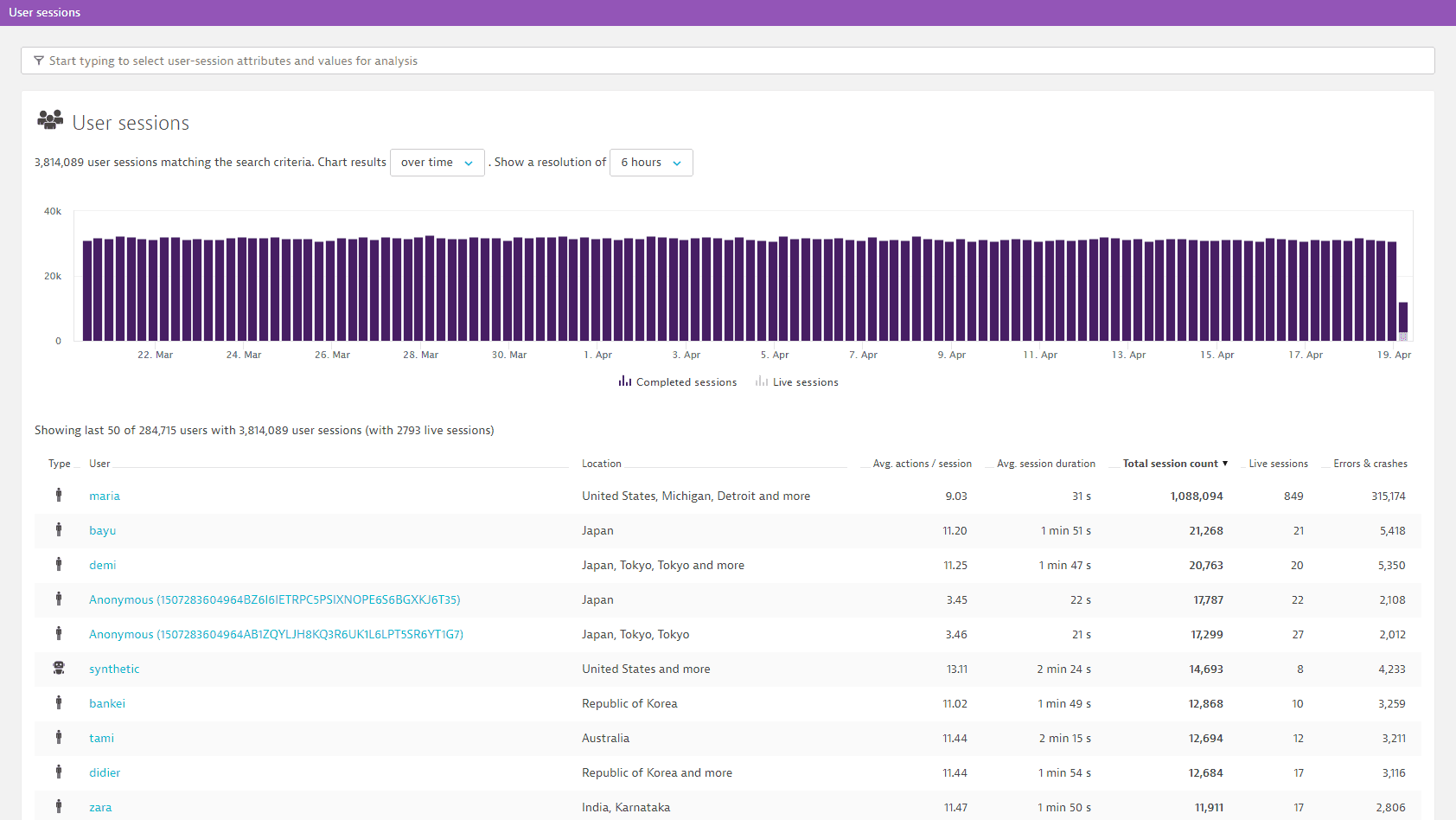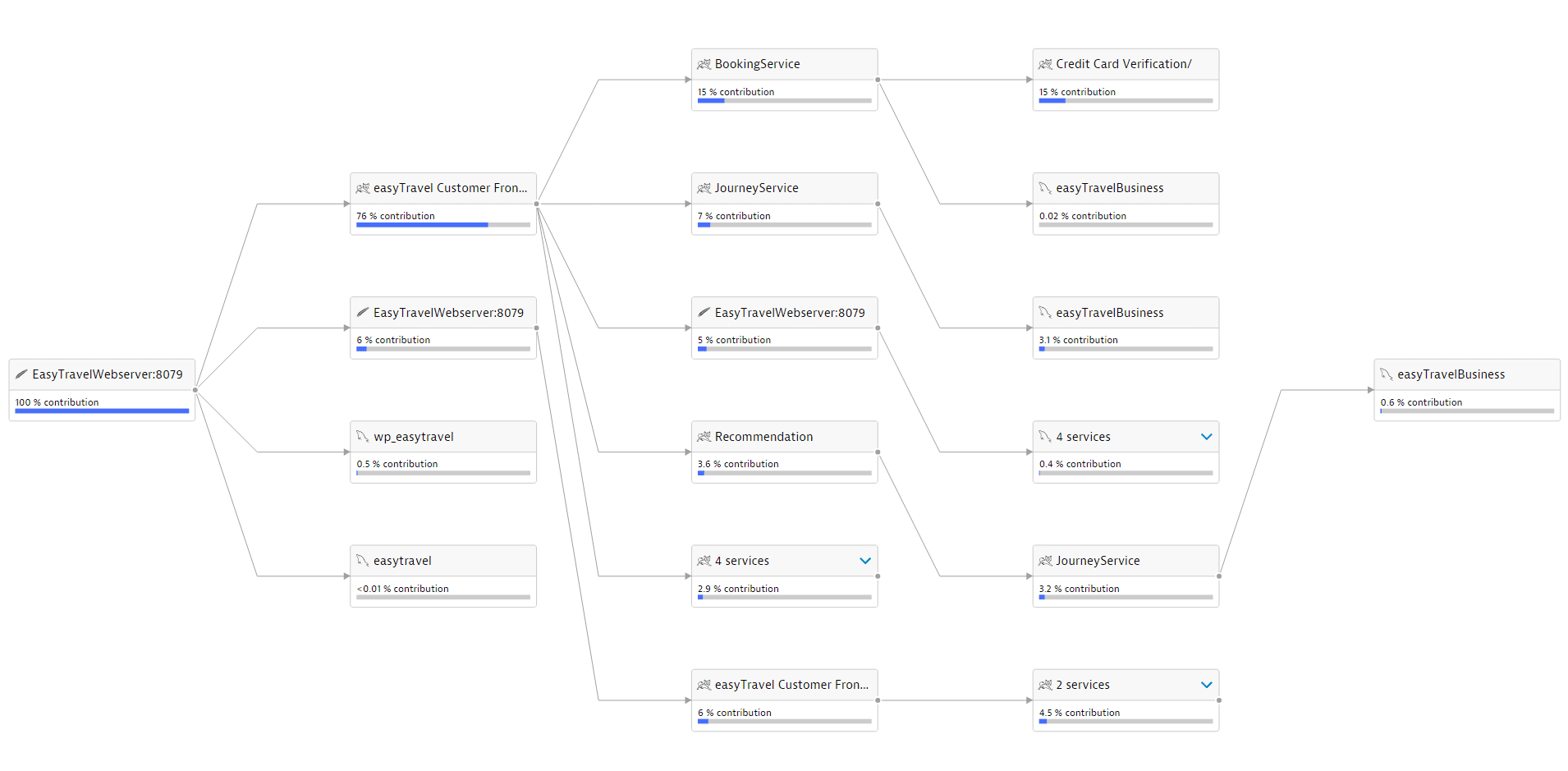 Get Started Now — Dynatrace 15 Day Free Trial
CI/CD: Stop bad builds earlier in the pipeline
Build pipelines tend to clog at the performance testing phase and therefore slow down lead times. Dynatrace allows you to shift left performance checks and automatically find 80% of your performance problems with your existing unit-, functional-, and integration tests. Stopping bad builds and code changes earlier will increase your throughput and improves quality of the pipeline output.
Level-up your automated tests to become performance validation tests
Automated baselining of key architectural and performance metrics per build and test
Integrate to Jenkins, Bamboo, TFS, Go, Team City or other build servers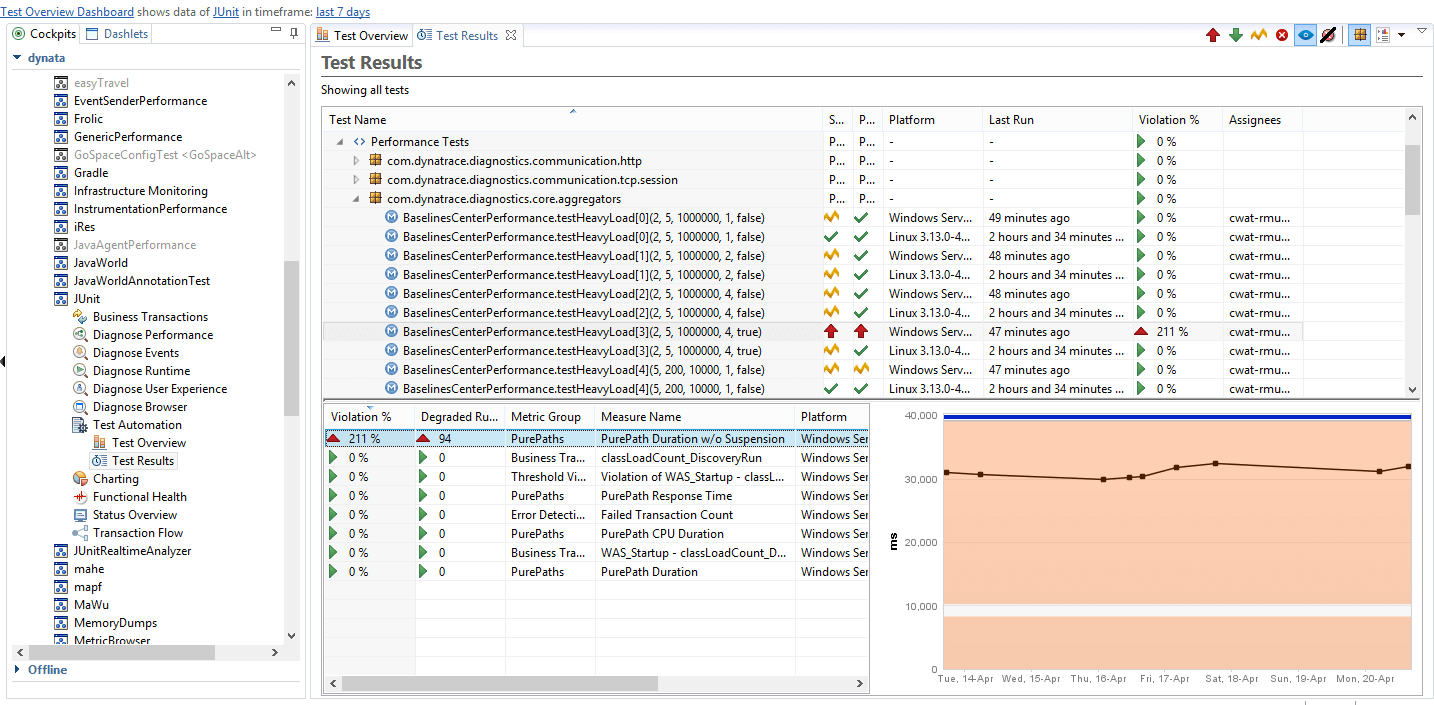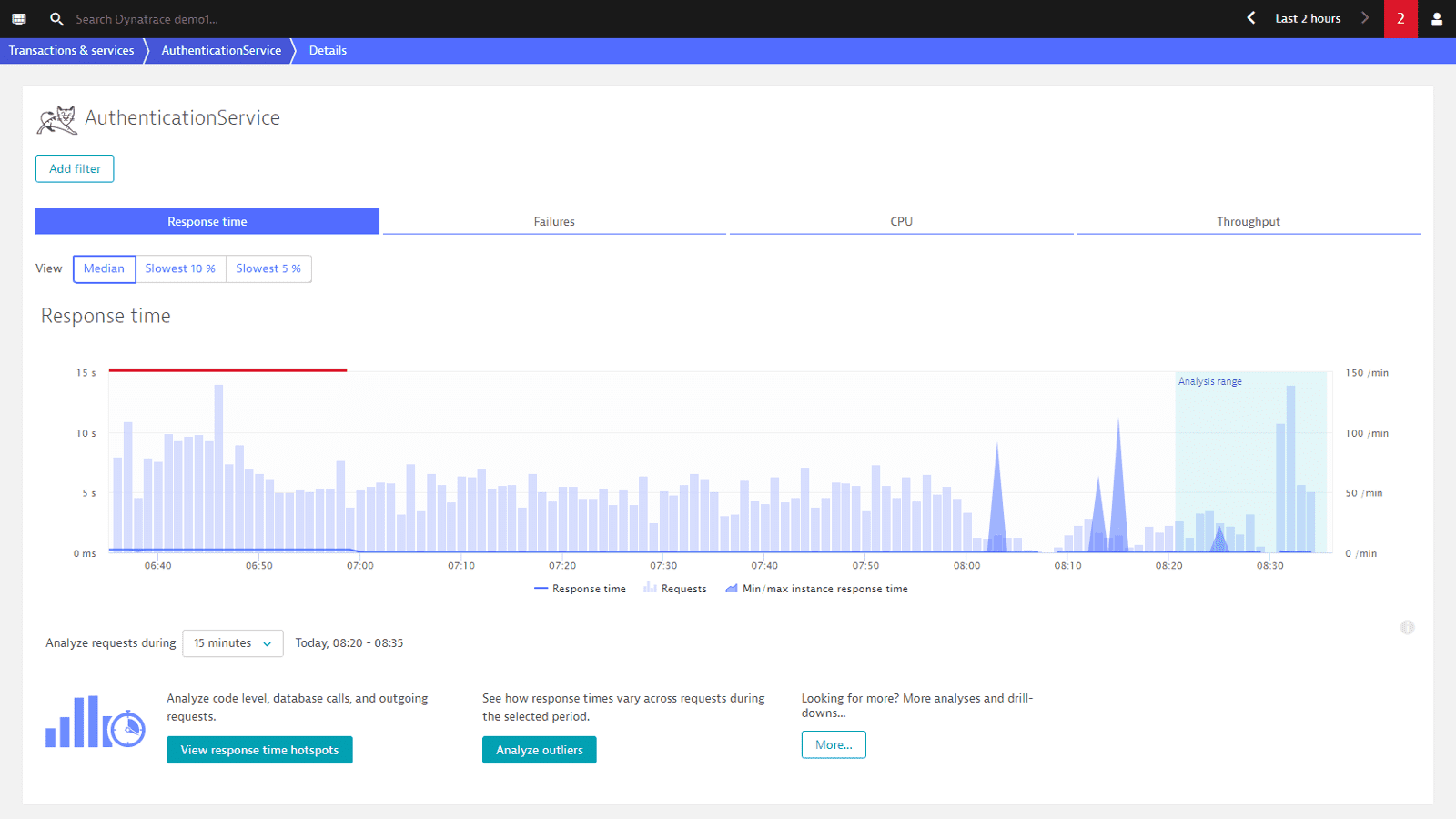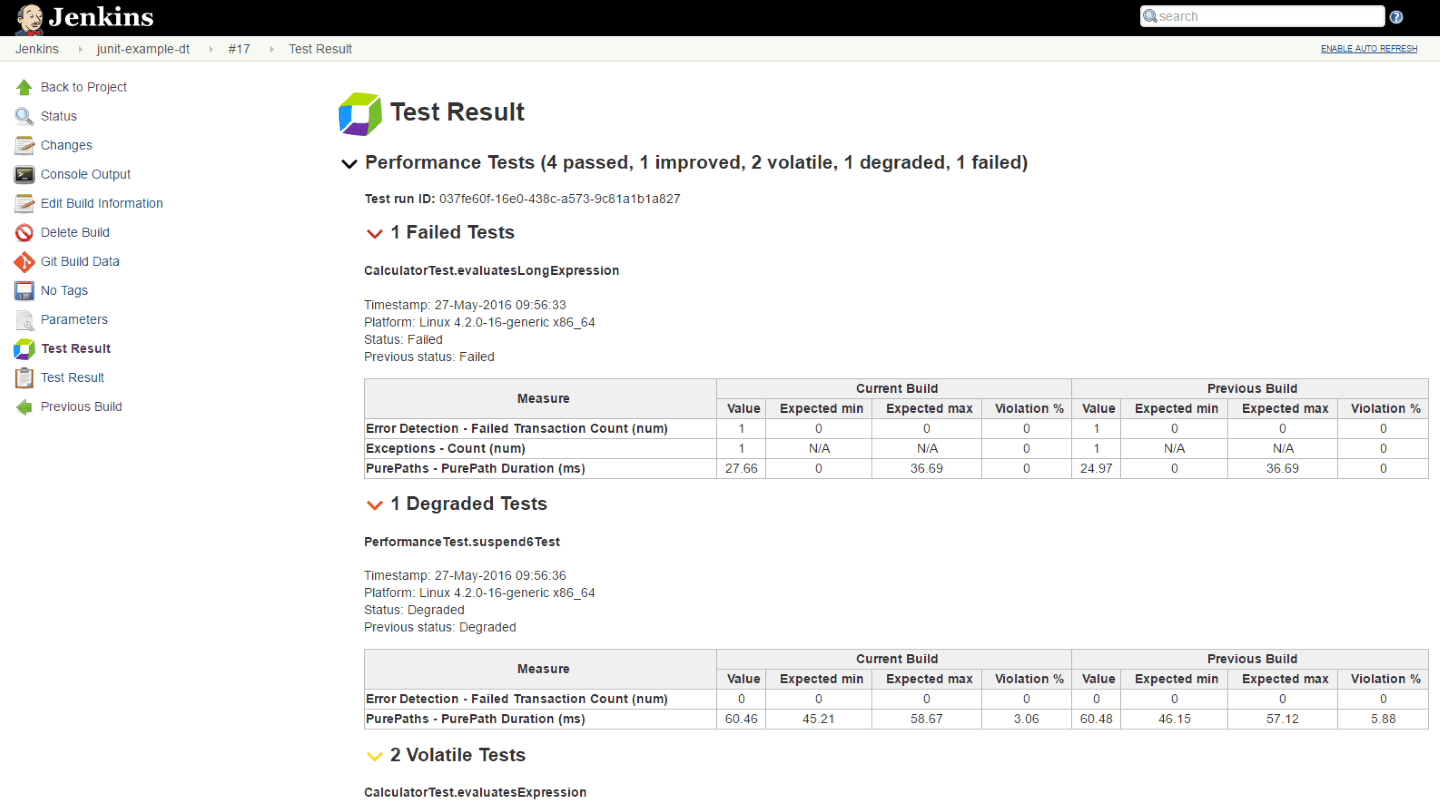 Performance engineering: Reduce and speed up load testing cycles
Are you becoming the bottleneck in a speedy pipeline because your performance test run too long or it takes you too much time to analyze? Dynatrace allows you to push some of the performance checks into functional and integration tests. This allows you to find the real tough performance issues during load testing. The automated problem detection, comparison and regression detection between tests drastically reduces analysis time:
Integrate with your load testing tools such as Gatling, JMeter, Load Runner, Silk or others
Automatically detect hotspots in the application architecture and code
Compare load tests for faster regression analysis
Ops: Smart alerting on your dynamic infrastructure
Whether you run on bare medal, VMWare, Docker, Cloud or PaaS. Dynatrace keeps track of your infrastructure health and alerts you in case it impacts application performance and end user experience. That helps you prioritize your actions and takes the stress out of critical situations
Automatically monitor all physical and virtual hosts
Get full visibility into your containers and clouds
See the impact of infrastructure on the application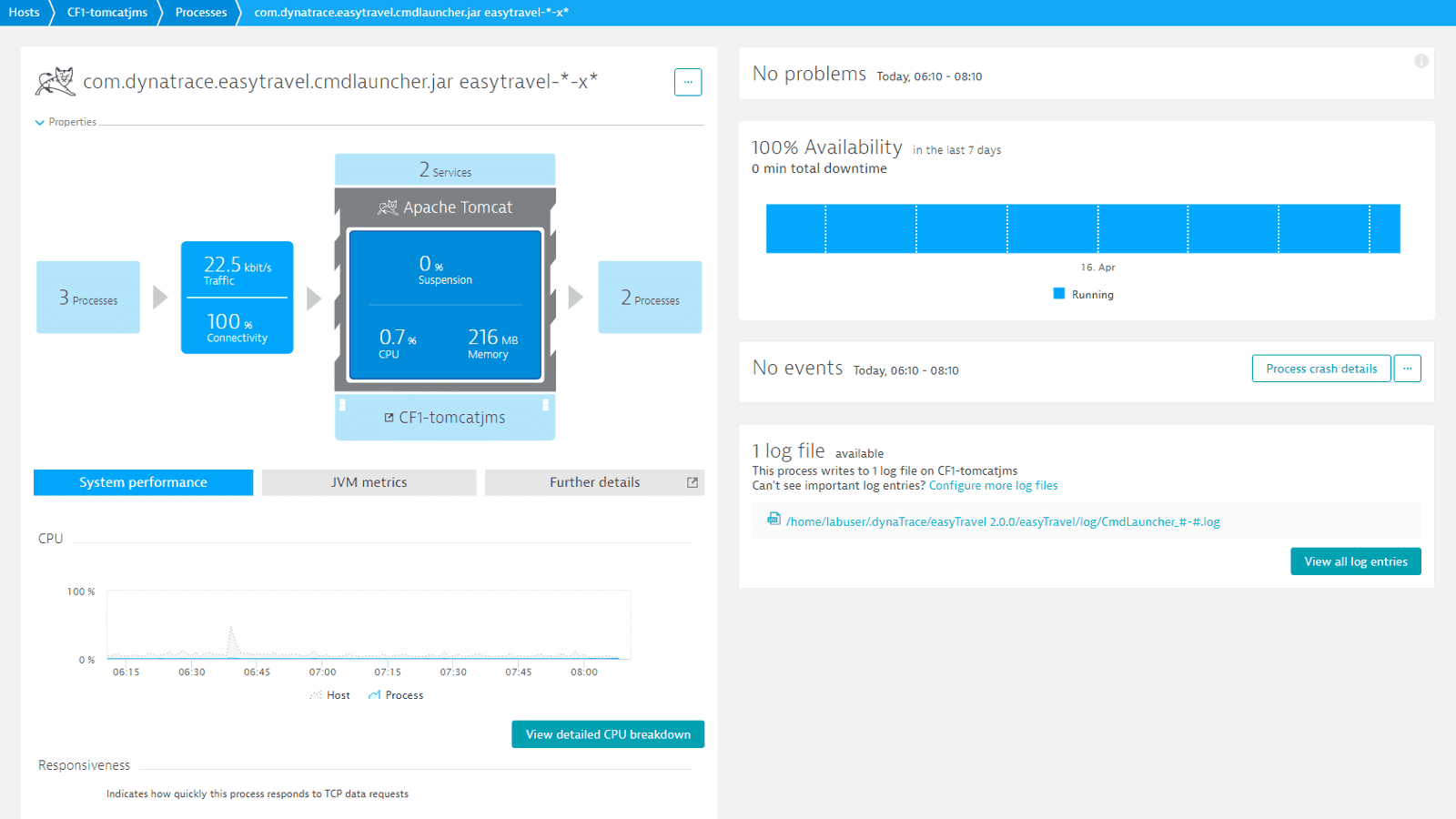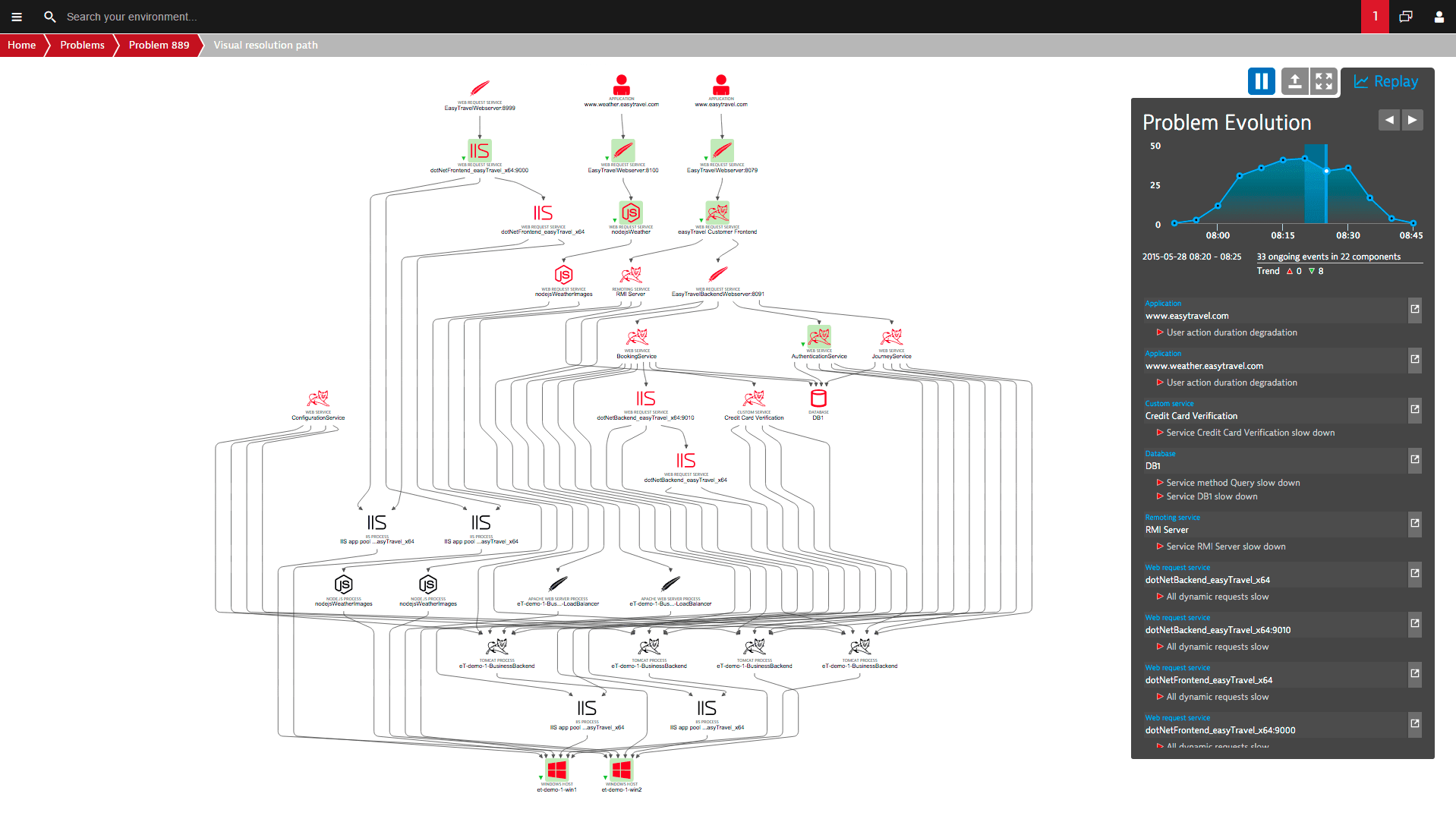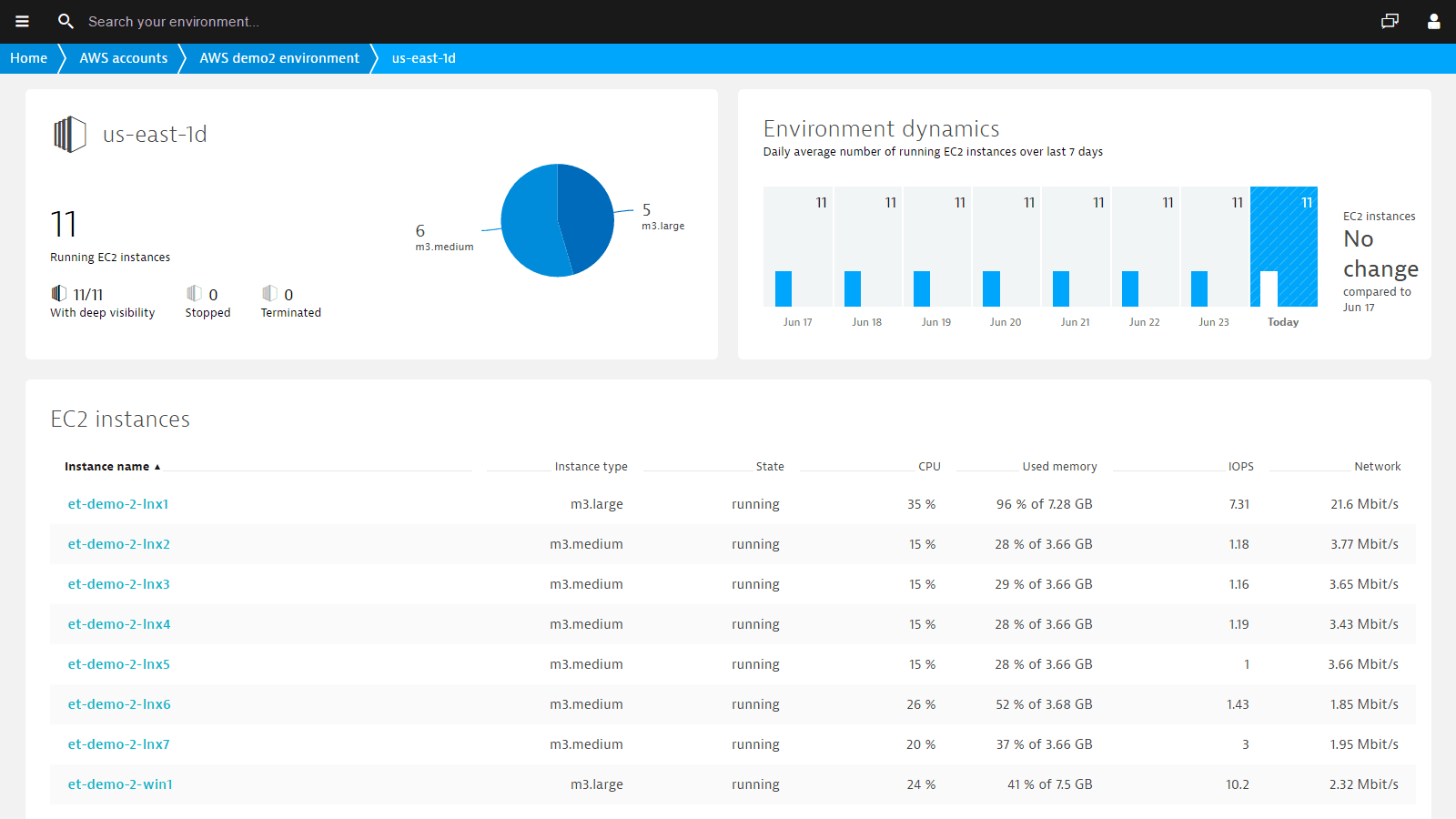 Dynatrace seamlessly integrates with your DevOps tools
Atlassian Bamboo

BlazeMeter

Chef

Eclipse

Gatling

Jenkins

JMeter

JUnit

MSTest

NUnit

Puppet

Selenium

TeamCity

Visual Studio
Get Started Now — Dynatrace 15 Day Free Trial