Cloud Automation use cases for SREs
Ensure production apps are stable, scalable, and performing the way they're supposed to. Dynatrace Cloud Automation helps site reliability engineers proactively take control of your entire infrastructure.
Proactively monitor SLOs
Predict SLO violations before they happen. Our AI engine, Davis, alerts you when error budget burn rates are faster than expected, giving you the precise root cause so you can address issues before they become problems.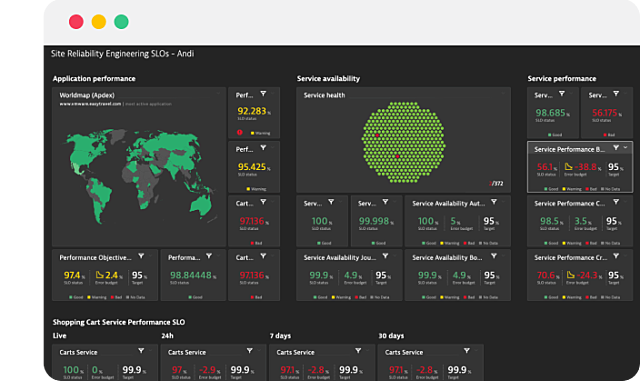 Automate remediation and incident management
Get the context you need to triage issues and get systems back to steady state. Automatically trigger remediation workflows, or when manual intervention is needed, incident management tools.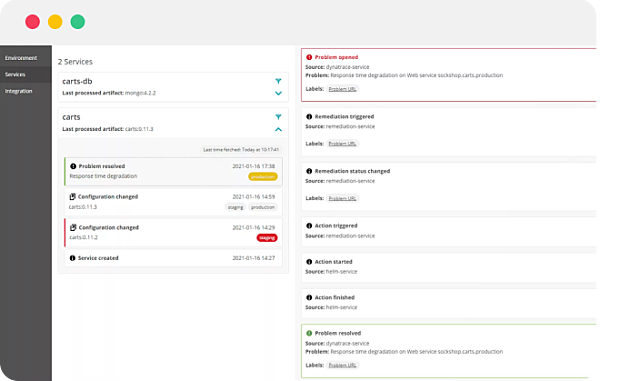 Interactive Tour
Ensure Production Reliability with an SLO driven approach
Welcome to Service Level Objectives (SLOs) in Dynatrace. Let's explore how Dynatrace can help you create and monitor SLOs, track error budgets, and predict violations before they happen, so teams can remediate issues before impact.Take an interactive tour of the Dynatrace platform to see how.
Get a free trial
Want to see what intelligent observability powered by AI and automation can do for you? Get a free trial of the Dynatrace platform now.