Artificial intelligence features
Causation-based AI gets to the root cause fast
The Dynatrace real-time analytics and AI engine automatically detects performance and availability issues and pinpoints their root causes. Resolve application problems before your customers are impacted.
AI for today's hyper-complex apps
---
The traditional monitoring approach of watching dashboards, responding to alerts, and manually analyzing data sets doesn't work anymore. Today's hyper-dynamic, highly distributed application environments have gotten too complex and move too fast. The volume, velocity, and variety of information is simply more than humans are able to keep up with using traditional tools.
But artificial intelligence can absorb terabytes of data and make sense of it instantaneously. AI automates all the "heavy lifting"—all the discovery and analysis that take teams of experts hours or days, AI does in milliseconds—to proactively identify problems and pinpoint the underlying root cause.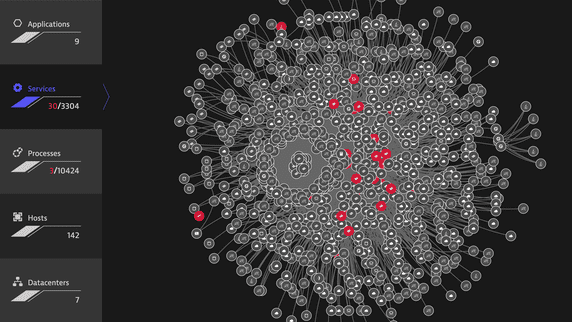 The Dynatrace AI difference
---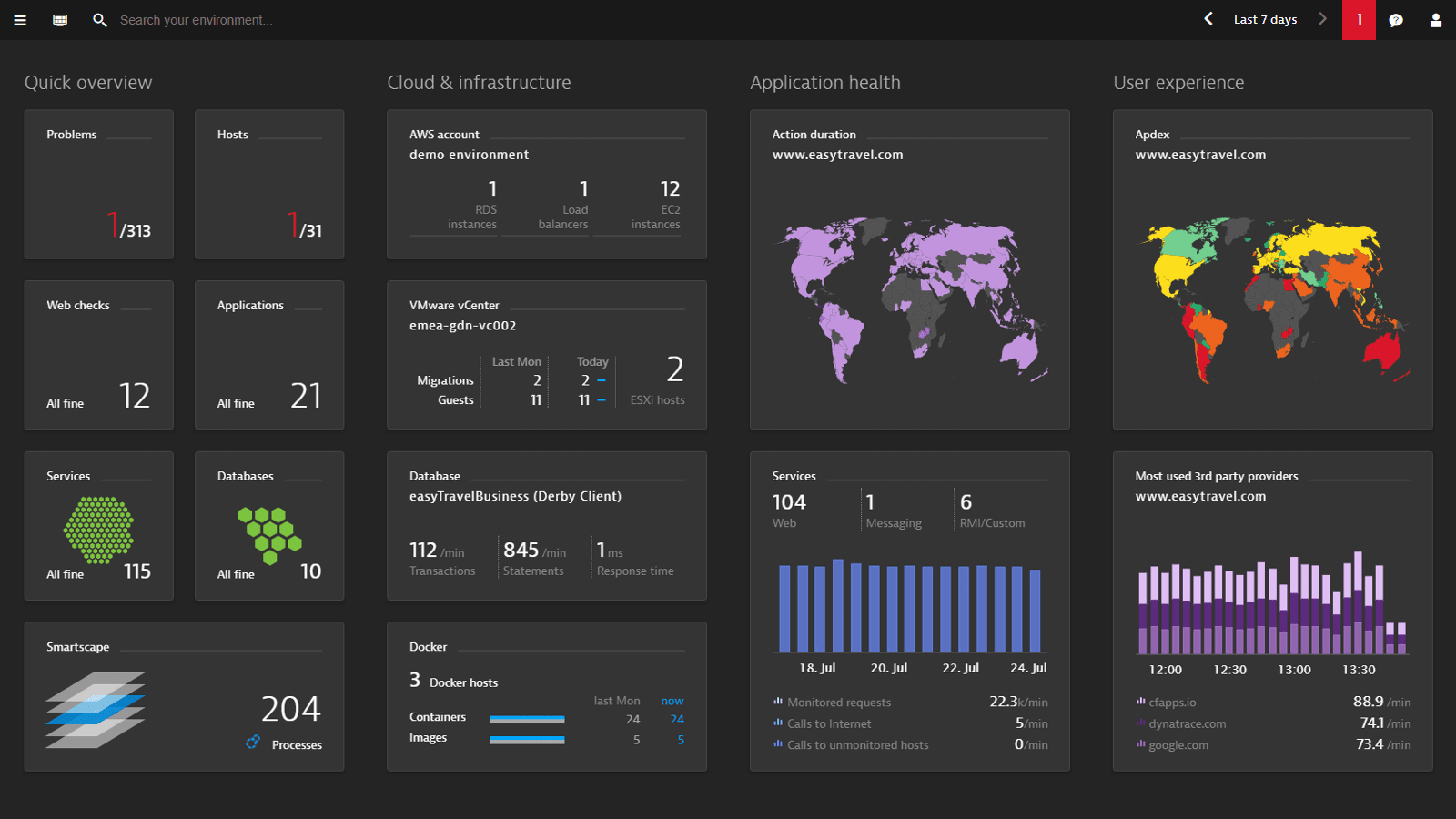 The best data
AI is only as good as the data that feeds it. Dynatrace starts with a view of the entire digital ecosystem in high fidelity – every transaction from every user – delivered by our full stack, single agent. But we go beyond that to incorporate third-party data including time-series, events, unstructured data, relational data, and more.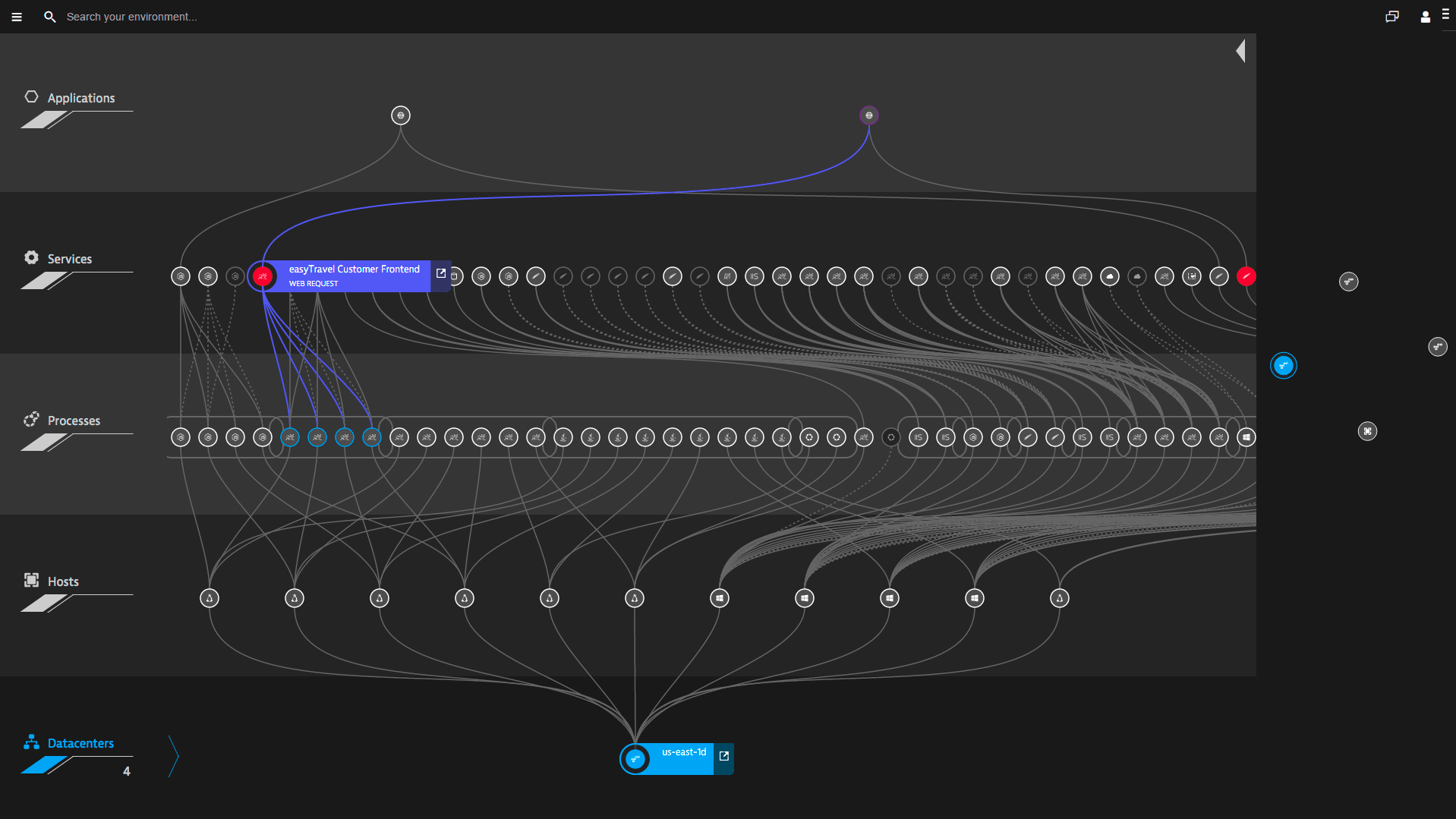 In context
Because Dynatrace sees relationships and dependencies in real-time, our AI engine has the context it needs to tell you not only what happened, but why it happened. While other solutions can only correlate disconnected data, Dynatrace automatically detects virtual and physical relationships and changes. This allows us to go beyond correlation and give you true causation.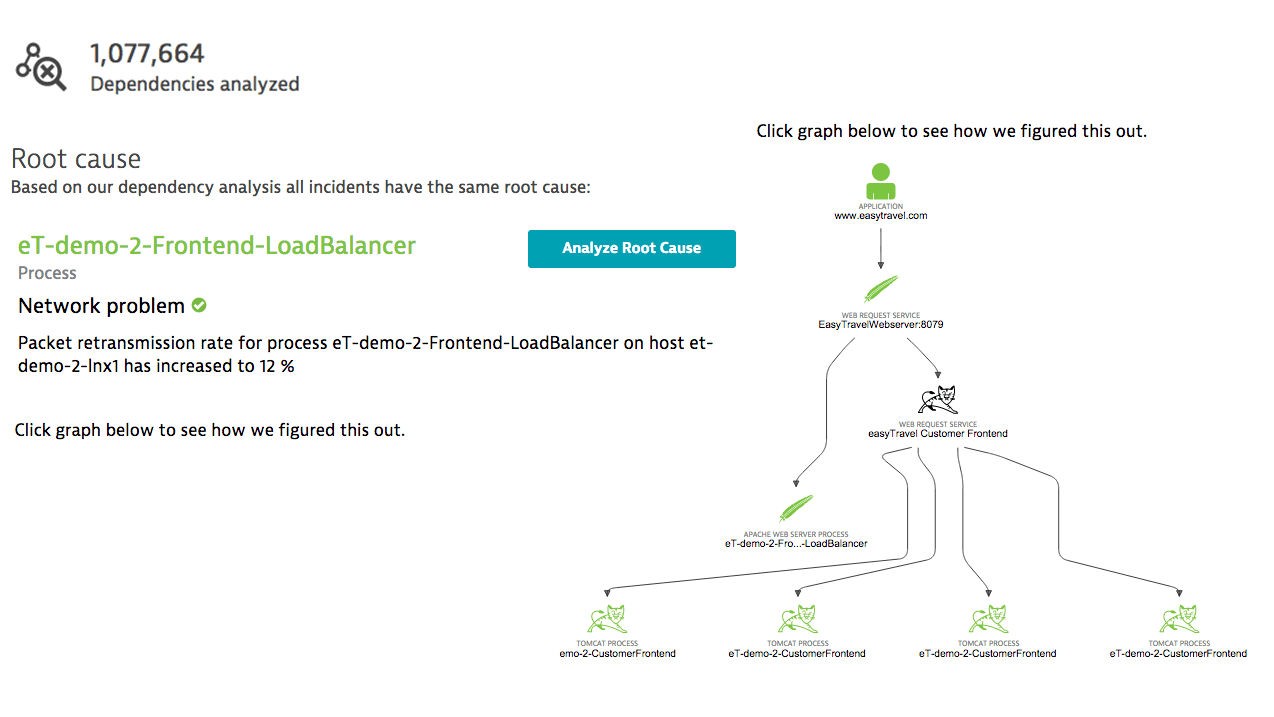 Purpose-built, causation-based algorithms
The Dynatrace deterministic, causation-based AI engine is built into the fabric of the platform, not bolted on as an afterthought. We examine metrics, both from the Dynatrace OneAgent and third-party tools, along with anomalies, dependencies, event sequences, natural events like code deploys, and even expert knowledge to find the true root cause of problems.

SailPoint
"Mean-time-to-recovery has gone down significantly since switching to Dynatrace."
Marty Bowers, Manager of DevOps at SailPoint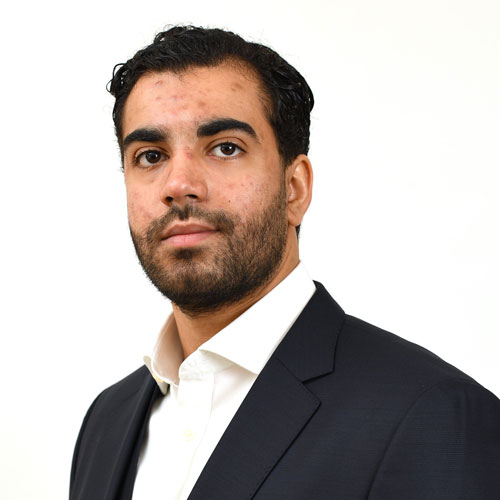 Travis Perkins PLC
"Thanks to the AI capabilities in Dynatrace, the number of problems that actually impact customers has drastically reduced."
Abdul Al Tayib, E-Commerce Operations Team Leader at Travis Perkins PLC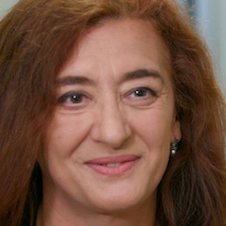 ZoomInfo
"After deploying a new release, we spent over 30 hours trying to find a performance problem. With Dynatrace, finding a similar problem would take us only minutes."
Eugenia Gillan, VP Engineering at ZoomInfo

Analyze events from external sources
---
IT teams are overwhelmed with events from DevOps and other tools. Now, the Dynatrace AI engine can consume and interpret these events in context of the application and transactions. Dynatrace is the only valid connector between these distributed events, thanks to our real-time relationship and dependency mapping. This allows you to go beyond just seeing what happened to seeing why something happened, for example identifying root causes from external or natural, human-related events.
In addition:
Dynatrace detects anomalies from custom metrics using change point detection – no need to define baselines or thresholds.
The Dynatrace AI engine points out normal behavior to eliminate possible root causes and allow you to focus on what really matters.
Dynatrace also supports problem commenting with intelligent search and analysis, turning your system into a true knowledgebase to get relevant information faster.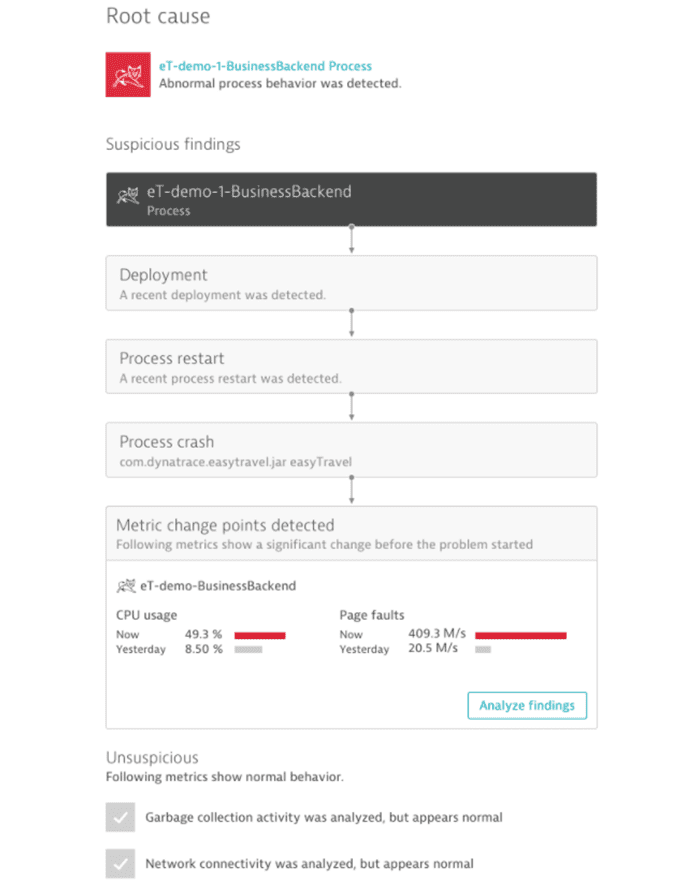 Seeing is believing
---
Get a sneak peek into Dynatrace AI in action. Our Performance Power mini-demos walk you through how AI delivers deep cause-and-effect insights. Just 30 minutes and you'll never look at monitoring the same way again. Sign up today.
Monitoring at speed, scale, accuracy that no human can match
Download the Dynatrace AI fact sheet to learn how, in under 5 minutes—with zero manual configuration—Dynatrace AI gives you auto-everything. Activities that used to take hours or days, AI can now do in milliseconds.
Start your free Dynatrace trial today!
Just a few of our enterprise customers