Agenda
Transform into the digital future at light speed
Dynatrace Perform Summit Barcelona 2019 runs from
Tuesday, May 21st to Thursday, May 23rd.
* May 23rd is the Exclusive Partner Day
We look forward to welcoming you to Perform Summit Barcelona 2019.
The current agenda overview is included below, and will be updated regularly as speakers and further details become finalized.
Agenda Overview
---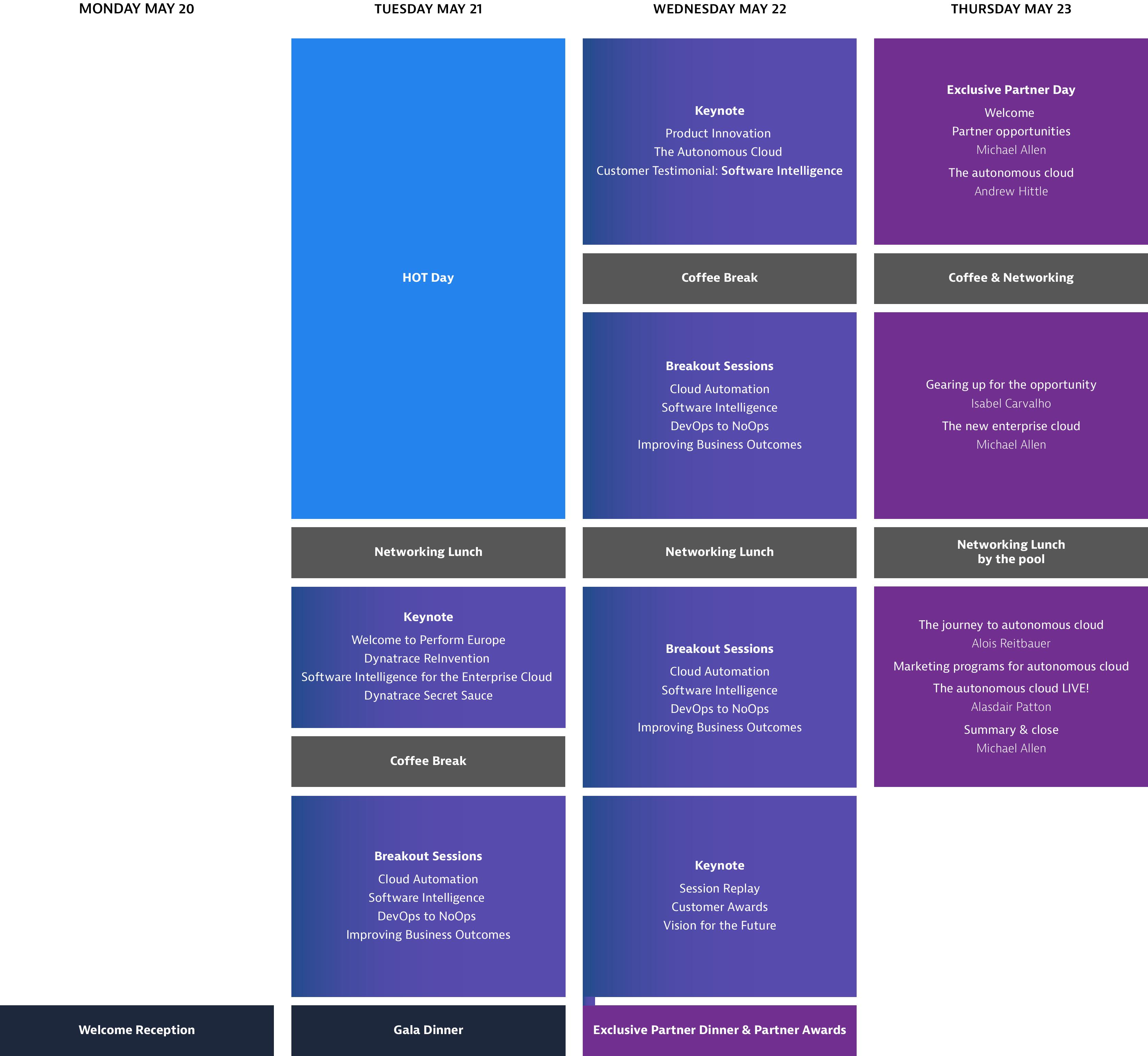 ---
PLEASE NOTE: The Partner Summit is for Dynatrace partners only.​
If you are unsure if you should attend, please reach out to Matt Keenan with any questions.​
Breakout sessions
Perform breakout sessions are deep dive sessions with not only our customers & Dynatrace experts but AWS, RedHat, and more:
Cloud Adoption
Join specialized sessions covering OpenShift, IoT, Microservices & Containers, monitoring APIs just to name a few.
Digital Experience
Discover business insights and learn features such as session replay, RUM + Synthetics, mobile app and conversion from Gen 2 to Gen 3.
DevOps
Attend our DevOps sessions to get the latest updates on unbreakable pipeline, advanced dashboarding, voiceOps, automated toolchain & remediation, and more.
Enterprise cloud operations
Learn new skills, make new contacts and harness your competitive edge by attending invaluable sessions such as automating you cloud with AI, monitoring hybrid apps, log analytics and so much more.