In our previous 2013 Online Holiday Shopping blog Klaus highlighted that the top goal of 2013 is to increase Conversion Rates and take into consideration everything we have learned in past years such as 3rd Party Performance, as well as the new challenges such as "The Rise of Mobile Users". This blog is a guide for performance engineers on how to best test for ensuring high conversion rates.
Based on our real user monitoring data we know that the abandonment rate on eCommerce sites increases by 8% for every additional 2 seconds of page load time. Mobile users expect even better performance on their smart phones as the assumption is that accessing shopping sites with mobile web or mobile native apps are optimized for these devices. Load Time of key landing pages, key mobile actions and everything along the conversion funnel must therefore be our top priority during pre-holiday testing: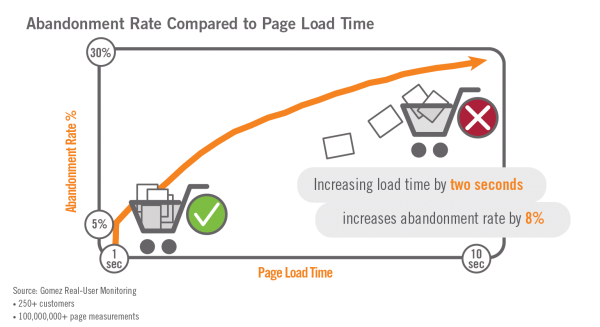 Page Load Time is not only impacted by the performance of the application running inside your firewall. Our analysis of last year's holiday season showed that content delivery (missing, slow or misconfigured CDNs), problematic 3rd party components (failing service calls or blocking JavaScript) and problems with specific devices (mobile, tablets, older desktop browsers, etc.) are major contributors to page load time and user satisfaction. In order to avoid these problems it is important to include the components that are outside your firewall in your testing as well as testing from real end user devices and not only rely on "traditional" HTTP-based testing.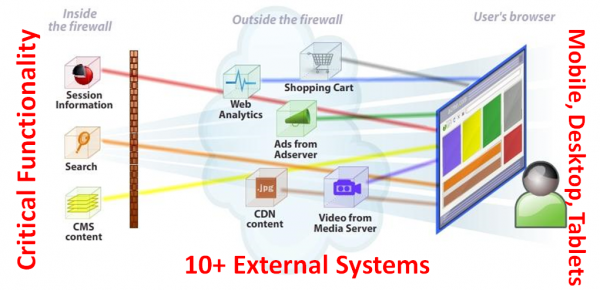 Use this blog as a guide that will help you to prepare for the constant high and peak load during the upcoming holiday season. It covers the best practices from eCommerce veterans and startup sites that managed to get through the previous holiday seasons without major hiccups. These companies are also confident to convert more users than ever before – no matter what device (mobile, tablet or desktop) they are using for their holiday shopping.
Step 1: Preparing your tests
Before we can do any testing we need to understand what we need to test. Here are some questions and also a great follow up read about Approaches to Testing Modern Web Applications:
Question #1: Identify Key Landing Pages, User Interactions and Conversion Funnel Actions
Besides the homepage there might be additional landing pages for special promotions as well as special pages for your optimized mobile web application. From these landing pages you need to find the key actions (on both web and mobile native) that a visitor walks through until the purchase is complete.
Possible Answer: Homepage, Homepage for Cyber Monday, Mobile Start Screen, Add to Cart, Proceed to Checkout, Verify Billing and Credit Information, Confirm Order
Question #2: Identify additional Use Case Scenarios
Besides testing the "best case conversion" scenario it is important to focus on scenarios such as browsing the product catalog, store locator or call center contact page. For mobile native, you have special app features such as product info via scanned barcode, recommendations or shopping history. Many online shoppers use the website and mobile app to browse and compare but end up walking into the "physical" store or buy per phone.
Possible Answer: Products by Category, Product Search, Daily Deals, Store Locator, Contact Details
Question #3: Identify the types of your End Users
Based on current user statistics taken from your UEM solution or your web analytics tools you get a feeling on a) which devices are used b) which browsers c) from which geographical locations these users are and c) whether they have high bandwidth or run on a slow mobile connection. Combining this data with predictions from your business teams and general trends such as that more users will use their mobile devices this year will give you a good understanding on what user mix you need to test for.
Possible Answer: Device Type: 30% Desktop, 30% Mobile Native, 20% Mobile Web, 20% Tablet Web; Browsers: 35% Google Chrome, 30% Internet Explorer, 20% Firefox, 15% Safari; Geo Region: 15% New York, 12% California, …
Question # 4: Identify involved 3rd parties
These include the CDN used for pushing static content but also 3rd party services such as Ads, Recommendations, Social Media, etc.
Possible Answer: Images on Akamai, Videos from YouTube, Ads from Google, Social from Facebook
Step 2: Sanity Checks
After creating test scripts for the key use cases (landing pages, conversion funnel actions, and additional use cases) as well as for the different devices (desktop, mobile web, mobile native, tablets) it is time to use them for a quick sanity check. Run them as single users and combine them with diagnostic tools such as Dynatrace AJAX Edition, YSlow, PageSpeed, etc., which allows you to do sanity checks on basic WPO (Web Performance Optimization) rules as well as testing the end-to-end functionality of your use cases.
For mobile native: Run an extra set of acceptance tests on the real devices (Android, iOS, Windows Mobile …) and focus your testing on things like responsive design and device specific features.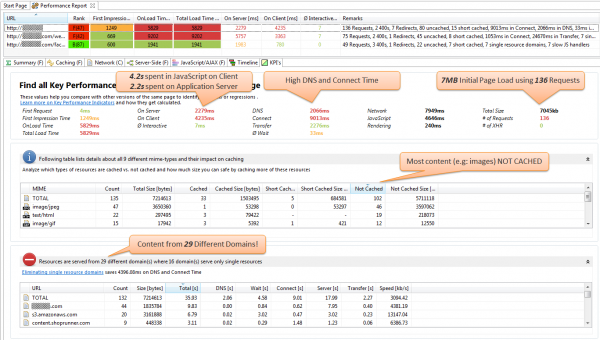 Benefit: Applying the changes recommended by these tools you will be able to optimize page load time and also reduce traffic to your servers leaving more resources available to handle more concurrent users.
Learn more: Learn from JC Penney and how they optimized their page load time following WPO Best Practices.
Step 3: Throughput Tests
The throughput test verifies if the system can withstand the busiest peak period that is expected during the holiday season. Best Practice is to base your estimate on previous year throughput adjusted by expected increase this year and adding another 50% to be on the safe side. If you have your peak user per hour number make sure you distribute that load across your main end user locations as well as your common use case types. Ramp the load up to that peak and monitor response times, resource utilization and failures. Watching these charts makes it easy to pinpoint the breaking point of an application.
For mobile native: focus your testing on the APIs (Web Services) that are called by the mobile native application. Slow APIs impact responsiveness of your mobile native app and impact conversion: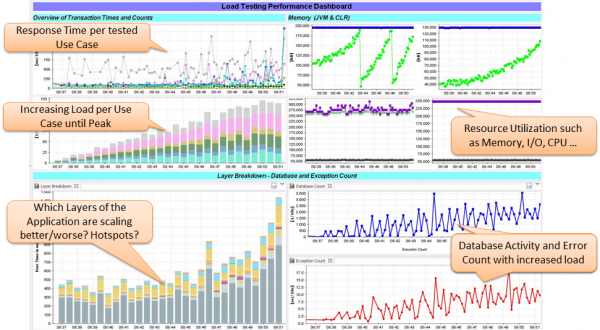 Benefit: Identifying and fixing these scalability and load related issues will make sure you survive the holiday peak hours without major downtimes of your site.
Learn more: Check out how a misconfigured load-balancer caused major outages of one of our eCommerce customers.
Step 4: Concurrency Tests
Withstanding peak load for a short time is one thing – withstanding constant high load over a long period of time is another challenge. Resource leaks (Memory, Connections, etc), misconfigured caches undersized infrastructure are typical problems that Concurrency Tests highlight. Running the same use cases as in the throughput test with a constant high load over hours will highlight any problems. In the ideal situation you get a stable response time despite the duration of the test run.
For mobile native: The expected high number of mobile visitors this holiday season requires specific testing on these APIs (Web Services) that your mobile native applications leverage. Make sure you measure response time by also considering connection handling (how many parallel connections), latency and bandwidth of mobile devices.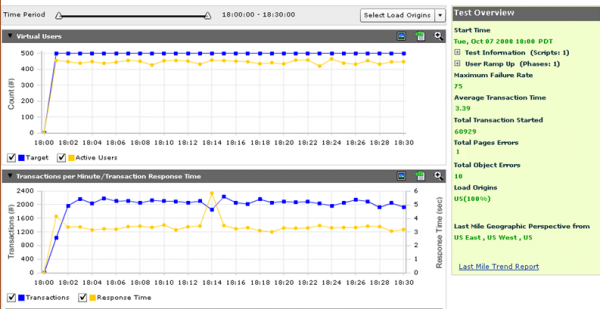 Benefit: Identifying and fixing resource leaks prevents your system from regular crashes due to out of memory or connection pool shortages.
Learn more: Learn how a large retailer identified and fixed a 3rd party memory leak in its production environment.
Step 5: Real End User Tests
End User Location, Device Type and Browser Version impact page load time. Depending on the Geo Location static content should be delivered from a close-by CDN. The device may have an impact on the feature set of your application, e.g: you have a specific mobile optimized application. Connectivity, bandwidth and the type of browser impacts the load behavior (download speed, number of physical connections, browser cache strategies) as well as JavaScript execution times (faster vs. slower JS Engines). All of this needs to be taken into account when testing. Using real devices and browsers as well as executing tests from different geographical locations ensures that you don't get surprised if load behavior is totally different than what you have tested it for.
For mobile native: Native apps that take geo location, camera or orientation sensors into account also need to be tested on the real device from real end user locations in order to avoid problems like this.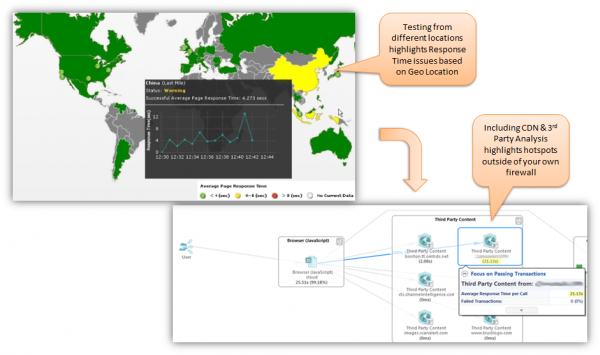 Benefit: Identify page load impact of slow or misconfigured CDNs, high latency, low bandwidth or specific device types.
Learn more: Learn how a browser specific bug prevented users from check-out and Best Practices on Mobile Web Testing and Monitoring.
Step 6: Test Monitoring and Alerts for Production
Once all tests are successfully executed it is time to set up and test your production monitoring environment. Business, Operations and Development must provide their requirements when it comes to monitoring and alerting. In the preparation phase you can make sure that all of the metrics are captured correctly, that alerting works as expected and that data is easy accessible to all parties that need to look at a problem in case end users are impacted by bad performance or system outages.
For mobile native: Make sure you have implemented a mobile native application performance monitoring solution and that it correctly reports performance, business and crash information.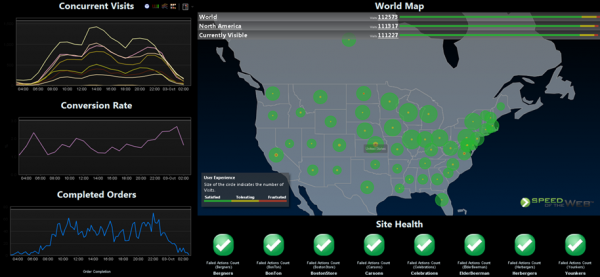 Benefit: Showing these dashboards to all stakeholders makes sure that – in case of a real problem during the holiday season – all actionable information is accessible to quickly identify and fix problems.
Learn more: Follow best practices from Bon-Ton and Swarovski by looking at their production monitoring dashboards.
With Confidence through the holidays!
After verifying performance, scalability and robustness of your application to ensure high conversion rate it is time to get through the holiday shopping season with confidence. In the last blog of this series we will cover the following points:
How to report business success to management: Conversion Rates, Funnel, etc.
What can go wrong and how to proactively fix problems?
Monitor your SLAs with a combination of real and synthetic user monitoring
How to monitor and react to 3rd party outages
Happy Testing!