In 2010, there were multiple releases and innovations from Mozilla Firefox, Google Chrome, Apple Safari, Microsoft Internet Explorer and Opera.
A decade ago, the Web browser market was a two-horse race between Microsoft's Internet Explorer and Netscape Communications' Navigator. Today, it's a crowded field with Microsoft holding the lead as number one, but its lead faces challenges from Mozilla, Google, and others.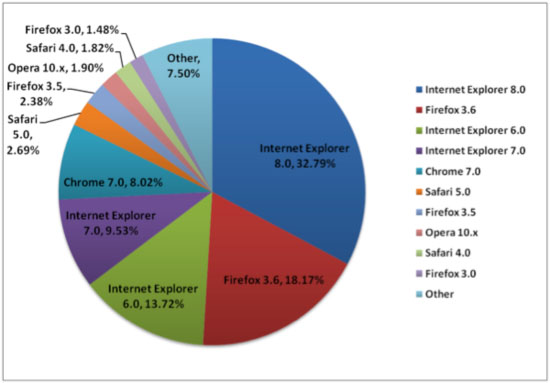 The abundance of choice is said to be a byproduct of several factors: the changing nature of Web use by consumers, the dramatic rise in smartphone sales, a wide-open browser market and constant innovation. The evolution of websites — from simple to complex — has prompted users to demand faster, more capable browsers.
Today, a greater share of the Web experience responsibility has shifted from servers to the client-side, where the user's browser plays a bigger role. In addition, the growing complexity of Web applications has lead to the browser becoming the integration platform.
There are more browsers on more devices, each with its own performance characteristics, impacting your users' Web experience.
With the emerging HTML5 standard, browser vendors can deliver new dynamic rich media experiences to Web users. However, HTML 5 also deepens the browser burden — on the one hand, it reduces the need for plug-ins and stores data on the client side, lightening server demand. But on the other hand, it makes applications suscep¬tible to the quirks of various browser types and versions, devices and combinations thereof.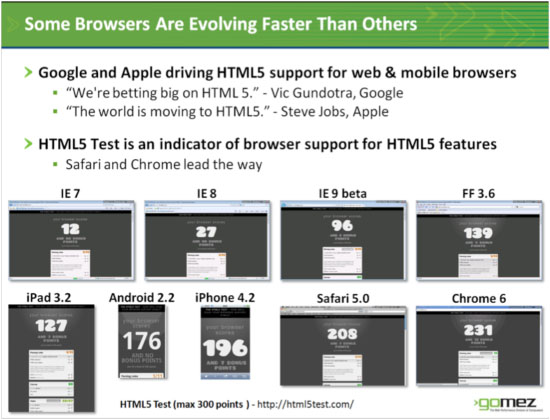 Understanding the Impact of the "Browser Wars"
As a technology issue, you need to understand the impact of the browser wars as it applies to your systems, but you also need to know its impact on your user's experience. Variations in browsers and browser versions mean variations in Web performance, and ultimately variations in the end-user experience. You have to understand how changing browser usage impacts your business by quantifying its impact in hard numbers, and creating ongoing protocols for measuring and monitoring your Website's performance.
Best Practices
While the dust hasn't settled in the browser wars, you can take action now by applying the following performance best practices:
Know your customers' browser preferences
As you're compelled to test across more and more browsers, it is important to know which browsers are most utilized by your customers. That way you can prioritize resources by optimizing your website for your most important customer segments.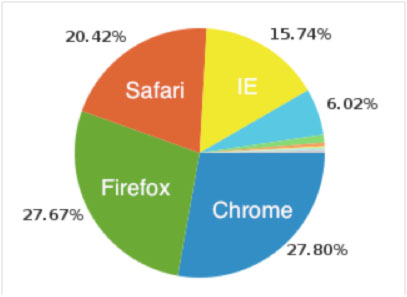 Benchmark Against the Very Best
Take the Lifecycle Approach to Performance Testing
The impact of browser diversity affects everyone in the Web application lifecycle, from the designer to the developer, to the QA team, to IT ops, to marketing and creative. Ongoing testing will ensure a continuously optimal Web experience for your customers.
It is also important to benchmark your Website not only against your direct competitors, but against the best Websites, period. That's how your customers will judge it. If Amazon and Blockbuster are their standards for Website speed and consistency, you have to make them your points of reference too.