Just as Dynatrace has redefined monitoring for Cloud Native, Micro-Services and Web Scale DevOps through Dynatrace SaaS & Managed, we've also been innovating on our Dynatrace AppMon & UEM solution. Thanks to feedback from our users and our passionate engineering teams, Dynatrace AppMon 2017 May (= Version 7) clearly shows the biggest innovation leap that I can remember since my start at Dynatrace nine years ago. Here are some of my personal highlights:
Full UEM Visit and User Action Waterfall Diagnostics in the Web Interface, including Visual Complete, Speed Index and Automated Web Performance Optimization Recommendations
Full PurePath, Method Hotspots, Exceptions and Database Diagnostics in the Web Interface
Custom Web Dashboards with flexible grid layout, markup language and workflow support
Full Infrastructure Monitoring support including Database Agents in the Web Interface
Extended Time-, and Deployment-based PurePath Problem Pattern Detection
Application Performance, Baseline and Deployment Overview for faster Diagnostics
Easy hand-off between Business, Operations and Engineering without leaving the browser
And much more!
To show you how cool we think this release is, and how proud we are about Dynatrace AppMon 2017 May, we recorded the following role-play highlighting how Dynatrace AppMon supercharges all involved teams that must deliver high quality software faster:
How we speed up innovation for Dynatrace AppMon?
At Dynatrace we are fortunate to have the world's largest engineering team in the APM (Application Performance Management) space. In recent years, we made significant advances when redefining monitoring with Dynatrace SaaS and Managed (formerly known as Dynatrace). Last year we started the convergence of used technology, architecture and how we organize our engineering teams.
The two most prominent areas to benefit from this convergence are the shared OneAgent technology stack, as well as the exchange in used technology when it comes to our web interfaces. As you can imagine, implementing a single OneAgent technology for both AppMon and Dynatrace is more efficient than doing it twice. For web dashboarding, some of the widgets and features, e.g. PurePath, Waterfall or Custom Dashboarding, that have been available either on AppMon or Dynatrace have found their way into both products, making them not only look alike but also function alike. These changes have boosted our overall development output significantly, allowing us to deliver new features faster on both AppMon as well as for Dynatrace.
Now let me highlight a couple of the advances that will make your life easier. If you do not yet have Dynatrace AppMon simply get your own Dynatrace AppMon Personal License.
Empower Your Frontend Developers!
Our UEM (User Experience Management) Team has introduced new Visual Complete as well as Speed Index. Additionally, our OneAgent for Apache can also deliver Native Module insights. And all this information, including full Waterfall and JavaScript Error Diagnostics, is now available in the web interface:
Full Waterfall Details with new Visual Complete and Speed Index for every single monitored user. Details every frontend developer wishes to have for users that run into problems
Dynatrace also captures and shows JavaScript errors for each monitored user. Finally see which exceptions are happening on which browsers and devices without trying to reproduce them
PurePath For Everyone!
Since I started at Dynatrace I was always in awe of PurePaths. However, for nine years I had to use the Dynatrace AppMon Client to analyze the full execution path, method hotspots, detecting database problem patterns, or when viewing Exception Stack Traces. Dynatrace AppMon 2017 May will change that forever, as doing so will no longer require the Dynatrace AppMon Client. See for yourself – it's all there – including an automated problem pattern detection feature that works on every single PurePat. Sweet!
Its not only the PurePath. But it is PurePath with automatic problem findings and hotspot visualization that made it to the Web Dashboards.
Analyze which database queries are executed, how the connection pools are utilized learn and how database access impacts your transaction performance. The same analysis is available for exceptions and method hotspots
Method Level PurePath Details: PurePath Experts still get to see all their details as they were used to in the Dynatrace Client
Collaboration Redefined!
Since the first inception of Web Dashboards in Dynatrace AppMon 6, we made constant improvements based on users telling us they want to be as flexible with the dashboarding as they are in the Dynatrace AppMon Client when collaborating and diagnosing data. Dynatrace AppMon 2017 May delivers on that request through the most flexible web dashboarding implementation I have ever seen. In addition to the flexible layout, sharing and collaboration are at the center of what has been implemented. The "cherry on the cake" is the new markup tile that allows you to place nearly any type of content where you like, which also enables custom workflows:
The new markup tile as well as the enhanced capabilities of the out-of-the-box tiles allow you to create dashboard workflows
New web dashboards layout options and extended tiles allow you to build everything from business to operations and diagnostics dashboards. In day or night mode 
Guided Application Analytics From Baseline Violation to Root Cause!
Dynatrace AppMon 2017 May provides a great new entry point for application owners. The new Application Overview not only shows us usage patterns and performance split by front end (End Users) and back end. It also shows us when new application versions were deployed, and whether there are any baseline violations, errors or any infrastructure-related problems. If a problem is detected you have the one-click option to dive deeper into PurePath, Infrastructure, Transaction Flow or UEM Data: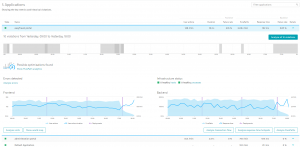 Better Applications with every Deployment!
Dynatrace AppMon 6.5 introduced a new automatic problem detection feature for PurePaths. AppMon 2017 May brings this to the next level and gives us a time-, and deployment-based overview of problem patterns that you have in your application. With this it is easy to spot problems that happened under certain load or that got introduced with a recent deployment. To put it in the words of one of my colleagues: This transforms our users from "Problem Hunters to Quality Fanatics" 🙂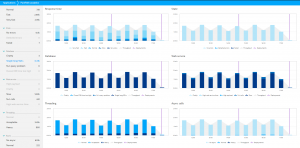 DevOps for Ops Redefined!
Because we see more infrastructure teams asking for better access to Dynatrace AppMon data, we also improved the way we provide access to Process, Host and Database Health. DevOps teams need quick access to information after a new deployment to understand whether there are any infrastructure, application, service or end user impacting issues. Dynatrace AppMon 2017 May provides all this information through the web interface. There is no need to open the Dynatrace Client when drilling into Database issues captured through our Database Agent or analyzing memory behavior of a JVM:
Database Monitoring provided through the Dynatrace Database Agent now fully integrated into the web dashboards.
Easy access to all host, process and alerts to answer questions like: did the last deployment negatively impact my infrastructure?
Enterprise Ready Redefined
There are many other highly-visible features that made it into Dynatrace AppMon 2017 May. However, some of the enterprise features that may not be as visible to the end user are very critical to many of our enterprise customers. For a full list of enhancements check out the Release Notes!
Some highlights you might be interested in:
Encrypted connection between agent and collector
30% more agents, 30% more transactions, 100% more measures
AppMon SSO beta (single sign on) based on SAML v2
Self-service licensing in eService with online license using agent units
z/OS IMS shared queues support
Technology Updates: Support for .NET Core, Apache Module Insights, DB2 & Oracle RAC
Server Sizing: Utilize more heap if available
Community: New doc stack and more plugins on GitHub
Go Ahead and Enjoy Dynatrace AppMon 2017 May
While the official release date of Dynatrace AppMon 2017 May is end of May, we have opened our Early Access Program to the world by making it available through our AppMon Personal License program. Complete the Dynatrace AppMon Personal License form and you will receive download instructions, as well as your 30-Day Trial License which automatically converts to a Personal License at the end of the trial period.
I also wanted to take the opportunity for a personal thank-you to our engineering teams around the globe!
Also, on April 1st 2017 I celebrated my ninth anniversary with Dynatrace. It's the longest "relationship" I ever had in my life. The reason I've stayed — shared by many of my colleagues — is the continued innovation that emerges from our engineering labs for Dynatrace, AppMon, DC-RUM and Synthetic. So again, thank you for making my job so rewarding and enjoyable!