We recently shared Black Friday and Cyber Monday data that supports the notion that Couch Commerce – shopping on smartphones and tablets from the comfort of your home – is here to stay. The data generated interest including the following article posted on TechCrunch: Retailers Aren't Ready For iPad Shopping Trend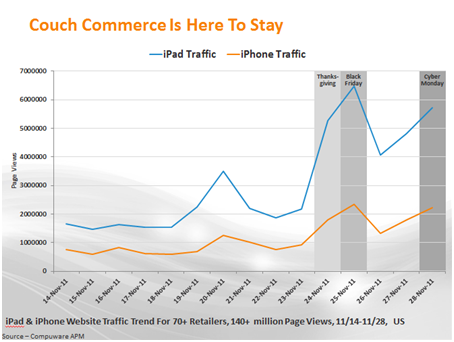 Our data aligns to an overall trend outlined by analysts such as Forrester's Sucharita Mulpuru: "On average, retailers surveyed by Forrester report that 21% of their mobile traffic comes from tablets, with several companies anecdotally  reporting figures north of 50%."
Our data also revealed that not all retailers were ready for an increase in couch commerce – as traffic from tablets increased, so did page load times.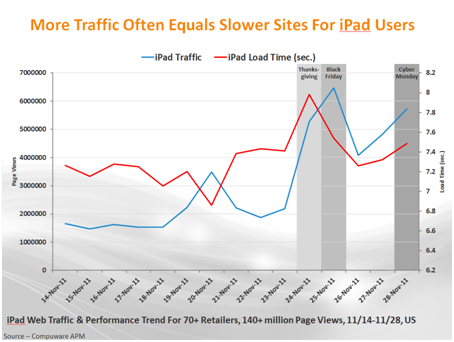 The data generated a number of comments on TechCrunch, in particular the assertion: None of the Top 30 US retailers currently offer an "iPad optimized website."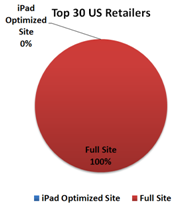 We thought we'd take this opportunity to explain what we mean by "iPad optimized site." Let's start by what we don't mean. iPad optimized sites do not look like this: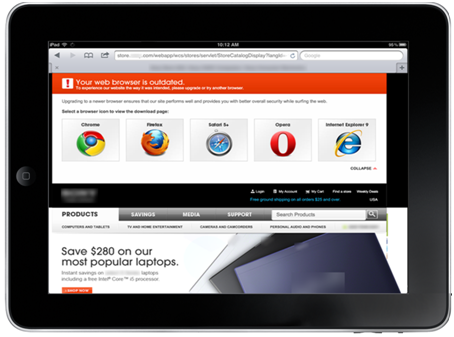 Tablet optimized sites should not prompt an iPad user to download a more up-to-date PC browser.
Tablet optimized sites should not only adapt to the device on which they are accessed, but also the network used to connect to the web. We know that slow, high latency mobile networks can make delivering quality mobile web experiences difficult.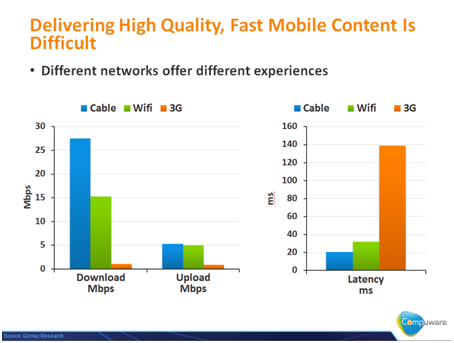 And tablets are mobile devices after all. They have most of the constraints of smartphones (only connect through wireless networks; limited battery, CPU & RAM; "simplified" mobile Oss; etc.) with one major difference – most have large, luminous screens.
Yet tablet users, in particular Android tablet users, often receive content optimized for 3 inch smartphone screens. 85% of the top 20 US retailers deliver smartphone optimized websites to Samsung Galaxy Tab 10.1 users. UA string detection is a beautiful thing…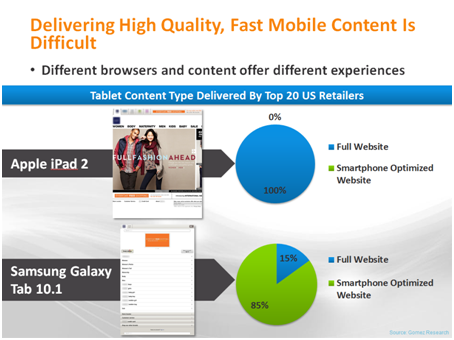 As we mentioned earlier, the majority of retailers currently deliver "Full Websites" to tablet users. But is delivering a "Full Website" really the best approach? As any tablet user who has laboriously tried to hit a single text link on a website will tell you – no.
A "Full Website" delivered over a 3G connection or even a Wifi connection on a constrained mobile device does not constitute a quality web experience. If we look at the performance of the Top 20 US retail sites on an iPad it becomes clear that sites currently aren't optimized to meet end-users' web performance expectations.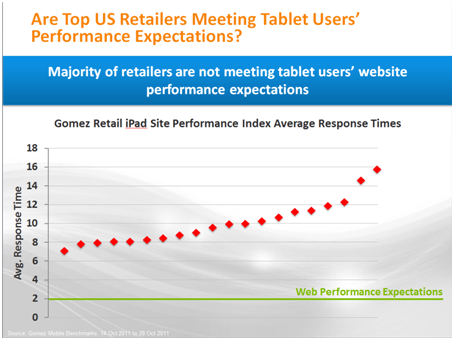 Why are "Full Websites" so slow on mobile devices such as tablets? The answer is apparent once we compare the average page size and number of HTTP requests for the Top 20 US retail websites delivered to iPhone versus iPad. On average sites delivered to iPads are significantly larger and establish many more HTTP requests than sites delivered to iPhones. Yet the only major difference between the two devices is the screen size.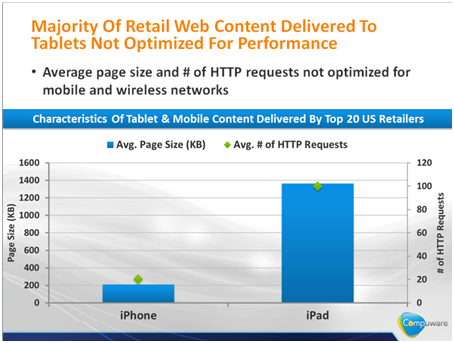 To make matters worse few of the retail sites delivered to iPads leverage any of the proven mobile web performance optimization (WPO) techniques, such as using an app cache, focusing on touch vs. click events, leveraging data URIs, etc.
Why does it matter if these sites are not optimized for speed? Because websites that are slow and don't meet end-users' performance expectations will result in lost customers and revenue. Robert Hamilton from the Google Mobile team sums it up nicely: "This link between increased usage and a faster user experience – be it search or mobile Gmail – reinforces something we at Google have known for a long time: fast is better than slow."
Some retailers have caught on to this. For example, eBay has publicly touted a 'tablet optimized site' that is built with speed and a better user experience in mind. eBay also expects $5 billion in mobile sales in 2011.
http://ebay.com on an iPad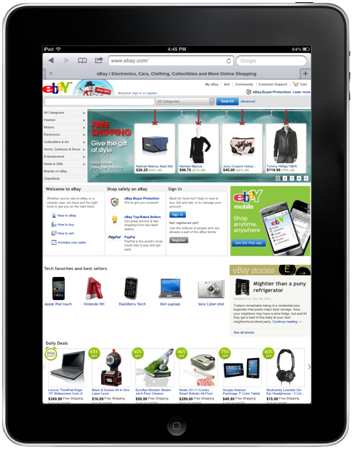 http://touch.ebay.com/tablet on an iPad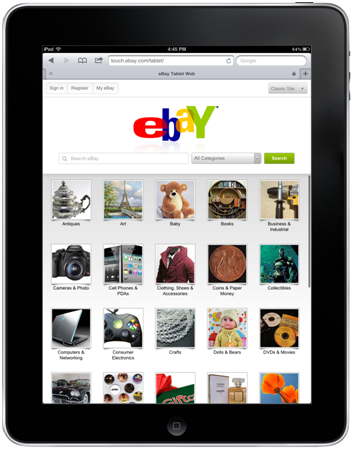 If retailers want to maximize ecommerce revenues from tablets they must first deliver fast, quality, optimized web experiences to their mobile customers.