In early February, we announced our third annual Best of the Web award winners for 2011. The awards showcased leaders in web and mobile site performance across seven U.S. major industries based on web and mobile site performance for the entire year.
As a follow on to the "Best of the Web 2011: Compuware Gomez Web and Mobile Performance Awards" comprehensive report, we analyzed the data for web and mobile performance trends across industries. Our analysis included analysis of web and mobile site home pages and website transactions, across both Internet backbone and Compuware Gomez Last Mile measurements. In select industries, data was also analyzed across regions, bandwidth, and page size, and compared to top performers.
The Compuware Business Process benchmarks measure the performance of the most critical user transaction for each industry. These transactions vary from generating a stock trade order, to checking bank account details or ordering a product on an e-commerce site.
The performance of these key transactions was compared across industries to identify the leading industries and performance trends throughout the year. Below are the best and worst performing industries in 2011.

We also evaluated performance from an end user's perspective using the Gomez Last Mile network. We measured performance at the "edge of the Internet," behind local ISPs and mobile carriers from real consumer-grade computers.
Many organizations test and measure website availability and response times from outside the firewall from enterprise grade servers running in data centers on the Internet backbone. This type of operational monitoring is essential because it provides operations with a valuable "clean room" environment to evaluate changes over time.
However, measuring performance from the "last mile" provides additional insight including real-world performance issues, including the impact of bandwidth, CDNs, local ISPs and wireless carriers. All of these variables can result in a vastly different experience on your site from end user to end user.
We measured performance of home pages across industries on both the Internet backbone and the Gomez Last Mile. We found that home page response time was on average 4.9 seconds slower when measured from the Gomez Last Mile than the Internet Backbone. This indicates that companies have more work to do to optimize the performance from the end-user perspective.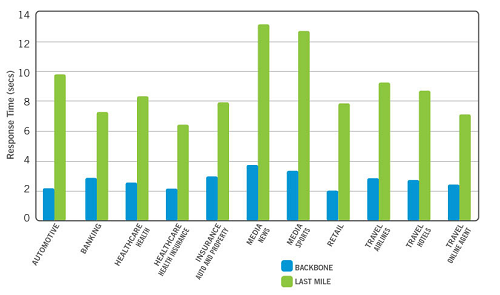 The Compuware Mobile Benchmarks measure the home page performance of the largest mobile sites in multiple industries on four carriers and their top devices. We compared the overall performance of each of these mobile sites for 2011 to identify the leading industries and performance trends throughout the year. Below are the best and worst performing industries for mobile in 2011.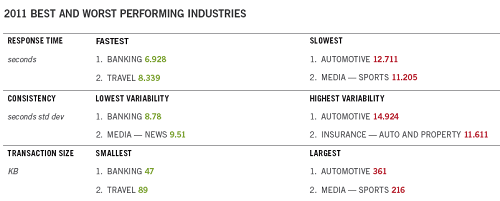 There's a tremendous amount of complexity involved in delivering web and mobile applications across multiple browsers, devices and locations. By analyzing an entire year's web and mobile performance data across several industries, we've been able to identify key performance trends and provide insight into where industries are being successful and where they're still struggling to address the increasing complexity of meeting the performance expectations of web and mobile customers.