It's 4 days until the Melbourne Cup, a horse race that literally stops a nation.  It's the single biggest betting event in the sporting year, and a huge percentage of the population will have a little wager.  What's the easiest way to place that bet?  Online…
So I thought I'd run some tests on the betting agency websites to see who is in the best form leading up to the big race. Jump straight to the infographic here if you like.
The agencies monitored included:
Sportsbet
Sportingbet
Ladbrokes
Tabcorp
Unibet
Centrebet
The tests were run using the Dynatrace Synthetic testing network, which is the world's most comprehensive, tested on their homepages, using the chrome browser every 10 minutes for the past 7 days.  The tests ran from backbone locations in Melbourne and Sydney.
Here's the analysis:
Load Time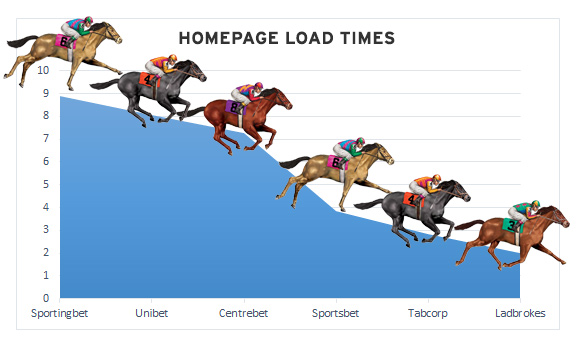 | | |
| --- | --- |
| Agency | Load Time |
| Sportingbet | 8.87 |
| Unibet | 8.07 |
| Centrebet | 7.26 |
| Sportsbet | 3.84 |
| Tabcorp | 2.82 |
| Ladbrokes | 1.98 |
The best performing site in terms of response time is Ladbrokes at 1.97 seconds followed by Tabcorp at 2.8 seconds.  The worst performing is Sportingbet which is 8.87 seconds, nearly 6 seconds slower than Ladbrokes.
There is a staggering difference between those that appear to have been optimised for speed and those that have not.  Considering 40% of people will bounce from a site if it doesn't load in 3 seconds, there is going to be some disappointed revenue returns come Tuesday for the bottom 3.
I'll be breaking down why these sites are slow (with some staggering reasons!) later in the post.
Availability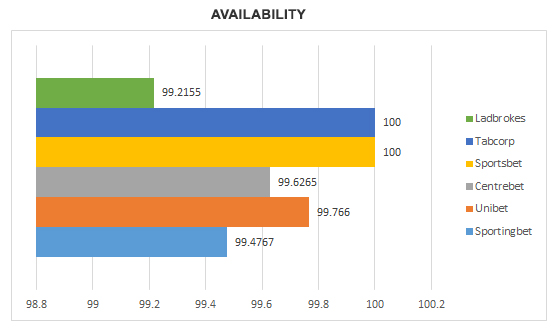 In our testing period – which is 7 days, only Tabcorp and Sportsbet had 100% availability.  Consider the cost of downtime for any of these betting agencies next week when we all race to put a bet on!  Millions in lost revenue.
So why are some of the sites so much slower?
Typically load time is made of:
size of page (number of objects) or how heavy it is
how many third-parties are used (number of external hosts like Analytics, Facebook, Security, Plugins etc)
the load times of these third-party hosts (response time of the host).
Size of page – contributed to a slower speed but it was not the biggest factor
The results suggested that the size of the page contributed to the slow performance of the websites, but what I find interesting was the heaviest site was the fastest – Ladbrokes.
| | | |
| --- | --- | --- |
| Agency | Load Time | kb's |
| Sportingbet | 8.8711 | 1,118 |
| Unibet | 8.0667 | 920 |
| Centrebet | 7.2613 | 1,211 |
| Sportsbet | 3.8427 | 946 |
| Tabcorp | 2.8156 | 495 |
| Ladbrokes | 1.9823 | 1,425 |
 Number of Third-Party hosts
The number of third-party hosts did have a considerable effect on the load times.  The number of different servers the site has to connect to, to load the page, equates to a longer load time.  i.e The more train stops your train makes, the slower the journey.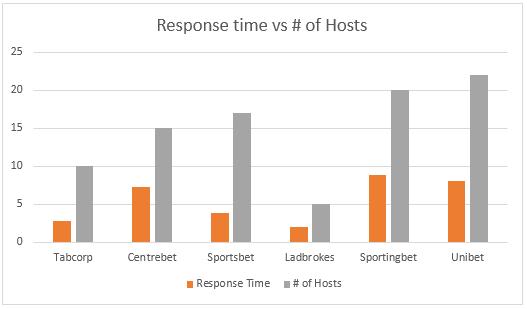 Performance of the third party hosts has the biggest impact
What I find to be the most startling, was the performance of these third-party hosts.  Using Dynatrace's third party analyser I can get a really simple dashboard view that quickly isolates where the sites were having issues.
It's a long diagnosis but there is some really interesting findings, so bear with me.
The data below is a view from the past 48 hours.
Sportingbet
Sportingbet was the slowest performing site.  With 21 third-party hosts, it wasn't the volume of hosts causing the issue, it was the performance of these hosts.  In particular, is the performance of h.online-metrix.net which appears to be security application.
Below you can see a view of all the third-parties.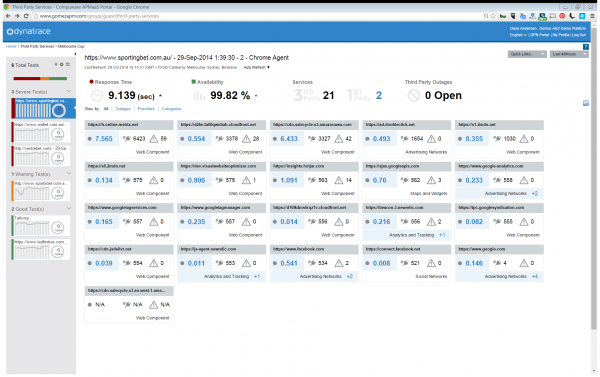 Unibet
Unibet was one of the poor performing sites.  With 37 different third-party hosts, it appears to be a CDN server (llnwd.net) that is contributing the biggest impact on load times.   But not only that, Facebook is contributing 1.78 seconds, and Adroll 3.43 seconds.  I'd highly recommend losing Facebook and Adroll for next Tuesday!
37 different 3rd party services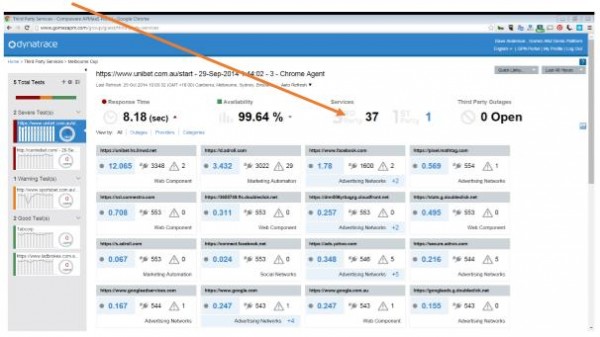 Using the waterfall chart, I could see the biggest contributors of response time which is the processing of high quality images from a CDN.  There is also delay in 1st byte time when loading the initial html which suggesting an application backend processing issue.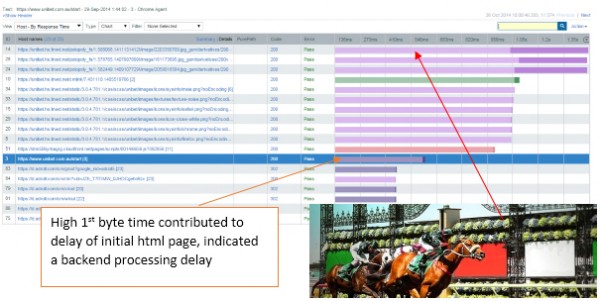 Centrebet
With the second biggest page size and overall load time of 7.64 seconds, it's not the volume of third-parties (16) impacting the load times with Centrebet, again it's the performance of these third-parties.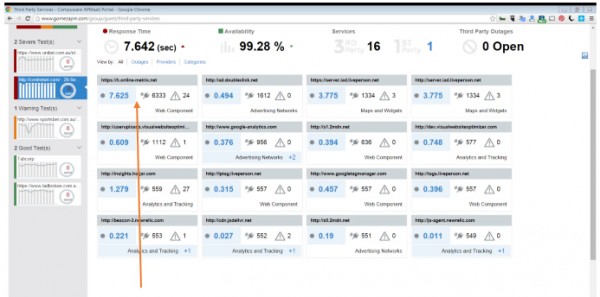 Again we see an issue with this h.online-metrix.net object.  Liveperson, which is a chat software plugin, is causing approximately 3.7 seconds delay, and hotjar, a new form of analytics software is also impacting load times enough to suggest they should be removed.
Sportsbet
Sportsbet has a load time of 3.5 seconds, and whilst it has 22 third-party services, the performance of each third party during this testing period was satisfactory – with no single host connection above 0.65 seconds.  Still, it would be worth monitoring their performance in real-time, and switching out anything that causes any form of delay.
22 services – no single service is more than 1 second delay.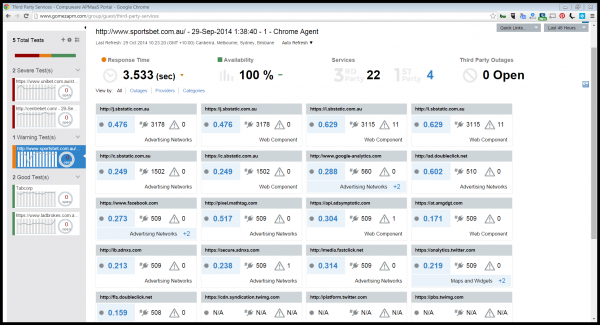 Tabcorp
Tabcorp is the second fastest website with the smallest page size and relatively small number of third-parties (only 10). They also performed the best in terms of availability recording 100% uptime in the last 7 days.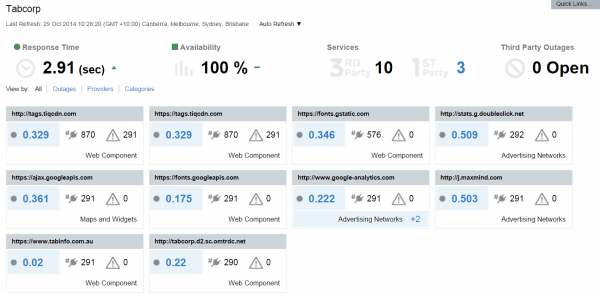 Ladbrokes
The fastest performing website of this benchmark interestingly had the biggest page size.  Why was it so quick?  Only 6 third party hosts!
What I found interesting here is there is relatively unknown user analytics software (Fetrix) which is contributing 1.13 seconds.  I hear that Dynatrace User Experience Monitoring is exceptionally good (Gartner 5 times Magic Quadrant Leader) with very little impact in load time  

Well it's the eleventh hour and the horses are almost in the starting gates.  It's not too late for some of these sites to switch out some of these third-parties and re-join the pack.  Failure to do so is likely to see them take a hit in the hip pocket.  Good luck.