What a week in Orlando! While SAPPHIRENOW will always focus on cutting-edge technology, it was great to take a step back and listen to some of the personal keynotes from Lindsey Vonn, Amy Purdy, Jon Bon Jovi and SAP's own Bill McDermott, as they shared their own personal successes.  They spoke of passion and compassion and I think those are two powerful traits that can not only drive you as a person, but should also be important in driving your business.
The themes of SAPPHIRENOW were the "Intelligent Enterprise" and "The Best Run SAP".  The digital era is evolving into the "intelligence era" and companies need to be equipped to handle this revolution as customers are in the driver seat. SAP wants you to know that the best-run businesses run on SAP, making the world run better.  So, what's the driving factors in achieving this nirvana? The cloud.
The cloud is your fast track to continuous innovation.  For SAP, Intelligent Enterprise is more than ERP.  It's the integration of all their capabilities and components revolving around the SAP Cloud Platform. Think of SAP Cloud Platform as the enabler for SAPs own solutions.  Below are just four (of many) benefits that describe how the SAP Cloud Platform gives your organization the ability to be innovative:
Holistic/integrated view – no isolated silos, connect front office to back office.
Build – build new solutions, innovative applications using integration capabilities.
Experience – the ways people interact is conversational, turn processes into intelligence with machine learning.
Agile – where speed meets scale.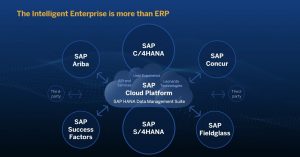 Dynatrace supports SAP's vision of innovation and is a proven partner to monitor SAP's ecosystem.  The world relies on SAP to run their business, but that business can't function without software running perfectly.  Dynatrace is software intelligence for the cloud enterprise, delivering perfect software experiences with real-time intelligence into customer satisfaction and behavior.
Not only is Dynatrace an SAP partner, they have enlisted our expertise to build the cloud platform of the future. SAP replies on Dynatrace to make sure the SAP Cloud Platform runs flawlessly and spoke about this at our Perform 2018 conference.  Since May 2017, Dynatrace adoption has grown significantly at SAP Cloud Platform:
500+ teams with Dynatrace environments
2,000+ Dynatrace users
20,000+ applications with Dynatrace agents
With this type of visibility, SAP Cloud Platform achieves the following:
Bi-weekly zero downtime maintenance releases
Run over 59,000 virtual machines
In 17+ data centers
150+ third-party connectors
With Dynatrace, powered by artificial intelligence, you too can get full stack monitoring for SAP Cloud Platform and leverage full insights into your applications with zero manual configuration, enabling your organization to:
Deliver unrivaled digital user experiences
Manage microservices architectures in hybrid environments
Resolve problems proactively, powered by AI
Dynatrace is the only full stack monitoring solution featured in the SAP App Center and the only monitoring vendor preconfigured into the SAP Cloud Platform build packs. Not only do enterprises get the benefits of maintaining all SLAs, you also get full insight into your application instances that you deploy on the SAP Cloud Platform in the Cloud Foundry Environment.
Building on the topic of cloud, at SAPPHIRENOW we joined our partner Red Hat in their theater pavilion to discuss monitoring as a platform feature.  When you think of monitoring, the traditional APM approach, or gen 2, won't work in the cloud world.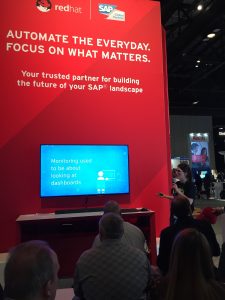 Dynatrace offers a gen 3 monitoring solution and is purpose-built for cloud native environments. It scales to 100,000+ instances and auto-detects containers and the processes running inside of them.  Dynatrace doesn't just monitor the container or service health, you get all the dependencies for a complete picture.  Without this picture, you'll never be able to resolve issues and your job will be spent in war rooms and nobody wants that!  That's why gen 3 isn't just a marketing buzzword, but truly mission critical to your organization.  To see the difference, read our blog.
Finally, no tech conference would be complete without a conversation on digital transformation!  SAP Hybris is now C/4HANA and we partnered with HCL to showcase how to accelerate your C4/HANA transformation with HCL and Dynatrace.  Dynatrace is the only premium certified vendor for SAP Commerce Cloud and the only monitoring vendor equipped to deliver perfect software experiences during development and production.  We are excited about the SAP's transformation to the C/4HANA platform and working with our partners to provide the full lifecycle of the app build.
What could be better than reading about Dynatrace? Experiencing it for yourself with our free 15-day trial.