Last week, Delta Air Line's VP of eCommerce Bob Kupbens shared some of the company's best practices for becoming a top performing website.
Delta has been a Gomez Best of the Web gold award recipient for 2 consecutive years. Only 4 companies have received the Gold award in both 2009 and 2010. The awards highlight the leaders who provide superior web and mobile site experiences that enhance customer loyalty, reduce costs and increase revenue.
Delta has 3 top web performance goals:
Top tier position for speed and reliability, beyond travel industry
Exceed customer expectations for functionality, support and services without sacrificing performance
Maintain a consistent experience and superior performance across all digital touch points
As I listened to Bob discuss each goal, it occurred to me that as a vendor we often put out content that offers website performance best practices, but you wonder if that content is valuable or applied. Although there is not a one size fits all formula, we offer approaches that have proven to be successful for our customers.
Next Bob discussed on key website performance metrics which include website speed and availability, mobile site and apps, and customer satisfaction. He talked about how Delta leverages benchmarks as a continuous measurement of site performance, availability and consistency. He talked about how leveraging website performance benchmarks provides insights into performance metrics of direct competitors and an incentive to exceed industry standards for top performance.
Benchmarking the leaders and your competition is a key in determining whether your website performance is supporting your business goals. It also provides context which provides a basis for decision making: in short, benchmarking provides context.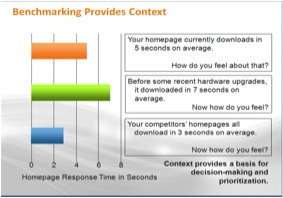 Another key component of benchmarking is developing a culture of website performance excellence focused on optimizing the end user experience. In order for this to happen, all stakeholders of your web and mobile channels – business and IT – must be aligned across key business objectives. Delta accomplishes this by sharing metrics and goals across Business and Technology teams and employing continuous measurement and analysis to identify and correct performance bottlenecks.
We know that benchmarking website performance and mobile performance can help companies identify opportunities to improve their business. For Delta, performance is a key to making their website successful.
Watch the replay of the webcast. View the webcast slides.