We launched our Compuware Gomez Retail UX Index the day before Thanksgiving and have been tracking how major retailers' Web and mobile sites have been performing since.
Our user experience index (UX Index for short) measures aggregate retailer site performance hourly, compared to a baseline period in October with a single score for site response time, availability and consistency. It also provides:
A comparison of the 15 largest retailers' websites to the Internet Retailer 500 websites; and,
A comparison of the 15 largest retailers' websites to their mobile sites
Myth: Website Performance is not Impacted by Heavy Traffic
From the day before Thanksgiving through Sunday eveningwe've seen retailers' websites actually performing above the baseline (see the screenshot below). Not many people shop online on Thanksgiving Day and Black Friday is traditionally the day retailers use promotions to drive brick-and-mortar store traffic. Many retailers investin their sites in order to manage expected traffic during this season, pushing Website performance above the baseline.
Reality: Websites are Impacted by Heavy User Traffic
The reality of heavy traffic on Website performance appeared around lunch time today, Cyber Monday. We started to see sites slow down like clockwork. At 11 am today the Internet Retailer 500 Index (see screenshot below) shows a drop in performance (indicated by yellow) over the baseline period, while the 15 largest retailer websites are maintaining performance.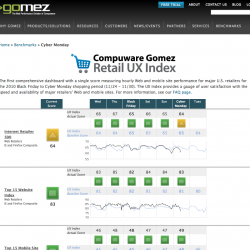 At 1:45 pm, mobile sites were also impacted. The screenshot below (indicated in yellow) on the Top 15 Mobile Site Index, shows the UX Index Score dipping below the baseline.
The Bottom Line
The 2010 holiday shopping season is in full swing. Is your site ready? Check out how fast your site is with the the free, 7-day Gomez Website Performance Benchmark Test.