At Perform 2018, Sumit Nagal, Principal Engineer at Intuit, talked about the challenges Intuit went through becoming a technology driven company, with global products.  They were struggling and trying to identify how they do performance on a global level while ensuring their APIs remained world class.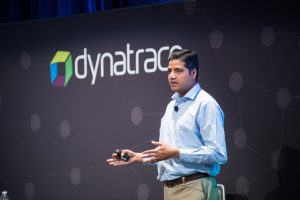 Sumit took the opportunity in his breakout session to discuss pure performance testing, performance integration and how to implement best practices, so that anything going into production can be stopped early.  He tasked the audience to think how can we shift left in place of the issue going into production and his answer was identify early.
When you shift left, you need the tools to support it.  Tracking changes is critical. That's how Intuit uses Dynatrace. In all the places the Dynatrace agent is set up, it continues to keep track automatically and Intuit gets the following performance benefits:
Pre-production: Deep memory profiling that no other monitoring tool provides
Performance CI process: Can track a specific test. If you can track a specific test, you can see where and how it is impacting.
Purepath technology: "Coolest feature", debugging becomes so easy.
Sumit admits, that to do all this requires a cultural change.  He recommends checking out Dynatrace's own Andi Grabner's performance clinic on "Building an Unbreakable Delivery Pipeline" and the importance of building resiliency into your delivery pipeline.
Don't forget to check out our Perform highlights to access all the videos and presentations. Better yet, register to join us for Perform Europe taking place May 23-25, 2018 at the W Hotel in Barcelona!