As a company, we've redefined monitoring, but we have now set our sights on redefining the customer experience. Taking feedback from hundreds of Dynatrace customers and combining collective intelligence, customer success, and product support, we have been able to produce a best in class proactive experience called Dynatrace ONE.
Even before you become a customer of ours, our Dynatrace team enables live chat to give you quick answers to questions before you make a purchase. You might be thinking, "Live Chat? Like those annoying bubbles that pop up on websites?", which is where you're wrong. Dynatrace Live Chat is built into the product. This provides you with answers when you need them, where you need them. Unsure what this chart, or that metric means, simply open up a chat window, and you are talking to a live person.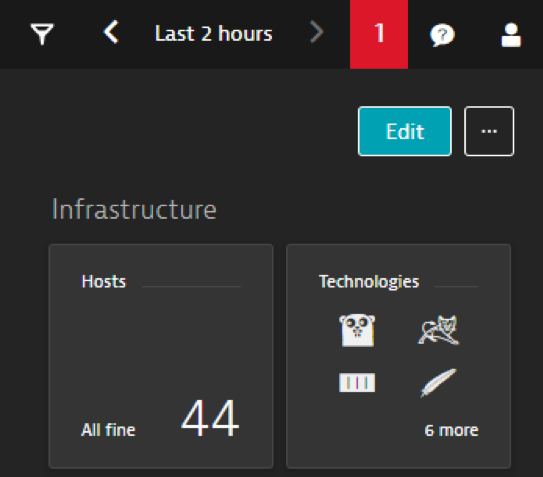 This doesn't go away once you become a customer. In fact, we enhance the offering by beginning to provide customized assistance from Product Specialists who know your environment and are familiar with your organization and your goals. Providing ONE avenue to access the full spectrum of Dynatrace expertise – questions, help, issues, feedback, etc.
We listened to our customers and the industry, and you don't want to wait for updates from support tickets or comb through endless documentation–real time feedback is the new normal, and that's what you can expect with your investment into Dynatrace ONE.
A recent study by a leading cloud-based customer service platform found that customers responded more positively to an interaction when using live chat versus other more traditional methods:
Satisfaction by channels:
| | |
| --- | --- |
| Channel | Satisfaction |
| Live Chat* | 92% |
| Voice | 88% |
| Web Form | 85% |
| Email | 85% |
| Facebook | 84% |
| Twitter | 77% |
*Live Chat customer satisfaction is based on a "good" or "bad" rating provided by the customer at the end of the chat. For all other channels, customer satisfaction is based on a "good" or "bad" rating provided through an email survey submitted to the customer after their ticket has been deemed solved.
Alright, so we can answer questions–check–but what about proactive guidance? We've got you covered as well.
The Dynatrace AI powered platform provides you with insights into your software, and we are actively monitoring your Dynatrace environment to identify and address issues proactively before they become problems via Dynatrace Mission Control. Dynatrace works behind the scenes to make sure that your platform is available, updated, and ready when you need it most.
We've all heard this before, just because you have a gym membership doesn't mean that you are guaranteed to lose weight. Sometimes you need a personal trainer to guide you along your journey. This is where we are happy to introduce the Dynatrace ONE Premium offering. All the cool features of Dynatrace ONE but with designated expertise to coach you along your journey. The Dynatrace ONE Product Specialist now becomes a designated Product Specialist to keep you up to date on features and enable the team to become experts themselves via weekly customized coaching sessions. Complementing your Product Specialists with Customer Success Managers to help drive adoption and growth along your journey, Dynatrace ONE Premium provides you with experts in all facets of Dynatrace.
"We scheduled a coaching session with a few of our new employees, and our Product Specialist walked them through the ins and outs of Dynatrace. After the first session, they were engaged and using new Dynatrace features that our current team was not aware of. We immediately scheduled another session with the whole team. It helped us become more agile as a team and more aware of the power of Dynatrace."
The last piece of the Dynatrace ONE formula for success is Support. Dynatrace Support is available when you need help with configuration or technical questions, and if you choose to go the Dynatrace ONE Premium route, 24/7 Premium Support is at your disposal. Premium Support provides shorter response times for initial SLAs along with daily updates for Severity 1 issues to ensure you can continue growing with minimal disruption to your day-to-day tasks.
The future of the customer experience journey is here – come join us.
To learn more click here.