The Internet made global local, Social changed the way we communicate and Mobile made it possible to do everything anywhere. The collection of these efforts has forced more innovation in a shorter period of time than anywhere else in human history. It's also forced an evolutionary change in customer expectations and a cascading demand on us as "digital solution providers". By that I mean, any part of business previously offered should be or already is offered in an online/digital capacity.
So, how did we get here? When did application performance management reach critical mass and become real? Who can claim a role in helping it evolve?
APM Contributing Vendors
I guarantee I'm missing some key players, please let me know which and why in the comments… but with some Compuware/Dynatrace bias (my previous and now current employer, I can't help it) this is my take on the critical vendor driven events that helped APM come to form:
Download Infographic

1987 Packet sniffer – Special mention for tcpdump. Network General Sniffer trademarked the sniffer term at the time.

1989 Tivoli Systems – Beginnings of formalized systems management
1992 Programart – The Strobe team coined the APM term at the time and even had a service mark for it. Founded on the concept of tracking a mainframe application transaction throughout the system development lifecycle.
1993 EcoTOOLS/Compuware – Compuware's entry into the management software for the client/server environment space and the beginning of a focus on eCommerce.
1994 BMC/Patrol – Building in the mainframe market and soon thereafter infrastructure monitoring.
1996 Nagios – Server availability
1996 Optimal Networks –Application Expert release, the first network tool to reassemble packets into application transactions. Was subsequently acquired after bidding war from Network General, Keynote and Compuware.
1997 NetFlow – Application traffic flow monitoring available initially on Cisco devices. Helped pave the way for network monitoring things like NetScout, etc.
1997 Precise – Database monitoring
2001 Mercury – IT management/governance, made some solid acquisitions with Freshwater, Appilog and Beatbox to evolve the tools further into monitoring before getting picked up by HP
2005 Adlex/Compuware – Compuware acquires Adlex, and incorporated into Vantage product line by providing high-capacity, agentless end-user experience monitoring and deep insight into application performance.
2006 CA/Wily – Surely indicative of market relevance, CA picked up Wily for $375M after a few years of success in application management & infrastructure monitoring.
2007 Proxima/Compuware – Compuware's entry into service delivery with some business context. ITIL and Six Sigma best practices touted. Special mention of course to Proxima log manage running on top of Patrol in years previous.
2008 New Relic & AppDynamics – New players in the space, newly focused on developers, SaaS based with a freemium models in place.
2009 Gomez/Compuware – Key shift in the market combining backend infrastructure performance management and outside-in user testing.
2011 Dynatrace/Compuware – Reinforced focus on transaction tracing through the PurePath technology brought by Dynatrace Software.
2012 IBM/Tealeaf – Credit to Tealeaf more so early 2000s but IBM continues to bring user behavior discussions into a very infrastructure focused APM market.
2014 – OpTier – launched in 2005 but closed its doors 9 years later due to financial strain and an increase in highly adaptive competition.
2015 Dynatrace/Keynote – As a combined entity form $450M in APM revenue (not yet reflected in the 2014 Gartner Market share report) they announce a pivot and expansion in target audience in the name of Digital Performance Management. Credited toward an observed increase in "line of business" responsibility for customer experience and the app performance associated with it.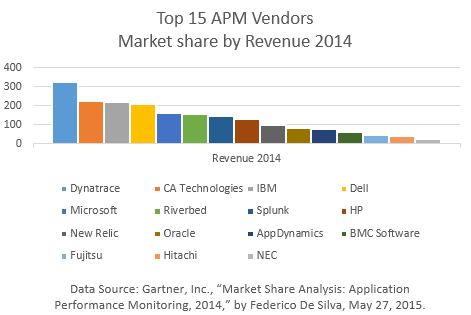 As mentioned previously, please comment below with the key APM vendors you believed influence the market we currently live in and why.
Evolving the Message
The marketing messaging… oh the marketing messaging. Not sure if we'll ever get it right but at least we reached some general consensus on the definition of APM (mostly) after; making new acronyms up, attempting to classify services under preexisting industry topics improperly and most certainly using the term "End-to-end" something all along the way.
Anyone remember these? IT service management (ITSM), Business service management (BSM), Business Transaction Management (BTM), Business service delivery, End-to-end monitoring, End-user Experience Monitoring, Incident/Problem/Change management, RUM, agents/synthetics, various forms of infrastructure monitoring, etc…Will we ever know what they all mean?
Probably impossible to put these in chronological form, but it's clear that we evolved along a path of specific monitoring (network, server, etc) to event management, log analytics, user and agent based monitoring, Java monitoring, an era of service level agreements and of course what we know as APM today.
Analyst Activity
Which milestone research solidified APM as an industry?
2008 Market Overview with JP Garbani, Thomas Mendel and Reedwan Iqbal from Forrester.
Gartner APM conceptual framework – The acronym certainly existed already by Sept 2010 when this came out, but the five dimensions of APM from Gartner certainly helped define the finer elements.

EUE
Runtime application architecture discovery, modeling & display
User-defined transaction profiling
Component deep-dive monitoring in application context
Analytics

Gartner APM Magic Quadrant – First released in 2010, an undeniable staple in the formal recognition of APM elements and the vendors that provide them.
Other Activity
While generic Monitoring search terms surfaced prior and are responsible for a much larger search volume, Application Performance Management didn't start showing up as a common search term until 2007.

Amazon & AWS in 2006, Netflix 2008, Etsy 2005 – all major influencers in the development/scalability/performance space.
APMdigest.com (evolved from BSM digest) 2010 – relaunched with APM target in mind
Cheers to the next round of continued APM evolution!