Is ITIL (Information Technology Infrastructure Library) still relevant in the digital world?
The short answer is…yes!
The longer answer is: it depends on your organisation's understanding and application of ITIL.
In order to best answer the question it is important to take a step back and examine the goals and intent of ITIL.
Quick refresher on ITIL
Documented Common Sense – Don Page
The best definition of ITIL comes from Dr. Don Page, one of the authors of ITIL, who simply refers to it as 'Documented Common Sense'
Put differently, it is a set a good practices for IT service management aimed at providing guidance to questions like:

What services should we offer and to whom?
How do we create value for our customers?
How do we define service quality?

Simply put, it is aimed at providing guidelines for IT to deliver high quality and cost-effective business value.
ITIL abuse
Like all good frameworks and philosophies, ITIL is not immune to abuse. Over the years, ITIL has been hijacked by well-intentioned vendors who jumped on the ITIL bandwagon to help address the "technology" aspect of the "people", "process" and "technology" that ITIL advocates. As a result, ITIL almost became synonymous as a "service desk" tool; offering incident, change, problem tracking capabilities in the guise of "management". We even had organizations specialising in certifying tools for ITIL.
Then came the key push for configuration management databases and systems — or CMDBs and CMSs tools — as the silver bullet to IT service management.
ITIL vs DevOps?
In order to best answer this question, it is important to look at what the goals and intent of DevOps really is.
DevOps is Not a Market, but a Tool-Centric Philosophy That Supports a Continuous Delivery Value Chain –  Gartner
The most concise definition of DevOps goes to Gartner: DevOps is Not a Market, but a Tool-Centric Philosophy That Supports a Continuous DeliveryValue Chain. Dare I add the words 'people (& culture)' prior to the word Tool-Centric.
Gene Kim, the author of the Phoenix Project, puts it this way: DevOps advocates a collaborative working relationship between Development and IT Operations, resulting in the fast flow of planned work(i.e., high deploy rates), while simultaneously increasing the reliability, stability,resilience and security of the production environment
One of the main points of contention, that is often cited when contrasting ITIL and DevOps, is the ITIL guidelines of change management are too slow and rigid. It is important to note that the main intent for the ITIL guidelines is to manage risk of reliability, stability, resilience and security by providing cross-collaboration between teams. DevOps advocates automation as the approach to address these same risks, so in essence there really is no conflict in philosophy here.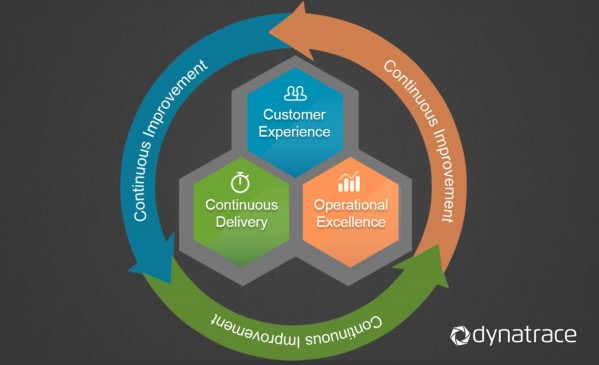 Recommendation
No matter the philosophy, framework or processes you use, always start with the WHY, then move on the WHAT and HOW. Frameworks and processes are not an end in themselves but a means to help you achieve your goals.
Regardless of the framework or the process, the three key disciplines that are essential to success in the digital world are:

Relentless focus on the Customer and the Customer Experience
Continuous Delivery
Operational Excellence

These key disciplines can only be accomplished through a culture of continuous feedback, collaboration and improvement, across every aspect and department of the organisation.