We're happy to announce that, in addition to support for Java and Node.js applications, Dynatrace now also provides monitoring support for PHP and Staticfile applications that are deployed in Cloud Foundry PaaS environments.
Cloud Foundry is a Platform-as-a-Service that consists of a set of open source tools that help you run applications at scale. Applications deployed on Cloud Foundry are usually run through technology-specific buildpacks that provide framework and runtime support for applications running on the Cloud Foundry platform. For instance, the Staticfile buildpack provides runtime support for applications that require no backend code other than an Nginx web server.
Dynatrace OneAgent for Cloud Foundry PaaS is integrated with release v4.3.34 of Cloud Foundry's PHP buildpack and also with release v1.4.6 of Cloud Foundry's Staticfile buildpack.
Start monitoring Cloud Foundry PaaS applications
To set up Cloud Foundry monitoring you first need to link your Dynatrace account with your Cloud Foundry applications. To do this, you need to create a Dynatrace service in your Cloud Foundry environment. For complete details, please see the Cloud Foundry installation guidelines.
Once your Cloud Foundry applications are monitored with Dynatrace OneAgent, you'll receive the full range of application and service monitoring visibility that Dynatrace provides (for example, Smartscape and service-level insights with Service flow). Properties that are specific to Cloud Foundry are also provided on the process-group instance level. Note in the example below that values are provided for Cloud Foundry space ID, Cloud Foundry application, and—because multiple application instances are running—Cloud Foundry instance index.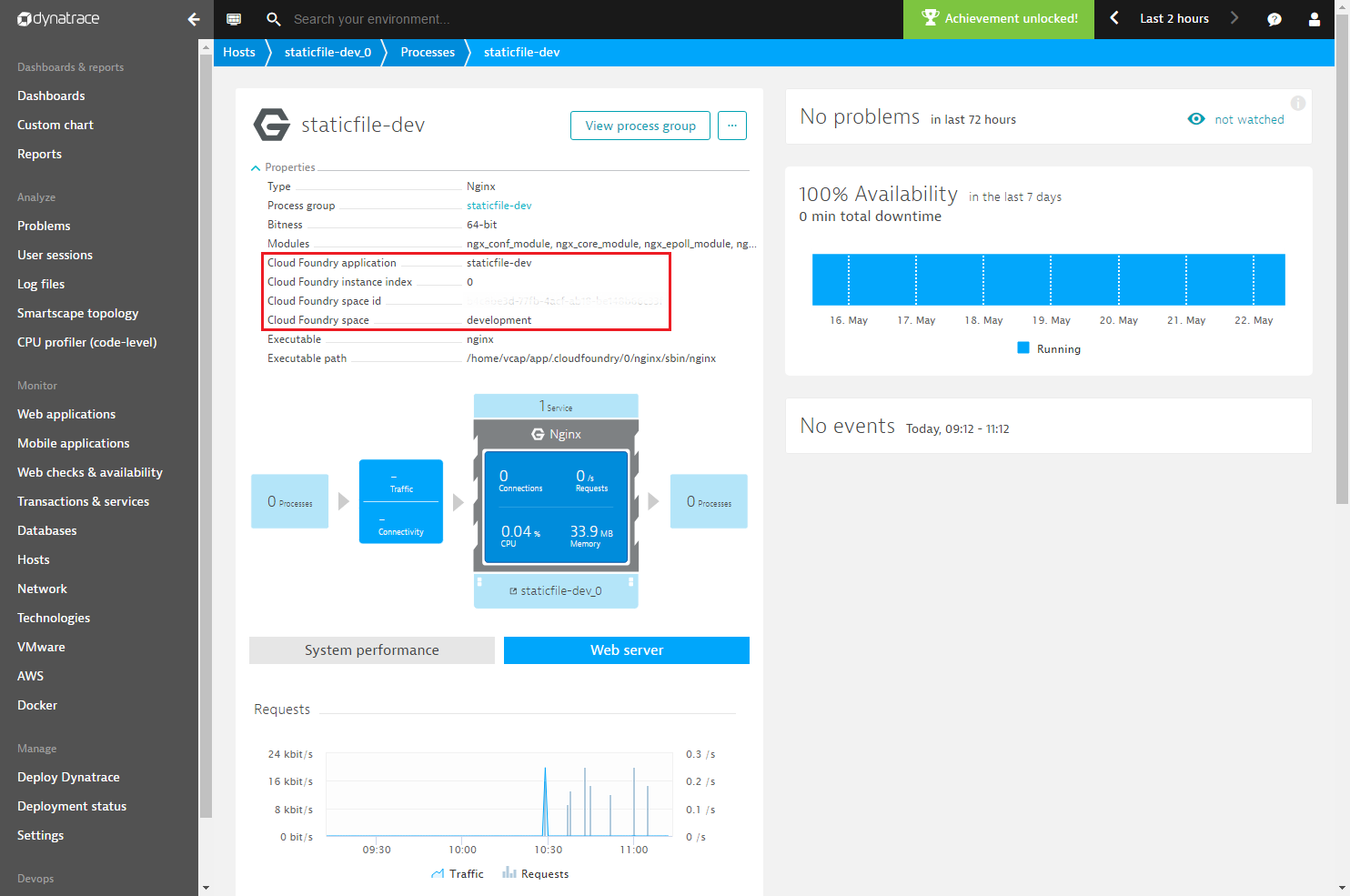 Your feedback
We'd love to hear from you. Tell us what you think about the new Dynatrace integrations into the PHP and Staticfile buildpacks. Please share your feedback at Dynatrace Community.