So it's official, Summer 2015 is here as of June 21st.  As always, Summer kicks off an increase of traffic to travel related web sites.  In the past this would typically mean finding a travel agent, seeing what is available, finding something in your budget…  but in today's world, increasingly summer travel starts with a digital experience as travelers research and book their travel online.
Our Benchmarking team here at Dynatrace puts a lot of effort into monitoring travel related sites.  We have 6 US based Travel related Benchmarks.
Travel – Airlines
Travel – Car Rental
Travel – Hotels and Resorts
Travel – Online Agents
Travel – Online Flight Search
Travel – Online Hotel Search
We also have international Travel Benchmarks for sites servicing: Australia, Canada, China, France, Germany, Italy, Singapore, Spain and the UK.  Our team at Dynatrace can safely say that we know the online travel industry better than anyone else when it comes to digital performance.
When we rank online sites, our public benchmarks typically look at Response Time, Availability and Consistency.  Response Time is an "over the wire" measure, meaning how much time does it take to download the complete page from various locations across the Internet.  Availability is more of a measure of success and not so much a measure of up/down of a site.  Essentially how successful were we at reaching that site.  Finally, Consistency is a measure of how stable the performance is.  We typically look at standard deviation to give us an indication of site Consistency.
So based on those numbers as we head into the summer travel season Alaska Air, Southwest Airlines and Lufthansa lead the Airline Benchmark in terms of Response Time.   Cathay Pacific and Virgin America led the pack when it came to availability.  We should note that every site came in at over a 95% success rate.  And in terms of Consistency US Airways, Virgin America and Southwest Airlines led the field.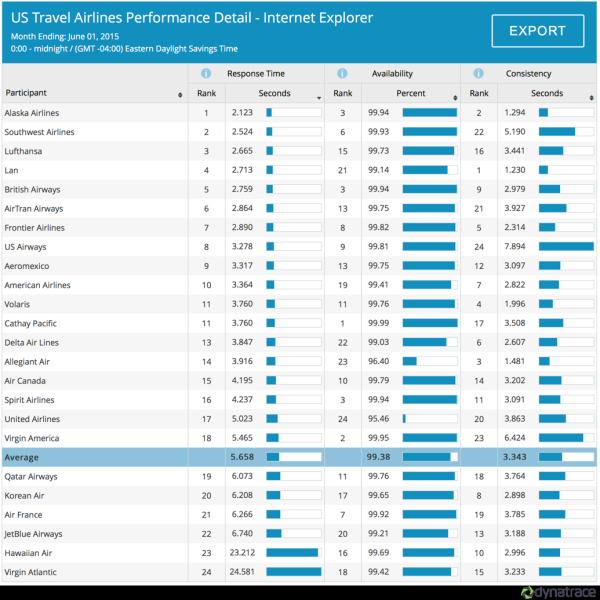 So our Airline Benchmark shown above is publicly available from http://www.dynatrace.com/en/benchmarks/united-states/travel/airlines .  The data underneath the benchmarks, the Key Delivery Indicators (KDIs) give us an indication as to what Airlines can do to improve their performance and compete more aggressively by offering customers a better digital experience.
In this case we looked at the amount of content being delivered (Average Number of Bytes), The complexity of the page (Average number of Connections and Objects), the number of third parties being used (Average number of HOSTs) and finally the server side think time (Average 1st Byte Time).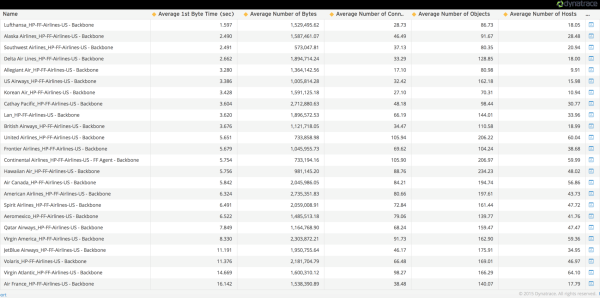 What was interesting in this comparison is that the companies that performed the best, did so by focusing on the server side contribution.  This should not come as a surprise as Airline sites may have some static content, but most of the functionality is highly dynamic.    In order to improve in this category, sites should focus on improving their server side delivery.    One thing digital Business Owners can do is use the Free Trial of Dynatrace Application Monitoring to uncover server side performance bottlenecks.
Let's continue and look at Car Rental sites.  In this case rather than looking at a specific benchmark, we will look at an overall Digital Experience ranking.  In this case we look at the results for the performance for the home page from the Dyantrace Backbone network, Last Mile network (real end user machines), Mobile network and from transactional tests, which walk through the booking process.
When we look at the combined Digital Experience ranking, we see that Payless, U Save and Dollar have the highest combined rankings.  Servicing customers is not just about the web experience but also the mobile experience.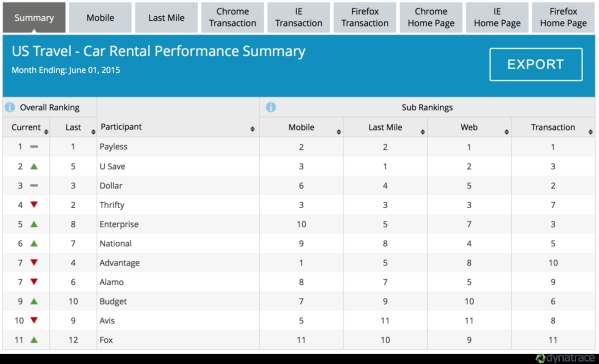 So we've looked at how travellers are going to get where they are going with the Airlines and Car Rental benchmarks, let's look at the destination.   This benchmark is the US Hotel and Resorts Performance Detail Mobile Benchmark.  Here we see that Fours Seasons, Best Western and Radisson make up the top three Response Time performers from a Mobile perspective.
Mobile Benchmarks are executed by pulling up the target home page from a mobile browser (the Dynatrace Mobile Network uses a Webkit based mobile browser engine) from across real wireless connections to mobile networks like ATT, Verizon and Sprint from across the US.
As we mentioned in the beginning of this article, the traditional way people would book travel would be to visit a travel agent.   The Internet has completely disrupted that traditional business model for the Travel industry.   Top travel agencies have moved online, and this benchmark shows how they performing from measurements taken from real end user machines across the US.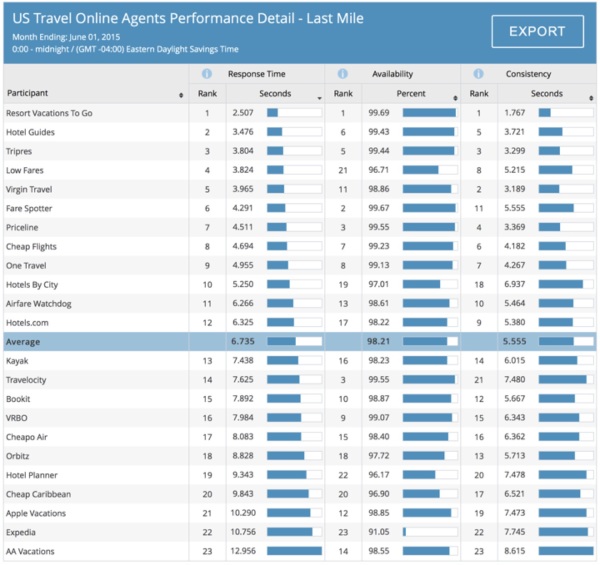 In this Benchmark, we are looking at the Dynatrace Last Mile network.  This is a network of real end user machines running Dynatrace Browser Agents.  From this perspective we see that Resort Vacations To Go, Hotel Guides and Tripres are the top performers.   These results take into account that end users don't live in data centers and connect to the Internet from consumer class machines across tier 2 and tier 3 ISPs.
As we have seen, the Online Travel industry has many facets from Airlines and Car Rentals to Hotels and Online Agents.   Given how much this industry has been disrupted by the Internet, Online Travel Digital Business Owners live a far more competitive world than they used to.  Ignoring the omni-channel impact on the delivery of end user experience will come at a cost to even the most well known brands.  The summer is here and keep tuned to this Dynatrace blog to see how competition in the Online Travel Industry heats up.