The common challenge I encounter when chatting with Application Developers, Testers and Power Users is unanimously focused on User Adoption.
SharePoint has a way of growing like a weed in an organization. The initial implementation may have been for a single workgroup but now everyone wants to use it and the system resources begin to balloon exponentially.
Unfortunately, the features that make SharePoint easy to use out of the box, can create performance, usability, and user experience problems.  And if user experience starts to get worse, your users will get frustrated and go back to the old solution – hard drives, file servers, dropbox, google docs, hangouts, and water-cooler conversations.
Within 15 minutes you can analyze any performance, user experience hotspots and configuration or deployment issues and zero-in on just what you need to know:
Why certain Pages, Lists or Views in SharePoint are slow
Which web parts have implementation issues such as inefficient database access or bad coding
Whether you have configuration problems that lead to bad or slow behavior
Which Pages, Lists or Views are actually used or are not used
Whether your current server resources (CPU, memory, disk, network) can handle the expected load
Application monitoring can help you find current performance problems and prevent future ones. It is a lot easier (and less costly) than blindly adding more hardware!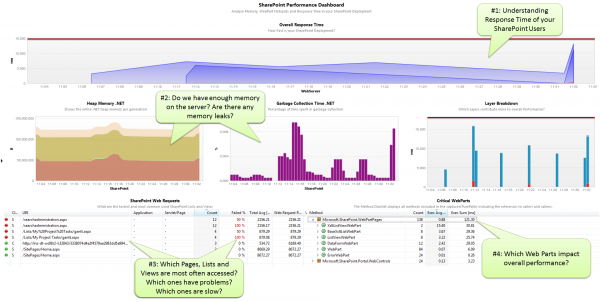 Instructions for the SharePoint Performance Sanity Check:
Quickly install a Free Trial of Dynatrace with the SharePoint FastPack.
Next, install the Dynatrace Agent on your SharePoint server and configure these agents to monitor the traffic on IIS and the traffic going all the way into SharePoint's AppPool.
Lastly, make sure there is load on the system and check out your Dynatrace monitoring dashboard.
That's it, voila!
More SharePoint Performance Monitoring Information:
READ: More SharePoint Performance Best Practices
WATCH: SharePoint Performance Analysis
FREE Application Performance Monitoring Resources:
Dynatrace Free Trial
Mobile/Website Performance Test