We've added some great new improvements to the Web checks and related Details pages.
Web checks page
Each Web checks page now provides even more insight into your site's availability and performance. You can track the results of multiple web checks during any two-hour time range. With sortable columns and filters forStatus, Type of web check, Device profile, and Monitored location, you can quickly access an overview of any web checks you want to analyze.
To access the Web checks page
Open the Dynatrace menu.
Select Availability & SLA.

Enhanced details views
Enhancements to each details page provide you with more insight into your web checks than ever before!
To access a web check details page
Open the Dynatrace menu and select Availability & SLA.
Select a web check.

Some of the most notable new features that are available to help you better analyze your availability and performance metrics are listed below.
Analysis time frames
You can now select time frames as far back as a year to slice and dice your data.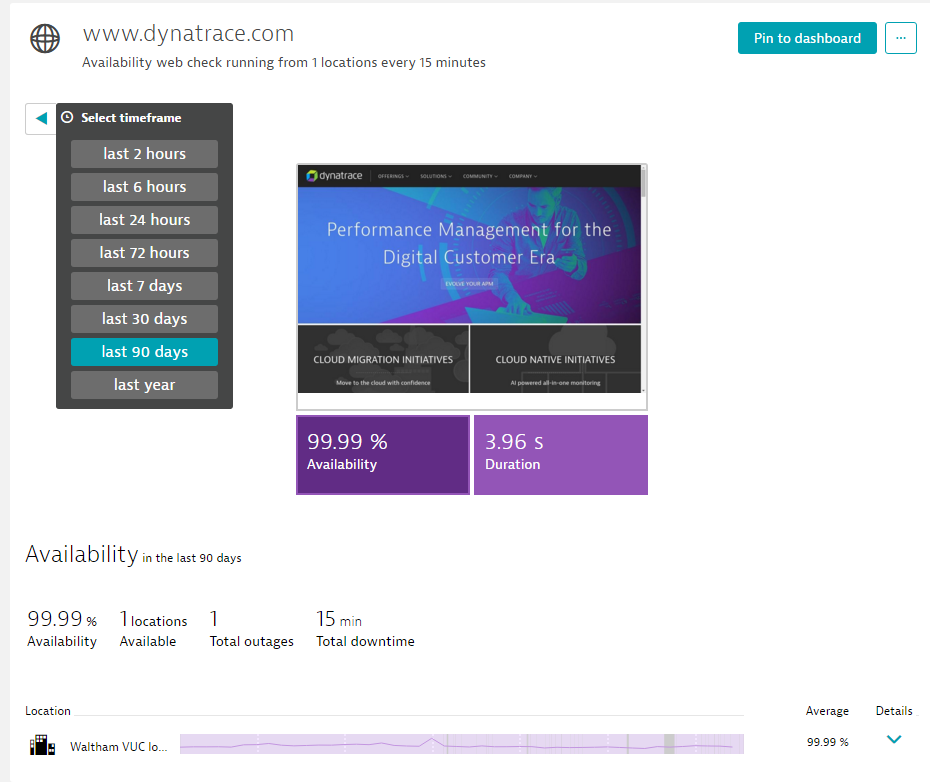 2 hour analysis time ranges provide detailed waterfall information and a screenshot of each outage. For full details, see Web check analysis for outages and performance spikes.

Slideshow view of screenshots
A slide show view shows screenshots of all monitored actions performed by your web checks. Images are updated daily.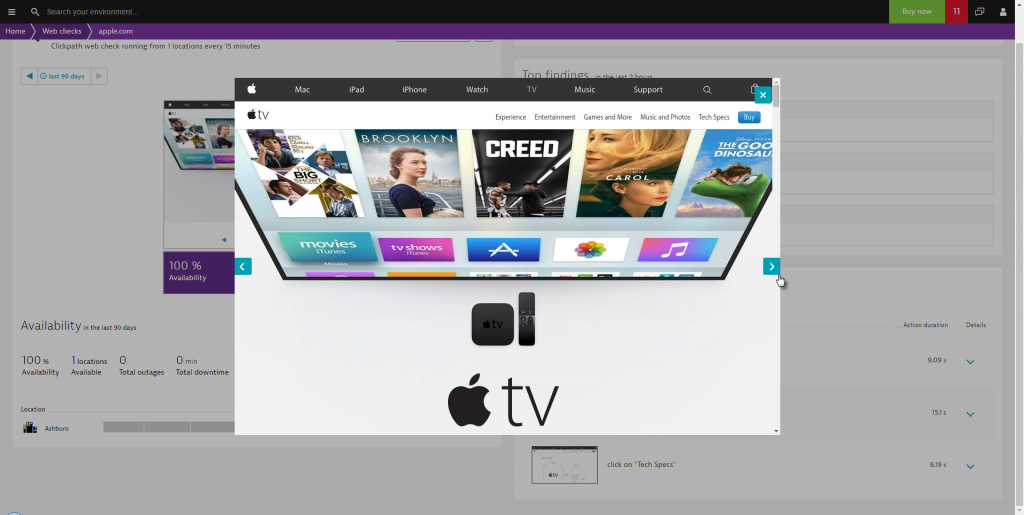 Availability overviews
The Availability overview section on each details page shows you Total downtime, Total outages, andAvailable locations.

Performance charts
Interactive performance charts allow you to highlight and filter out unwanted actions by selecting elements in the chart legend (For example, click on "Tech Specs" and click on "TV" in the chart legends below).


Action-specific breakdown
An action specific breakdown provides improved visualization into your action level performance threshold violations.
Top findings
Top findings for the last two hours provide one-click access to the brand new analysis pages.
With these key features and more, Dynatrace has armed you with all the tools you need to trend and troubleshoot your external availability and performance metrics!