At Perform 2018, REI discussed how they embarked on their digital transformation back in 2015, evolving their organization both technologically and culturally, to adapt to the agile transformation era.
Ram P., working as a Lead Performance Engineer at REI, experienced this digital transformation firsthand as the company adjusted to a constantly shifting market.  Cloud, Microservices, Continuous Delivery, and Self-Healing were (and still are) some of the aspects reshaping the role and focus of performance engineering.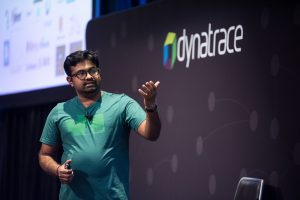 With digital disruption presenting a real business challenge, REI knew that successful performance engineering would require the opportunity to test in the cloud, version control with reporting and baselining documented, and shift-left/shift-right.  Everything would have to be automated.
REI had been optimizing their on-premise applications with AppMon, but as they scaled themselves to hybrid cloud, they needed to see how performance could fit into this new model and be efficient with all the cloud technology changes.  That's when they decided to make their move to the latest technology and shifted from AppMon to Dynatrace.  Dynatrace is the only solution for the hybrid multi-cloud enterprise.
Some of the key benefits of Dynatrace that led to the shift were:
Scalability: Single agent install, auto detects, auto configures.
Availability: User, app, logs, databases, hosts, network. All-in-one.
Serverless: AI-powered full stack monitoring of serverless computing functions.
With Dynatrace, REI has a unified platform that integrates all performance monitoring to support their cloud infrastructure. Performance engineers can test from anywhere in the world, have version control for code, system, application configurations and data, and get automated architecture validation across cloud native and enterprise stack.
REI is not done with their journey as there will always be the need for agility.  After hearing Dynatrace CTO, Bernd Greifeneder, on the mainstage at Perform, REI is looking to leverage data-driven artificial intelligence for stronger results.
Want to see more of what you missed in Las Vegas? Don't forget to check out our Perform highlights to access all the videos and presentations. Better yet, register to join us for Perform Europe taking place May 23-25, 2018 at the W Hotel in Barcelona!